Lessons learned from an experienced traveler who left her luggage in the trunk of a Hong Kong taxi.
Guest Author: Sophie Harwood, Women and LGBT Advisor for beTravelwise
This is another story that involves multiple mistakes on my part, all of them easily avoidable. I was transiting through Hong Kong on my way back from Singapore to Paris. I had a long layover so I decided to go into the city to visit some friends.
I had previously lived in Hong Kong for three years and never once had a single problem, plus I was very tired from a long week of work and travel, so I was not as vigilant as I would usually be. I put all my luggage (including my hand luggage) in the trunk of the taxi. When I arrived at my friend's house I got out of the taxi, paid, and then completely forgot about my bags until about half an hour later.
Farewell to my luggage, laptop, passport, everything. Once again I found myself at a police station reporting the loss (it was not clear at this stage if it had been intentionally 'stolen' or an honest mistake), at the British Embassy to get a new passport, calling my bank to cancel my credit cards, and calling my Travel Assistance Provider to help reschedule my flights. My opinion now is that the driver may have accidentally driven away, but he then intentionally kept my belongings.
The usual protocol for left items in taxis is to hand them into the taxi depot or a police station. I had reported my items to both places but nothing was ever handed in. Because this was my second ETD within six months (and the second loss of my passport) I had to undergo extra checks at the British Embassy as I was now red-flagged as a potential security risk. Thankfully I had previously scanned and securely emailed to myself all my essential documents (passport, birth certificate, proof of address, proof of employment) so this was relatively painless, though it did mean I had to wait nearly three days to eventually be issued with the ETD.
Lessons Learned When I Left My Luggage in a Taxi
Only pay for your taxi once you have exited the vehicle and recovered your personal belongings.
Check and double-check all compartments.
Never put valuables in the boot/trunk of a car, no matter how safe or reliable the vehicle or the environment.
Always ask for a receipt from taxi drivers – you never know if you might need to contact them. I hadn't asked for one (because it was not a business expense and it was only a few dollars anyway) but if I had, I would have had the name and registration of my driver and could have asked the taxi company contact him directly.
Make sure your electronics are encrypted and password protected. I was traveling with my work laptop containing confidential client information, but thankfully it was fully encrypted and password protected so that none of this information could be accessed by non-authorised individuals.
Keep copies of your essential identity documents in an encrypted secure online repository that you can access from anywhere. Hard copies can easily be lost, stolen or damaged, but being able to access them from anywhere with an internet connection can save you a lot of hassle.
Have you ever left luggage in taxi? If so, how did you get it back? Please comment below!
Read another travel story by Sophie: My Handbag Was Stolen During Travel- Now What?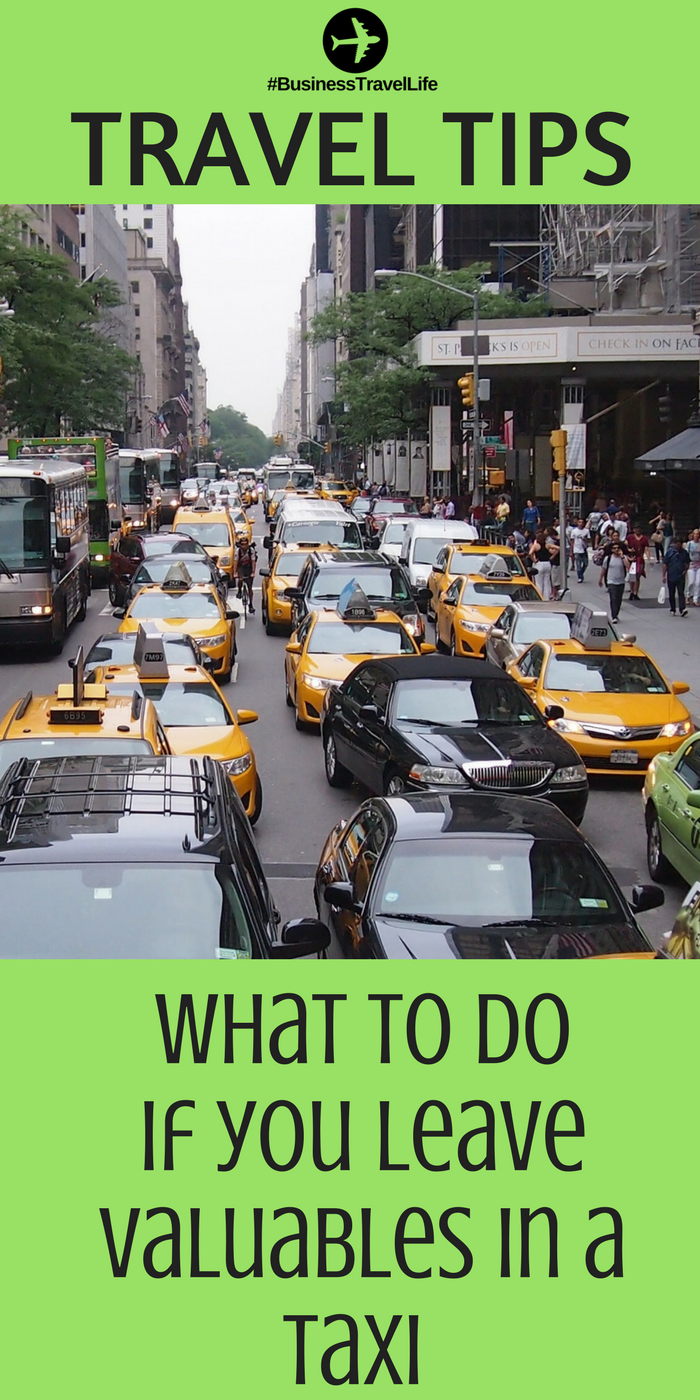 Sophie Harwood
Women and LGBT Advisor
Sophie specialises in travel risk mitigation strategies for women and LGBT travellers. She is passionate about other cultures and has lived and worked in Zimbabwe, India, China, France and the USA. She has worked as a security risk analyst for a Fortune 100 investment bank and as a training manager for a travel security consultancy. She has a BA (Hons) from University College London, an MA from King's College London, a diploma from the University of Paris, and is currently working on her doctorate (researching women and warfare) at the University of Leeds.
Business Travel Life
Business Travel Life is an online resource supporting the road warrior lifestyle. We give business travelers the tools they need to maintain their wellness and productivity when traveling. The topics we cover include business travel tips, travel workouts, healthy travel hacks, travel products, general travel tips, and industry trends. Our goal is to make business travel a healthier experience – and to make healthy travel practices more accessible to all road warriors.