The Chipotle diet: A healthy eating guide for the fourth top rated restaurant among business travelers.
I took a trip down to my local Chipotle recently to see if my usual order could withstand a few minor changes in an effort towards healthier eating. I decided to go with a salad, which is unusual for me (I tend to order burrito bowls), and I skipped a few of the toppings that I know I should go without.
Despite the recent hiccups in Chipotle's sales due to health issues, Chipotle was still number four in the top rated restaurants among business travelers in the first quarter of this year. This data comes from Certify, a company that provides expense reporting software. I thought many of you Business Travel Lifer's would find restaurant guide useful.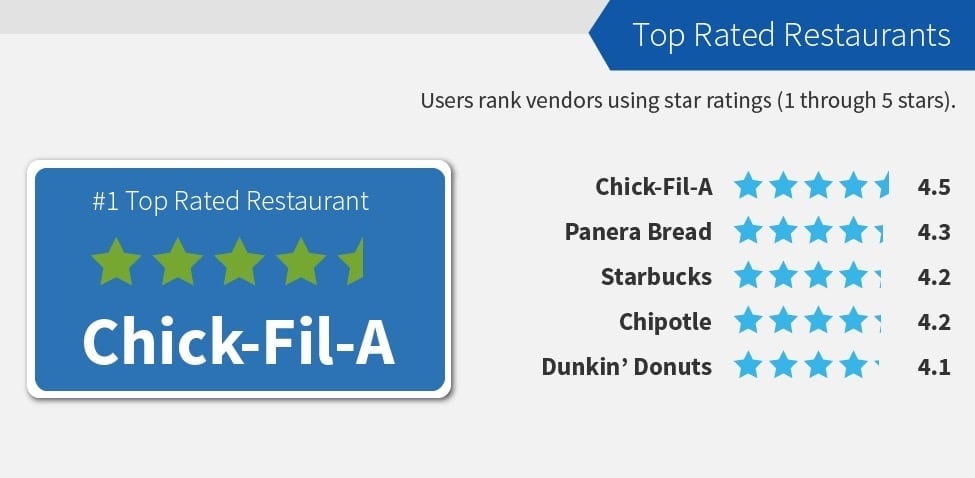 The Do's
The first thing to do when deciding what to order at Chipotle is to forget about getting anything that comes in a tortilla. It adds extra calories (300 to be exact) and trust me, the burrito tastes almost as good without the wrapping. Instead, order a burrito bowl or salad (get the lettuce on the bottom instead of the top) for a filling lunch or dinner.
The great thing about the bowl or salad is that you can customize it exactly how you want it, which can ensure that you are getting a healthy meal. Let's go in order of appearance.
Rice
Skip the rice to keep the overall calories low. If you prefer to add rice, request half the serving instead of the full. Interestingly, the brown rice at Chipotle does not seem to have much more of a nutritional advantage than the white rice. It has the same amount of calories as the white rice (210 for 4 ounces), higher total fat (5.5 g compared to the 4 g the white rice contains) and higher calories from fat (50 compared to 38). It does have a lower amount of carbohydrates, though. The brown rice has 36 g of carbohydrates compared to the white rice, which contains 40 g.
Beans
For the normal 4 ounce serving, pinto beans have fewer calories than black beans; pinto having 115 and black having 120. Calories from fat are about the same for both (10) as well as total fat (1 g). Pinto beans are a bit higher in sodium (300 mg) than black beans (260 mg). The advantage of black beans over pinto beans is that they contain more fiber.
*A side note about rice and beans: From a nutritional standpoint, rice and beans are an infamous combination. The best way to incorporate both into your meal are to request a half serving of each.
Vegetables
The fajitas (grilled green and red bell peppers and red onion) are a great source of nutrients to add to your bowl or salad. Only 20 calories for a 2.5 ounce serving. Order double veggies to add more filling to your burrito/salad with fewer calories!
Meat
Chicken (4 oz, 180 calories)
Sofritas (4 oz, 145 calories)
Barbacoa (4 oz, 165 calories)
Salsas
Tomatillo Green-Chili Salsa (2 oz, 15 calories, 255 mg sodium)
Fresh Tomato Salsa (3.5 oz, 25 calories, 550 mg sodium)
Roasted Chili-Corn Salsa (3.5 oz, 80 calories, 330 mg sodium)
Tomatillo Red-Chili Salsa (2 oz, 30 calories, 500 mg sodium)
Crisp romaine lettuce adds great texture to your burrito bowl or salad and is only 5 calories for 1 ounce.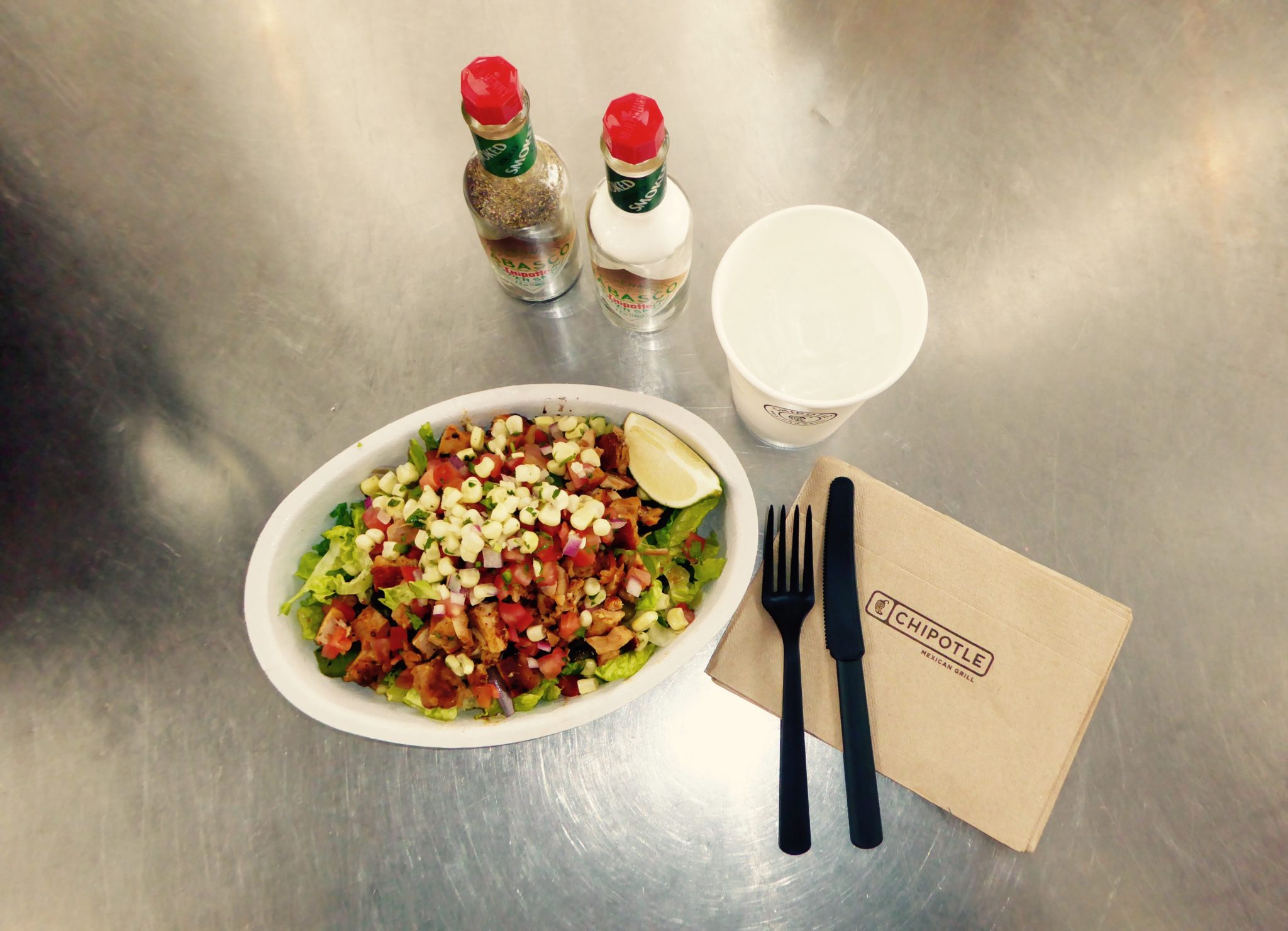 Another option is to order corn tortilla tacos with some of the above ingredients. Ordering 2 instead of 3 is a great way to get a filling meal but not overdo it on the calories.
Here are a few examples of well-rounded, healthy Chipotle meals:
Burrito bowl with lettuce, chicken, salsa, a sprinkle of cheese (this is alright if you cannot live without it), fajita veggies, ½ serving of rice, ½ serving of beans- 390 calories
Salad with lettuce, barbacoa, black beans, fajita veggies, ¼ serving of guacamole- 400 calories
Tacos with chicken, fajita veggies, lettuce, 2 corn tortillas (request that they add the same amount of "fillings" in 2 tacos instead of the usual 3)- 440 calories
Vegetarian burrito bowl with sofritas, black beans, ½ rice, fajita veggies-300 calories (add a ½ serving of rice making it 410 calories).
The Dont's
The following items, while very tasty, are things you should avoid on your Chipotle diet. They are very high in calories and in fat and most have little nutritional value. I know that above I recommended ordering a salad, however, the dressing that it comes with should be avoided. Instead, substitute it for one of the delicious salsas mentioned above.
Sour Cream (2 oz, 115 calories, 90 calories from fat)
A full serving of cheese (1 oz, 100 calories, 70 calories from fat), instead ask for just a sprinkle if you can't go without it.
A full serving of guacamole (4 oz, 230 calories, 195 calories from fat). Avocados are healthy just not in such large portions. Ask for half or even less than half of the serving.
Vinegarette Salad Dressing (2 oz, 270 calories, 220 calories from fat)
Chips (4 oz, 570 calories)
Tortilla (300 calories)
Here are a few examples of Chipotle diet disasters:
A steak burrito with rice, beans, sour cream, guacamole, and cheese- 1265 calories
Carnitas burrito with rice, beans, sour cream, and cheese with a side of chips and guacamole- 1855 calories
Chips, guacamole, and a margarita- 1040 calories
The best thing about Chipotle is that it is completely customizable; you are in no way confined to just the menu. So be sure to change things up next time you visit and try a burrito bowl or salad! What are your favorite healthy options at Chipotle?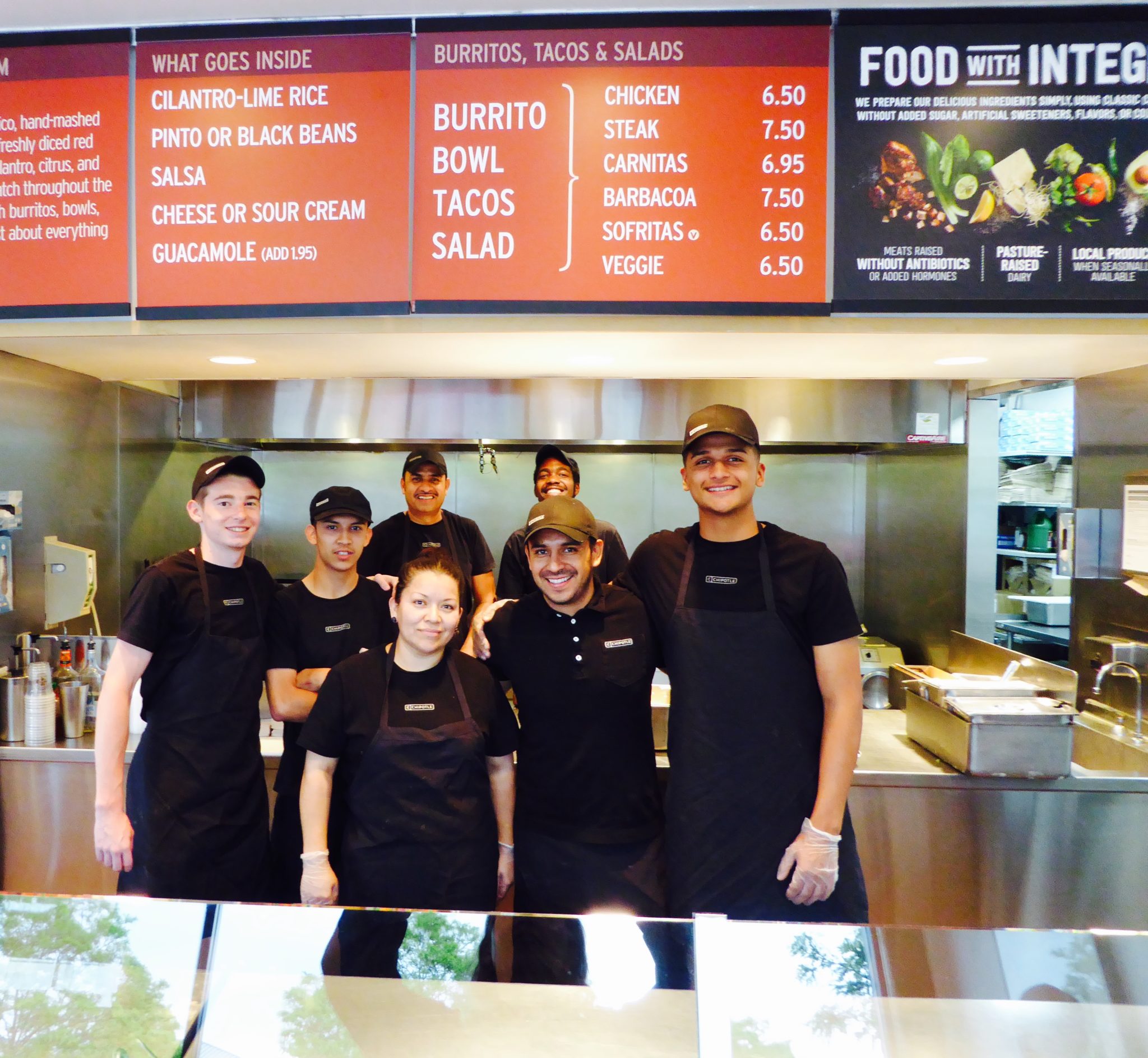 *All nutritional information was taken from Chipotle.com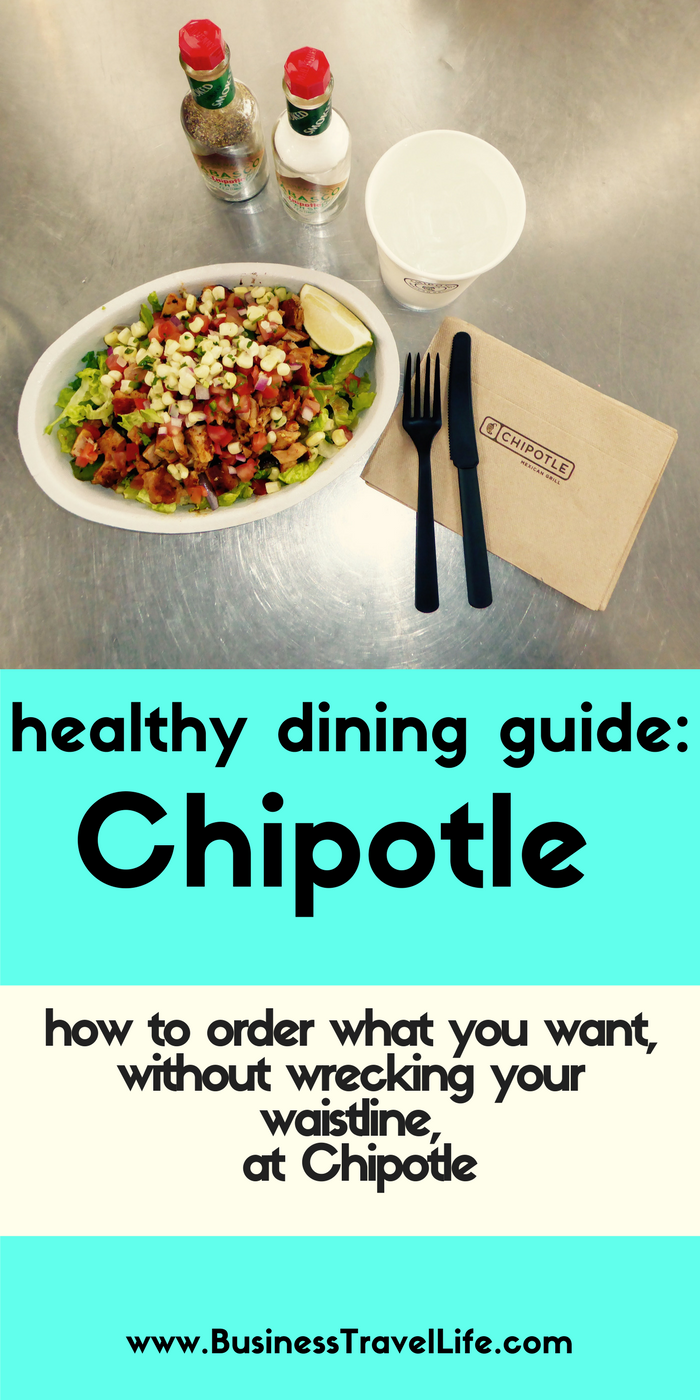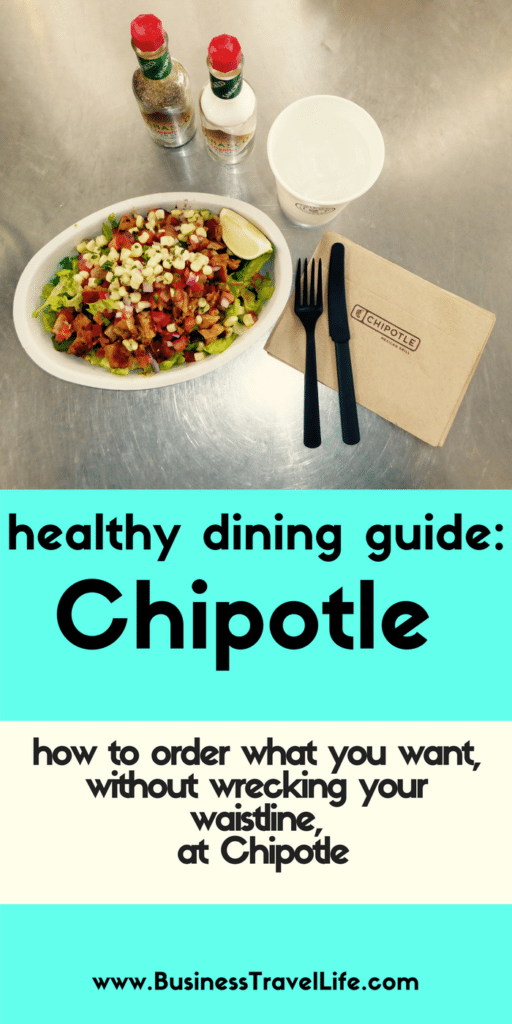 Business Travel Life
Business Travel Life is an online resource supporting the road warrior lifestyle. We give business travelers the tools they need to maintain their wellness and productivity when traveling. The topics we cover include business travel tips, travel workouts, healthy travel hacks, travel products, general travel tips, and industry trends. Our goal is to make business travel a healthier experience – and to make healthy travel practices more accessible to all road warriors.