Despite Chipotles sales weakening after cases of E. Coli were linked to the Mexican grill, business travelers satisfactions rates remain high with the food chain.
I'm sure we can all recall the troubles that our favorite Mexican food chain has been dealing with since last summer. That's right, the notorious Chipotle E. Coli scare that swept the nation. Many Chipotle go-ers became apprehensive to indulge in the food after outbreaks started showing up across the nation; some even stopped going altogether. Chipotle sales took a hit, though they are now very gradually increasing. These numbers are discussed in the company's first quarter results from 2016.
Interestingly enough, despite the health risks, business travelers didn't seem to be too bothered. According to Certify, a company that provides expense reporting software, the average customer satisfaction rating for the food chain was 4.76 out of 5 from July 2015 to March 2016. Keep in mind that that's almost the exact time frame that Chipotle was dealing with the E. Coli issues. However, between October 2015 and January 2016, transactions among business travelers declined by 37%. Those numbers are increasing, though, even after Chipotle recently reported weak sales. Since the low point in quarter 1, business travel related Chipotle transactions rose by 38%.
"Chipotle has had its share of challenges over the past year, but the Certify SpendSmart data shows the company has also largely enjoyed the support and loyalty of its business travel customers. While our transaction data also follows a pattern of declining sales starting in the fourth quarter of 2015, satisfaction ratings for Chipotle have consistently improved and it remains one of the highest rated restaurants throughout all the negative press and store closures. In addition, we've also seen the number of Chipotle's business traveler transactions heading back up in the first quarter of 2016, although it still has a way to go before reaching its high." – Bob Neveu, Certify CEO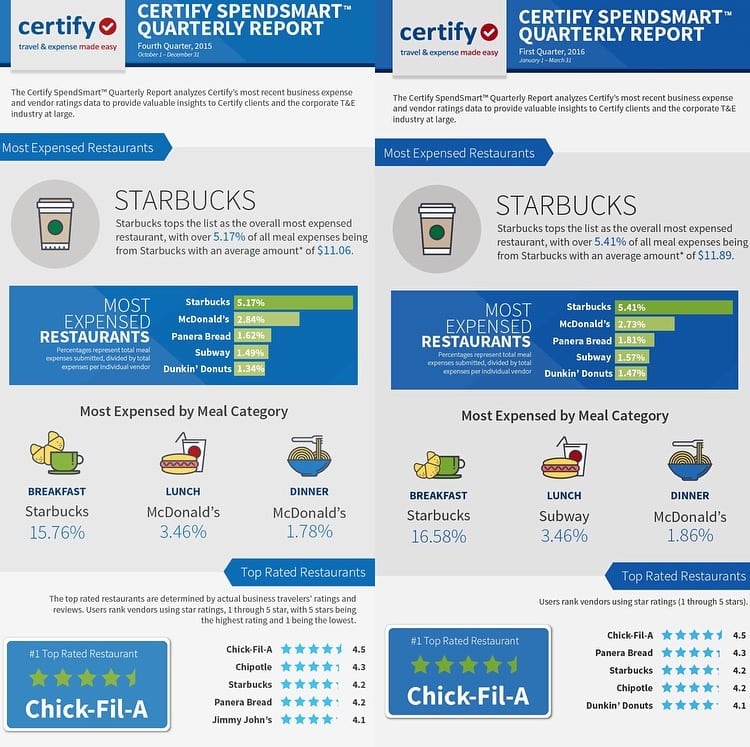 These infographics, provided by Certify, reflect Neveu's statement showing that Chipotle moved from its #2 spot in the 4th quarter to the #4 spot in the first quarter. Though according to Neveu, business travelers satisfaction ratings remain strong. It seems that even an E. Coli outbreak won't sever the loyal relationship between road warriors and this particular food chain. Maybe it's because Chipotle is a healthier option when it comes to fast food, or maybe it's because you can eat there without the sense of guilt you might feel while driving through McDonald's.
"As our sales are on a gradual path to recovery, we remain focused on our mission of changing the way people think about and eat fast food. The best approach to re-building our business is to proudly serve safe and delicious food in our high-quality restaurants every single day, which is exactly what we will continue to do." – Steve Ells, founder, chairman and co-CEO of Chipotle.
Speaking of those golden arches, it looks like Subway replaced McDonalds as business travelers most expensed lunch during the first quarter of 2016. If I had to guess, I would say that correlates to new year resolutions of quitting McDonalds cold turkey. Keep it up!
So, Business Travel Lifers, did you stay loyal despite Chipotle sales seeing some of their darkest days? I know that the E. Coli scare didn't stop me from getting my weekly bowl of bliss from my favorite Mexican Grill.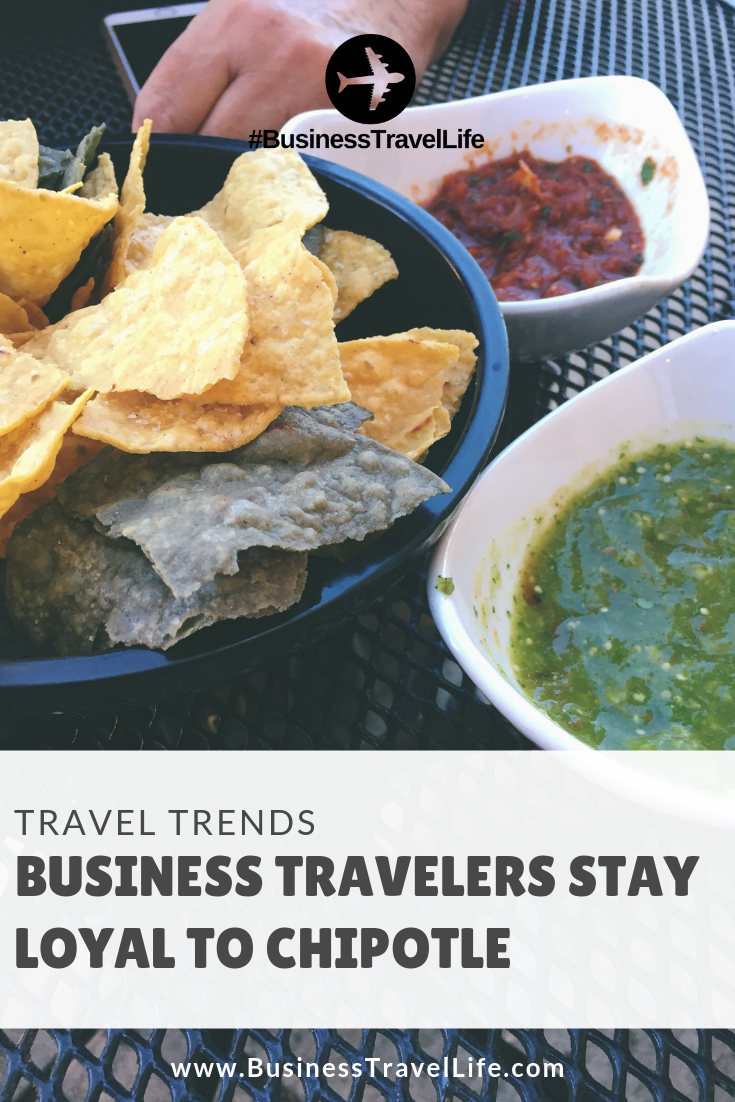 Business Travel Life
Business Travel Life is an online resource supporting the road warrior lifestyle. We give business travelers the tools they need to maintain their wellness and productivity when traveling. The topics we cover include business travel tips, travel workouts, healthy travel hacks, travel products, general travel tips, and industry trends. Our goal is to make business travel a healthier experience – and to make healthy travel practices more accessible to all road warriors.