Maura Dominguez is a fashion savvy business traveler. She has taken the typically conservative professional look and turned it into an unconventional fusion of classic and chic attire.
Maura Dominguez is the Director of National Accounts for the Santa Barbara Beach & Golf Resort Curacao (a Benchmark Resort) and spends 8-10 days each month traveling to conventions and events.
Maura posted some of her outfits on Instagram during a recent trip to Las Vegas, and were intrigued by her professional yet creative look. We had to learn more about Maura and the inspiration for her style.
We were also surprised to learn Maura does not check her luggage…ever. She manages to be fashionable and usually packs light enough to carry on her luggage instead of checking it. As a bonus, she kindly shared her packing tips with us as well!
How would you describe your style for professional attire?
My professional style is a nice medley of classic, chic and hip, polished and stylish. It's 2015 and what a "professional" looks like is ever evolving. A balanced wardrobe that can multi-task and work overtime is the key to success. This season my staple pieces are a little retro and menswear inspired.
There is a myth that professional clothes are boring and stiff."
How has your style evolved over the years?
When I started out traveling for work, I was working for a conservative hotel company. I was required to wear pantyhose, closed toed shoes and a matching suit set. I always wanted to get away from this type of attire.
How do you transform classic business attire into your own style?
There are so many ways to make a classic outfit look more modern. A classic suit is an easy outfit to pack for a business trip. I will make the classic suit more modern by adding a cute scarf or a broach. I also like to wear Oxfords instead of the classic pump.
How do you take an outfit from day to night when you are at a convention?
Layering is the key. I wear a lot of pieces that I can layer. In the evening, I will remove or add a layer (shirt, jacket, sweater, etc.) to make it look more appropriate for the evening. A little black dress or dress suit are both great options for layering. As an example, I recently wore a black leather dress with a white dress shirt underneath it during the day. For the evening, I took the white shirt off and just wore the dress. Changing shoes can also change your look.
How do you decide which shoes to pack?
COMFORT IS KEY: In my line of work, I attend a lot of travel trade shows. These shows are sometimes held in large (I mean HUGE) convention centers, where I do a lot of walking and standing around. I learned the hard way that my stilettos are not "made for walking" or standing for too long! I thought a comfortable shoe meant a not so fashionable shoe. But alas, you can leave the high heels for that sit down dinner with your clients because there are so many cute options for hip flats now, starting with my fave: Oxfords and Loafers. Opt for a metallic or patent leather if you want to make the look more feminine. Some are funkier than others, but don't be afraid to try them with a more classic outfit. A platform also gives that little bit of height that you might miss from your heels.
On my wish list right now are the Stella McCartney Britt platform brogues. I would die for these, but they're $995 and might be a little too trendy for an investment piece. For a more affordable option I went to shopbop.com and purchased the Rebecca Minkoff Pandora Oxfords in metallic silver at $250. My Oxfords are classic, hip and neutral at the same time, so they go with everything including my jeans at the airport. A retro mod block heel or bootie is also comfortable and easy to shift from day to night.
Tip: Shopbop has a great selection from budget brands to designer brands.
My other obsession du jour is the elegant sneaker – OMG so many options, so little time to wear them.
A classic white tennis shoe can look very professional when worn with a pencil skirt or trousers, button down and coat. There are also patent leather and metallic in this category which can elevate the casual look.
Maura's Packing Tips
Make a packing list before you get started.
Plan your outfits based on your conference agenda and the number of days you are traveling. Designate outfits for each day and each evening event.
Find pieces that you can repeat day to night or for two days that will not be obvious.
If you keep your look neutral, you will find a lot of pieces can be mixed and matched without anyone noticing.
Pack one statement piece to elevate the neutral pieces.
Matching sets are easy to take from day to night (think Culottes, skirts, pants, dresses).
Be concise with what you pack. Do not pack items that are not on your list.
Pack knits and jersey fabric to avoid ironing.
Always be prepared for an unplanned event.
The silver lining in packing less – you'll have more room in your luggage for those additional pieces you shop for in between client meetings."
Maura's Essential Fashion Pieces
COAT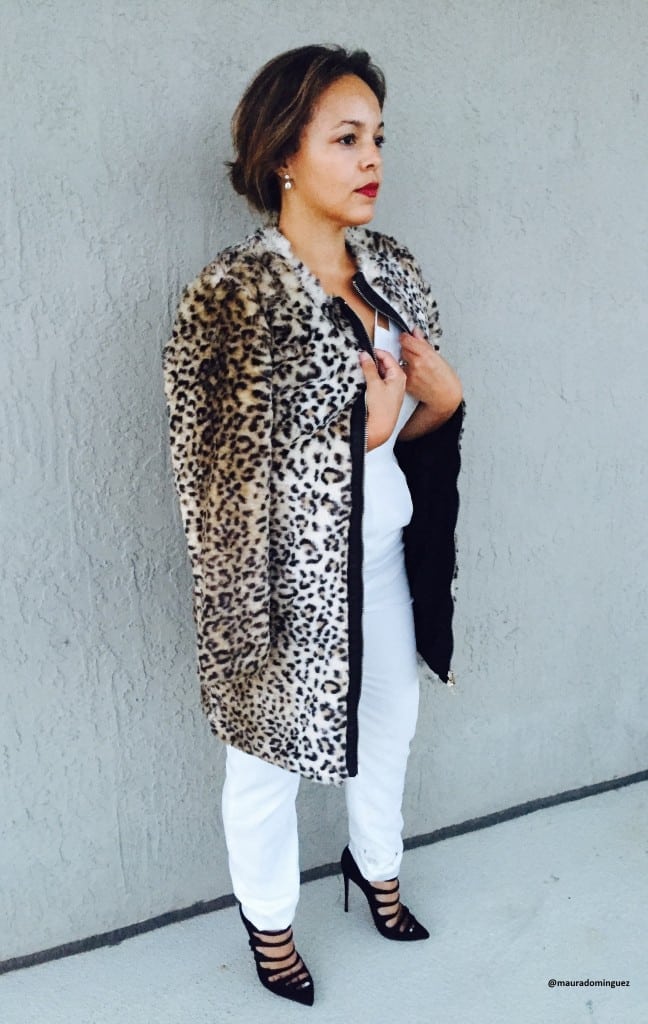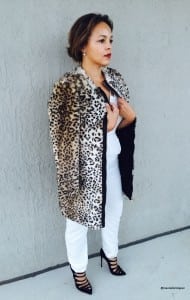 A triple duty coat is the most essential piece for fall and winter. This could be your accent garment playing the starring role or a simple one which supports the rest of your cast.
A coat which can act as a) your travel and airport cozy, b) a jacket for your daytime meetings and c) a standalone dress for business dinners, is the best option. With temperatures all over the board this season, you can try different materials from lightweight to heavy duty, for example, cotton to crepe to suede to silk or satin or wool or leather. The world is your oyster when it comes to coats for fall and winter. There are so many styles to choose from including the cape and floor length duster. You can try a neutral classic like a solid grey, white or black. Or go for that statement piece in a standout plaid print, stripes or a bold, bright green or red, or even a pretty pastel pink. Zara.com is fabulous for up to date work wear at affordable prices. If you're looking to splurge try Chloe, Miu Miu, Marni and Derek Lam, as they have some great options from statement coats to classics.
ONE PIECE WONDERS
Dress or Jumpsuit – period! I can live in a dress or a jumpsuit – I would say these are always my go to's. These pieces are so versatile and easy to travel with. A jumpsuit can easily transition from day to night by just adding a few accessories, such as a clutch and a fabulous pointy pump or strappy heel. There are a lot of sleeveless options which you can always cover with a jacket during day meetings. Same for dresses – a little black dress can go a long way. I like to push the envelope and wear a leather dress for day time. Pair it with your Oxfords and you're good to go. A sweater dress can also do triple duty – worn with a button down underneath for work, by itself for nighttime and with a pair of jeans or leggings for airport travel.
UNDER LAYERS
Your staple white button down will NEVER go out of style. Bring it back to the future by buttoning all the way to the top. You can even add a cute bow tie or a statement necklace. Or in lieu of the classic white shirt, why not try a silky pussy-bow or a cashmere turtle neck? I like to wear these under my jumpsuits and dresses for that "good girl" professional look at meetings and lose the shirt to spice up the look for night time. So you can wear the same clothes all day long simply by making some minor tweaks for different environments (i.e. add those stilettos you've been dying to wear the whole trip and a hot clutch to transform the look).
TWINNING
No, I'm not referring to dressing like your BFF (or your co-worker in this case). Matching sets y'all! A coordinating set is easy-breezy…done! I'm talking about the culottes with matching tops, midi A-line skirts with matching tops and even pant suits. I say pant suits because they are comfortable and easier to mix and match – but culottes can replace the pants…they look like a skirt but are super chic and comfortable. I recently wore a pajama culottes suit to a client event which was a huge hit. It was trendy, yet classy and totally apropos for an evening function.
COLOR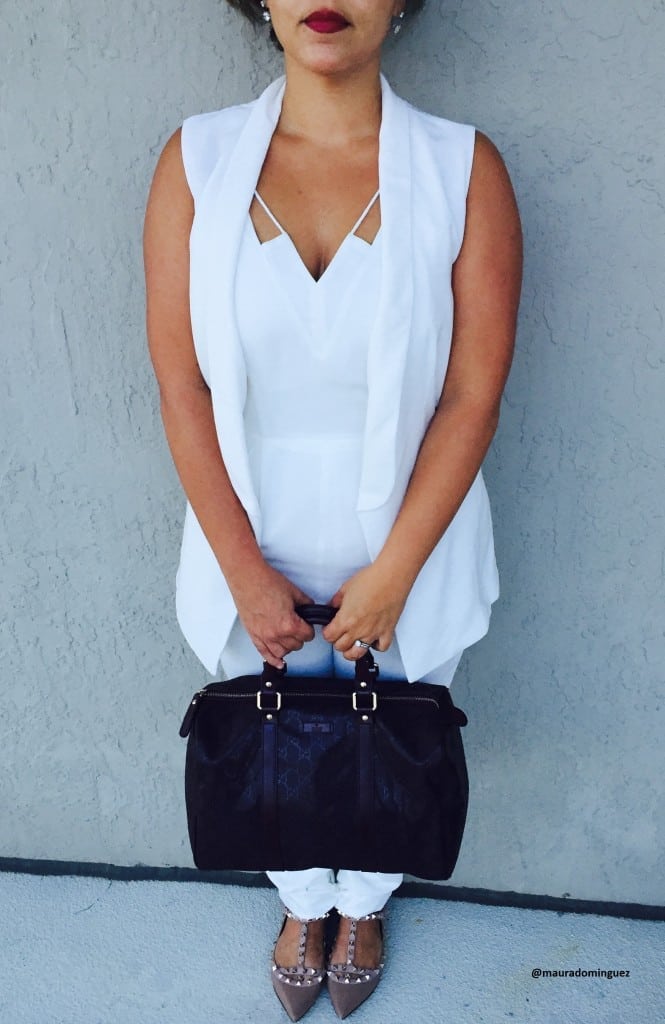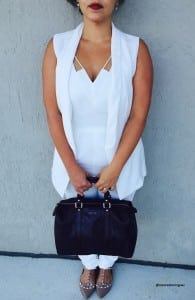 Take monochromatic pieces that can work well with other pieces. Do a head to toe winter white or grey or how about that Merlot/ Bordeaux color that is so in right now. You can also mix different shades in the same color family. You can even add tights to complete the look. An all-black or all grey look with some Bordeaux tights are sure to make a (muted) statement!
THE BAG

A nice polished, easy to carry large travel tote that can double as your briefcase and daytime purse is a winner in my book! I have one that goes with everything and is large enough for me to carry my laptop and a pair of shoes to change into for dinner in case I don't make it back to my hotel in between.
ACCESSORIES
Go crazy with accessories to play up your neutral wardrobe. Bright red lipstick is fine with me for day or night, but you can also transition a look from day to night just by the shade of your lipstick. Wear a nude shade in the day and step out with hot red lips or a dark vamp lipstick at night. Always bring a statement necklace and a pair of statement earrings to dress up your look.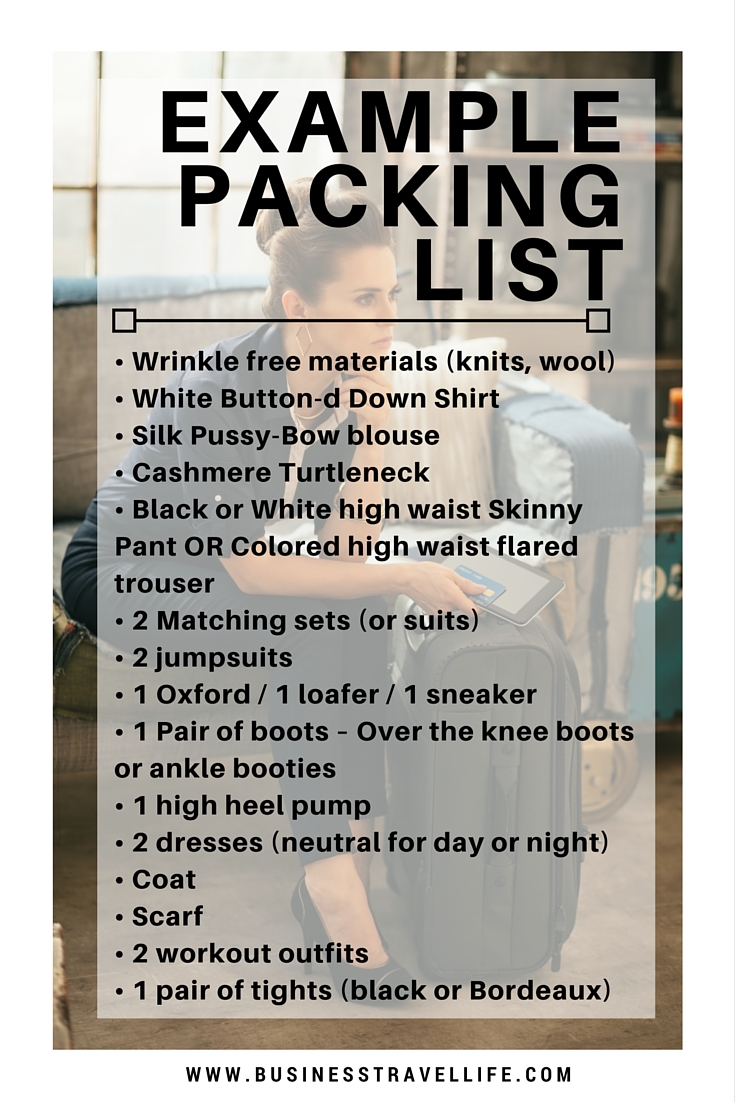 Business Travel Life
Business Travel Life is an online resource supporting the road warrior lifestyle. We give business travelers the tools they need to maintain their wellness and productivity when traveling. The topics we cover include business travel tips, travel workouts, healthy travel hacks, travel products, general travel tips, and industry trends. Our goal is to make business travel a healthier experience – and to make healthy travel practices more accessible to all road warriors.