Have you ever been sitting on a delayed flight when you suddenly realize you are going to miss your connecting flight? I certainly have . Travel is stressful enough when everything is going good- when travel plans go bad, they seem to go really bad like a domino effect. I recently had a day of travel that included a cancel and rebooked flight, a (bad) speeding ticket one mile away from the airport, a failed attempt to board my connection because the airline never confirmed my ticket, and unsurprisingly ended with an emotional breakdown in the bathroom of the airline club.
Often our bodies respond to stress with muscle tension. When you feel your body getting tense as the result of stress due to travel there is a way that you can control your body's automated response to stress stimuli. The technique is called Progressive Muscle Relaxation and involves contracting and relaxing specific muscles while you control your breath. When I eventually got on a plane heading to my next destination, I used this technique to reset myself so I could get some work done during my flight. It worked really well and I felt the tension leaving my body with each breath I took.
Let me share a secret for how to reduce travel stress. It is ideal to perform this technique while you are lying down, however, it can easily be performed from your seat on an airport, in the airport, on a train, or anyplace else where you can sit or lay down. Do not attempt to do this while driving. I suggest downloading some relaxing music on your mobile device that you can listen to while you do this.
Progressive Muscle Relaxation
This technique starts at your toes and works all the way to the top of your head. With each body part, you must feel the tension in the movement for a few seconds and then release the tension. After you release, repeat each movement once before moving onto the next. Make sure you are breathing in as you hold the tension and breathing out as you relax. Do not hold your breath to the point of cramping or feeling light headed. The most important part of the breathing is to take calm breaths.
Feet and toes- point your feet and curl your toes down feeling the tension in the arches of your feet.
Calves- point your feet up towards your face.
Thighs- wedge your heels down on the floor as hard as you can and focus the tension in your thighs.
Thigh- constrict each leg (one at a time) by stretching and slightly raise off the floor.
Buttock- contract your buttock by lifting hips off the floor or squeezing if you are sitting.
Abdominals- Tighten your abs.
Breath out and suck in your stomach as far back as you can.
Enjoy 2-3 deep and calm breaths.
Fists-clench your fists with each arm stretched out.
Elbows- flex your triceps by lifting your hands to each shoulder.
Arms- flatten your arms on the floor (if laying down) or put to your side (if sitting up) and with your palms up push into the floor/seat as hard as you can.
Shoulders- shrug your shoulders by lifting as high as possible.
Neck- push your head back slowly until you feel tension in your neck.
Neck- push your chin towards your chest until you feel tension in your neck.
Tongue- push your tongue against the roof of your mouth.
Jaw- clench your teeth.
Mouth-smile as wide as you can.
Eyes- shut your eyes tightly until you feel tension, then relax while leaving eyes shut.
Forehead- tighten forehead by frowning.
How do you feel? Relaxed? I hope so!! Progressive muscle relaxation can also alleviate tension headaches, help with difficulty sleeping, and reduce anxiety caused by stress. For more information about stress management check out the Web MD Stress Management Center. Another great way to relieve stress is to incorporate exercise into your daily routine. Business Travel Life offers customized travel workouts and meal plans for business travelers. Contact us for more information.
Resource: Web MD Progressive Muscle Relaxation
This site is not designed to and does not provide medical advice, professional diagnosis, opinion, treatment or services to you or to any other individual. Through this site and linkages to other sites, Business Travel Life provides general information for educational purposes only. The information provided in this site, or through linkages to other sites, is not a substitute for medical or professional care, and you should not use the information in place of a visit, call consultation or the advice of your physician or other healthcare provider. Business Travel Life is not liable or responsible for any advice, course of treatment, diagnosis or any other information, services or product you obtain through this site.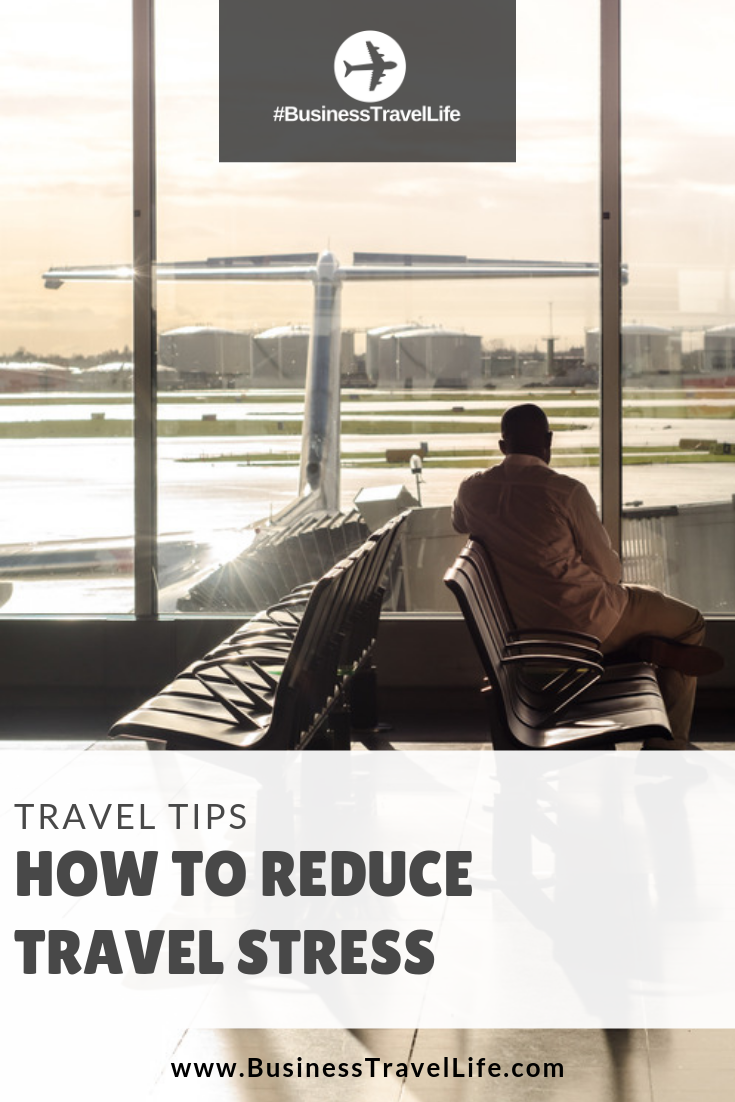 Business Travel Life
Business Travel Life is an online resource supporting the road warrior lifestyle. We give business travelers the tools they need to maintain their wellness and productivity when traveling. The topics we cover include business travel tips, travel workouts, healthy travel hacks, travel products, general travel tips, and industry trends. Our goal is to make business travel a healthier experience – and to make healthy travel practices more accessible to all road warriors.