15 Tips for a Healthy Hotel Breakfast at the Marriott Courtyard Bistro
Usually when I travel I workout first thing in the morning. After a workout, there is nothing more disappointing than going down to the breakfast spread at the hotel de jour and finding nothing with protein, nothing that is fresh, or nothing that I consider healthy. For this reason, I adore the healthy hotel breakfast offerings at the Bistro inside Marriott Courtyard.
Over the last few years Marriott Courtyards have phased out the free breakfast buffet and replaced it with a (somewhat controversial) Bistro that makes food fresh when you order. The catch is the made to order food take a few minutes to cook and has a cost associated. So there is no longer a quick or free breakfast -hence the controversy. Some travelers complain the Bistro is too expensive and some complain that it take too long.
As a healthy business traveler, there are no complaints from me. The Bistro provides me with the option to start my day with a fresh and healthy meal and a latte- did I forget to mention the Bistro carries Starbucks coffee and has an espresso machine?! This is even more valuable to me when I am on the East Coast and Starbucks are far and few between due to the popularity of Dunkin Donuts.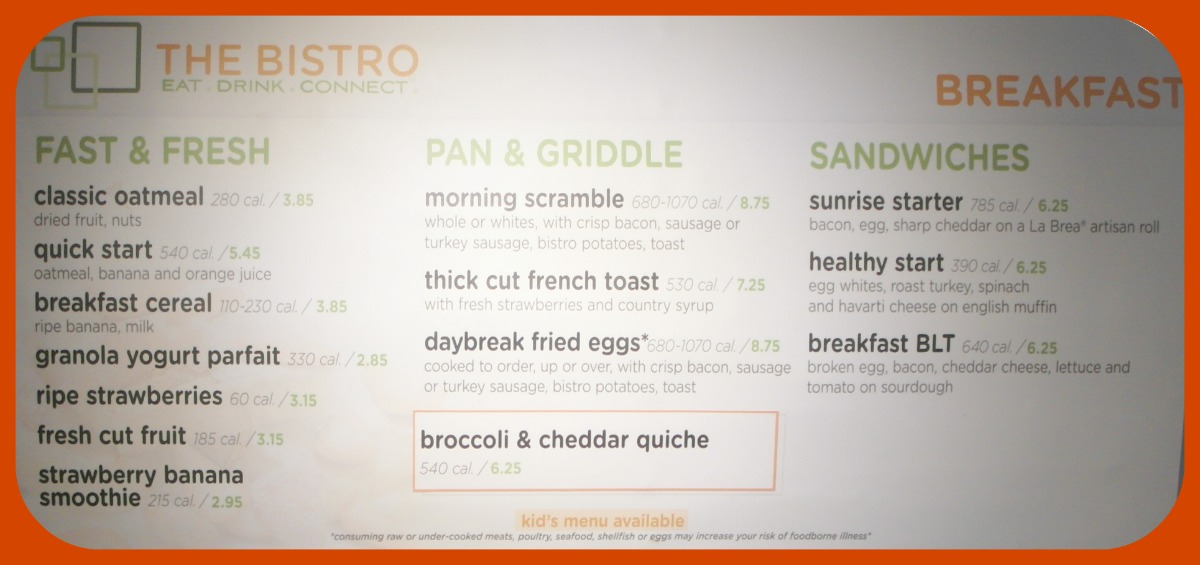 The other great thing about the Courtyard Marriott Bistros is that the menu includes caloric information. No need to guess how many calories you are eating for breakfast, it is right there for you to see. Additionally, apps such as MyFitnessPal include the menu items from the Marriott Courtyard, though some items only have the calories listed, not the actual macros (fat/carbs/ protein). The macros are VERY hard to track down, not sure why the information is so top secret but the properties that I contacted did not have it on hand and 800 number that I called told me to call the properties. If anyone has been able to track down the macro information please send it to me!
If you wish to take your breakfast to an even healthier level here are some ways that you customize our order to get a healthier breakfast:
Choose eggs whites in the scramble
Ask for fruit instead of toast
Order turkey sausage instead of bacon or pork sausage
Order skim milk or 1% milk in your coffee or latte
Avoiding loading up the oatmeal with brown sugar and cream
Here are my suggestions for the 4 healthiest breakfast items at the Marriott Courtyard Bistro:
Classic Oatmeal with nuts (skip dried fruit) and real fruit like a banana and/or strawberries
Morning Scramble with egg whites, turkey sausage, potatoes, toast (fruit is a good substitute for toast or potatoes)
Healthy Start Breakfast Sandwich- egg whites, roast turkey, spinach, Havarti cheese on English muffin
Daybreak Breakfast with eggs, turkey sausage, potatoes, toast (seriously, consider asking for fruit)
Lastly, don't blow your healthy breakfast by ordering a 500 calories cup of coffee. Here are some tips for keeping your coffee under 150 calories:
Order skim milk in your latte or ask for it steamed for your coffee
Order an extra shot (the calorie free shot will take up more space leaving less room for milk)
Cut back on the extra sugar – each sugar packet is 15 calories
Do NOT order a white chocolate mocha- this drink, even in its smallest, lowest calorie version (tall/nonfat/no whip) still has 270 calories and 45g of sugar (more than a can of soda), this is dessert, not breakfast!
Say no to whip cream
If you have the choice to add flavor ask for 2 pumps instead of 4 pumps or request sugar-free (I avoid any artificial sweeteners)
Here is a link to the Bistro Sample menu, which seems pretty consistent with what I have seen offered at Marriott Courtyards throughout the country.
While the Marriott Courtyard Bistro does not serve all Starbucks Café drinks, you can find more nutritional information for all Starbucks drinks by clicking here.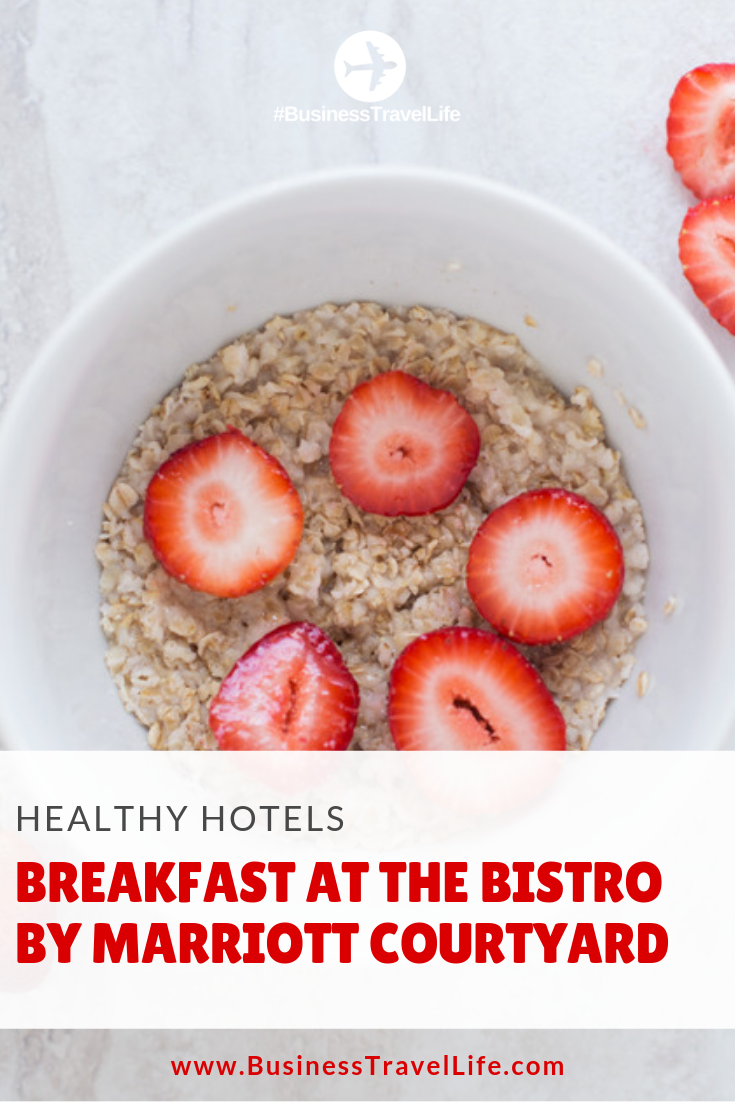 Business Travel Life
Business Travel Life is an online resource supporting the road warrior lifestyle. We give business travelers the tools they need to maintain their wellness and productivity when traveling. The topics we cover include business travel tips, travel workouts, healthy travel hacks, travel products, general travel tips, and industry trends. Our goal is to make business travel a healthier experience – and to make healthy travel practices more accessible to all road warriors.