I was recently passing through the Philadelphia Airport around 11am. I wanted something light and healthy but did not have time to sit down at a restaurant and order a salad. I walked by Au Bon Pain and thought I would see what I could put together ala carte style for a healthy meal. While there are a number of unhealthy offerings, I was pleasantly surprised by the healthy items offered.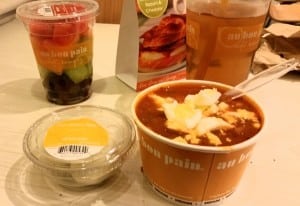 I decided to get a medium bowl of 12 veggies soup (180 calories) and two packs of hard boiled eggs (four eggs total for 300 calories and 26g of protein). Some of you may not like what happened next, but I chopped up the eggs and added the egg whites into the soup with one yoke (I discarded the other yokes). The eggs warmed up with the soup and it was very tasty, healthy, and quick. After removing the three yokes from three eggs the convenient and healthy airport meal was a total of 335 calories, 12g fat, 30g protein, and 27g carbohydrates. I also added a large fruit cup which has 140 calories and 36g carbohydrates.
Au Bon Pain offers a lot of other healthy choices. If you want to avoid feeling bloated while you fly I would suggest sticking to foods with 500mg of sodium or less (the lower the better).
In addition to the fresh fruit and hard boiled eggs, here are some of my top picks for Au Bon Healthy Airport Eating:
Breakfast
Small Classic Oatmeal (8oz)
170 Calories, 3g fat/ 32g carbohydrates/ 6g protein/ 5mg sodium/ 1g sugar/ 4g fiber
Medium Classic Oatmeal (12oz)
260 Calories, 5g fat/ 47g carbohydrates/ 10g protein/ 10mg sodium/ 1g sugar/ 6g fiber
Scrambled Eggs (5oz)
175 Calories, 15g fat/ 5g carbohydrates/ 15g protein/ 450mg sodium/ 1g sugar/ 0g fiber
Skinny Whole Wheat Bagel (1.6 oz)
90 Calories, 1g fat/ 21g carbohydrates/ 5g protein/ 230mg sodium/ 1g sugar/ 6g fiber
Egg whites and Cheddar Breakfast Sandwich (5.8oz)
230 Calories, 9g fat/ 22g carbohydrates/ 19g protein/ 510 mg sodium/ 1g sugar/ 6g fiber
Fresh Fruit Smoothie with Fresh Fruit (16 oz)
210 Calories, 0g fat/ 54g carbohydrates/ 2g protein/ 20mg sodium/ 42g sugar/ 4g fiber
Café Latte (16 oz)
140 Calories, 7g fat/ 12g carbohydrates/ 7g protein/ 105mg sodium/ 12g sugar/ 0g fiber
Lunch
Iced Tea (Black or Black Currant-unsweetened) (24 oz)
5 Calories, 0g fat/ 2g carbohydrates/ g protein/ 5mg sodium/ 0g sugar/ 0g fib
Southwest Chicken Salad (16.5 oz)
350 Calories, 11 g fat/ 42g carbohydrates/ 24g protein/ 390mg sodium/ 9g sugar/ 12g fiber
Thai Peanut Chicken Salad (11oz)
190 Calories, 4.5g fat/ 20g carbohydrates/ 19g protein/ 340mg sodium/ 5g sugar/ 4g fiber
Swiss Chard and Three Bean Soup (8oz)
140 Calories, 3g fat/ 23g carbohydrates/ 5g protein/ 470mg sodium/ 2g sugar/ 7g fiber
Ala Carte Roasted Chicken with Thyme (5oz)
250 Calories, 12.5g fat/ 0g carbohydrates/ 30g protein/ 250mg sodium/ 0g sugar/ 0g fiber
The entire Au Bon Pain Menu Nutrition can be found here.
Au Bon Pain has locations in the following major airports:
Baltimore-Washington International Airport
Boston Logan Airport
Dallas Fort-Worth Airport
Dulles Airport
Hartsfield-Jackson Atlanta Airport
Indianapolis Airport
JFK Airport
LaGuardia Airport
Miami Airport
Orlando Airport
Philadelphia Airport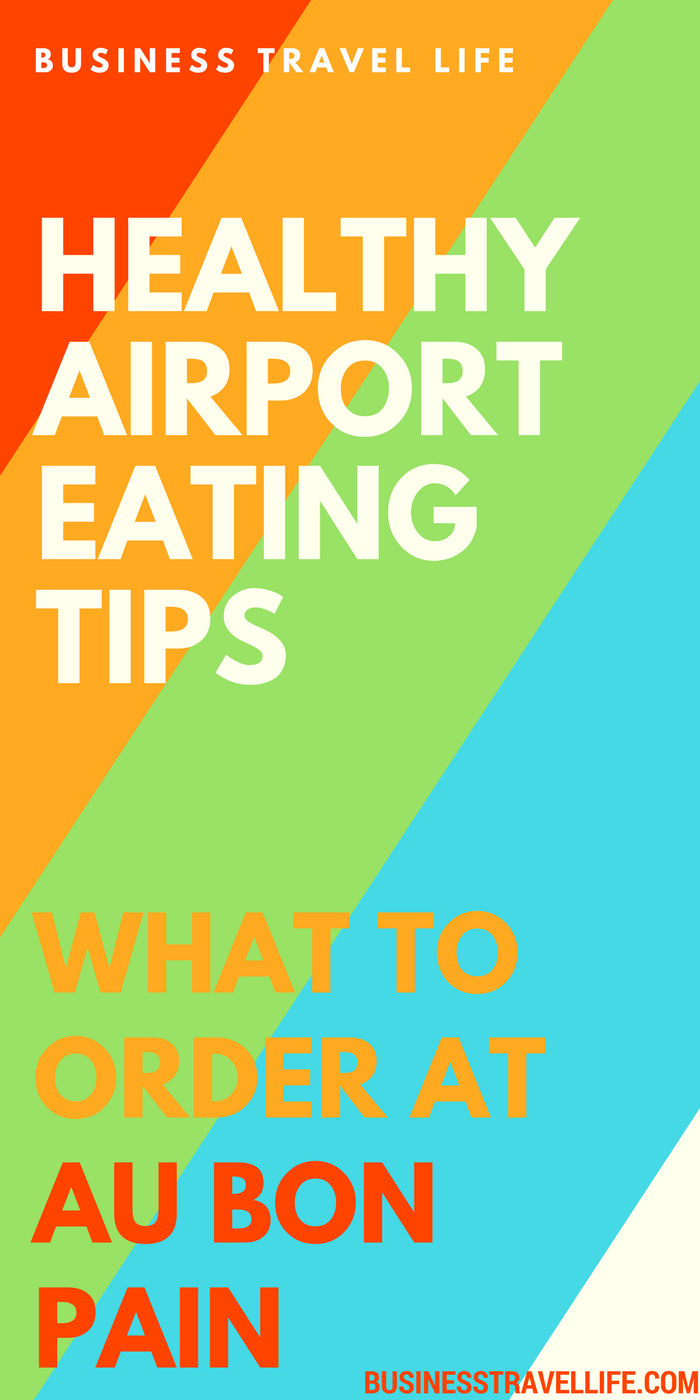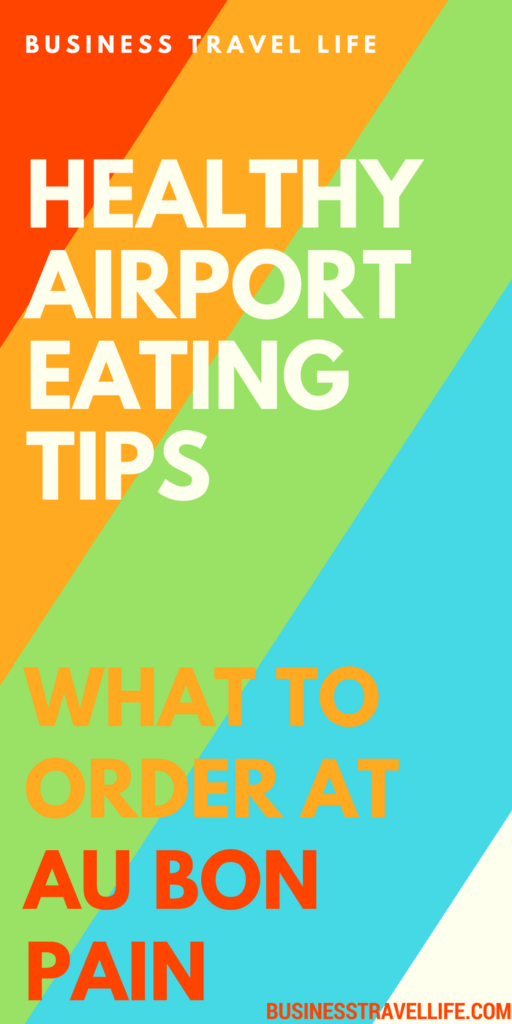 Business Travel Life
Business Travel Life is an online resource supporting the road warrior lifestyle. We give business travelers the tools they need to maintain their wellness and productivity when traveling. The topics we cover include business travel tips, travel workouts, healthy travel hacks, travel products, general travel tips, and industry trends. Our goal is to make business travel a healthier experience – and to make healthy travel practices more accessible to all road warriors.