Business card networking is essential for road warriors.
In our ever evolving digital world, you may be wondering if business cards still matter? ABSOLUTELY- Especially for business travelers. Whether you are making the rounds on the convention floor or networking in the airport lounge, business cards are essential for making a lasting impression.
Arming yourself with business cards at all times will ensure that you never miss an opportunity to make a valuable business connection." Jonathan Long, founder and CEO of Market Domination Media
Business cards serve two primary functions; each person who receives your card can potentially become a customer or a referral source. Unlike social media and email, business cards will last as long as the recipient holds onto it.
The business card is the most powerful single business tool–dollar for dollar–you can invest in. It's compact, energy-efficient, low-cost, low-tech, and keeps working for you hours, weeks and even years after it leaves your hands! Ivan Misner,Founder and Chief Visionary Officer of professional business networking organization BNI
Entrepreneur magazine shared some strategies for networking with business cards:
Accessibility– Do not leave home without your business cards.
Create opportunities– Whether you are having a meeting with an old contact or attending a mixer, always hand out your cards, you never know when a contact may turn into a prospective client or referral source.
Snail Mail– Hand write a follow up note and include your business card.
Business travelers have a better advantage for business card networking. Think of how many times during a business trip you are introducing yourself and likely providing some background on who you are. During every business trip, you constantly see spitting images of yourself-a weary, professionally dressed person dragging along some sort of carry-on and laptop bag. It does not take a rocket scientist to guess who is traveling for business. Put down your phone and introduce yourself to the person you are sitting next to on the airport shuttle or at your hotel bar. Side note, be respectful if it's apparent someone wants to stop talking to you.
6 Places for Business Card Networking During Travel
Airport Shuttles
Airport Security Line
Airport Lounge
Airplane
Train
Hotel Restaurant/Bar
And of course, if you are attending a conference or convention, be prepared to hand out your business card as often as possible. Find a company that strategically aligns with yours and exchange a stack of cards for referral opportunities. And, don't forget to reorder your cards when your supply gets low.
Business Cards Holders
Business card holders are the best way to protect your cards while keeping them close at hand, especially during travel. Check out these stylish and classy business card holders.
How do you use business cards for networking during travel? Please comment below.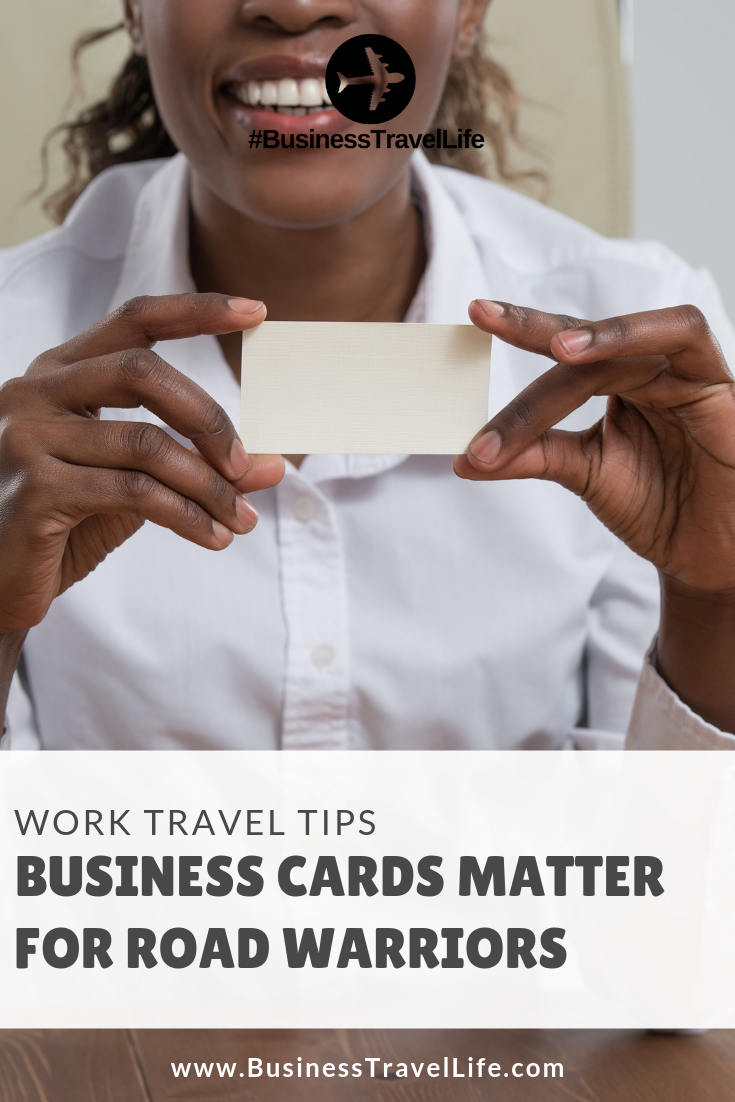 Business Travel Life
Business Travel Life is an online resource supporting the road warrior lifestyle. We give business travelers the tools they need to maintain their wellness and productivity when traveling. The topics we cover include business travel tips, travel workouts, healthy travel hacks, travel products, general travel tips, and industry trends. Our goal is to make business travel a healthier experience – and to make healthy travel practices more accessible to all road warriors.