Located in New Orleans, Louisiana, The Sweat Social is perfect for business travelers looking for a convenient and efficient workout class on the road.
If you always seem to find yourself traveling for business, you know how difficult it can be to keep up with a fitness routine. You need to do an active workout in a short amount of time, and preferably outside normal business hours. But how can you exercise to the max without access to a local gym?
On a recent trip to New Orleans, I was able to try out The Sweat Social. This traveler-friendly fitness program checks off all the boxes for road warriors: their fitness classes are quick, action-packed, and they even take place at convenient times. This program is excellent for anyone visiting New Orleans, whether for business or for Bourbon Street.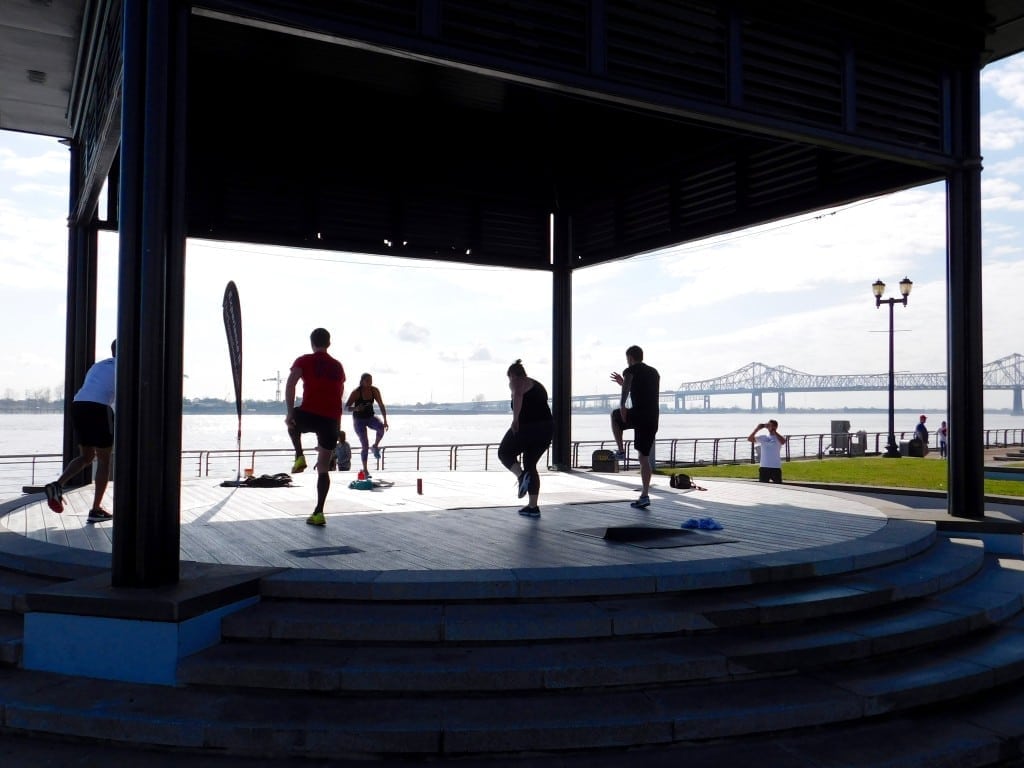 The Sweat Part
This program offers several fitness class options meant for visitors looking to infuse workouts into their travel plans. Currently, The Sweat Social has two Signature Classes: SWEAT! and STRETCH! In the latter program, you will do pilates and yoga. On my trip, I visited their SWEAT! Class. Located on the riverfront, you have a beautiful view of the Mississippi as you do an exercise routine that combines cardio, boxing, and much more. This workout is intense, but with the instructor's enthusiasm and energetic music, you will have no problem staying motivated. A 30-minute class at 9:00AM, I left feeling inspired to tackle the day ahead, and with plenty of day left ahead of me.
Other than these two Signature Classes, The Sweat Social also has a Running Tour and Luxury Fitness events at select accommodations. The running tours are exactly what they sound like: a group jog through iconic New Orleans sites, complete with built-in stops for pictures and background information provided by a tour guide. These tours last approximately 45 minutes and depart from most hotels.
Their Luxury Fitness Classes take place at select New Orleans accommodations. Right now, The Sweat Social works with Starwood Hotels Le Méridien, W French Quarter, and Windsor Court Hotel. Travelers in a group can also set up their own fitness sessions, perfect for team building and keeping the company healthy. In the end, no matter which class you choose, you will exercise to the max in a business-friendly time slot.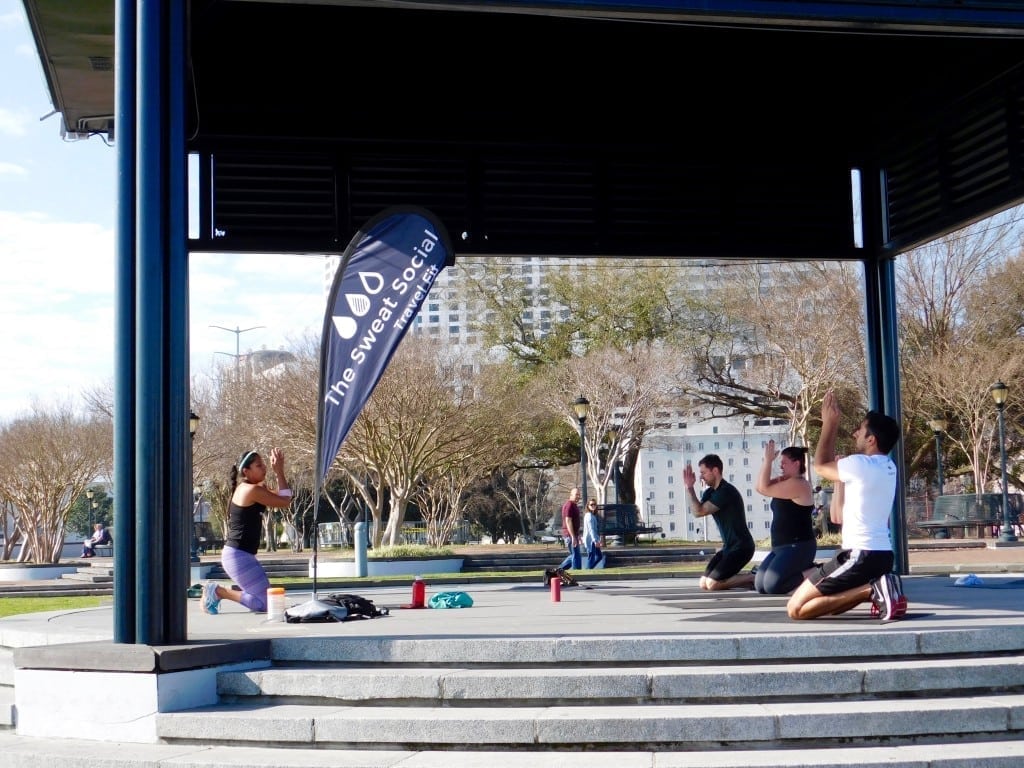 The Social Part
Part of the fun of traveling to new places is meeting your fellow travelers, and The Sweat Social fosters a friendly workout environment for just this. During a quieter moment in their SWEAT! Signature Class, everyone introduced themselves and said where they were from. With fun icebreakers like this, you will effortlessly get to know your fellow travelers and fitness aficionados.
Their Luxury Fitness Classes can include cocktails, raffles, and more fun social activities to help you further become acquainted with your fellow fit travelers. The Sweat Social effortlessly combines traveler-friendly workout techniques with on the road friend-making techniques.
Why business travelers will love it
The Sweat Social is built for travelers. Founder Rupa Mohan began this program after traveling through Asia and finding that it was difficult to stay fit on the road. The Sweat Social is designed around her experience, fitness expertise, and love for travel and New Orleans.
With their running tours, visitors are able to exercise and get an insider perspective of New Orleans. Most of The Sweat Social signature classes happen before the day begins, leaving plenty of time to explore the city or attend to business. If any equipment or exercise mats are required, The Sweat Social will provide them for you. Should you forget fitness apparel, you can purchase signature clothing from The Sweat Social that will double as exercise gear and unique souvenirs. All you need is a pair of sneakers.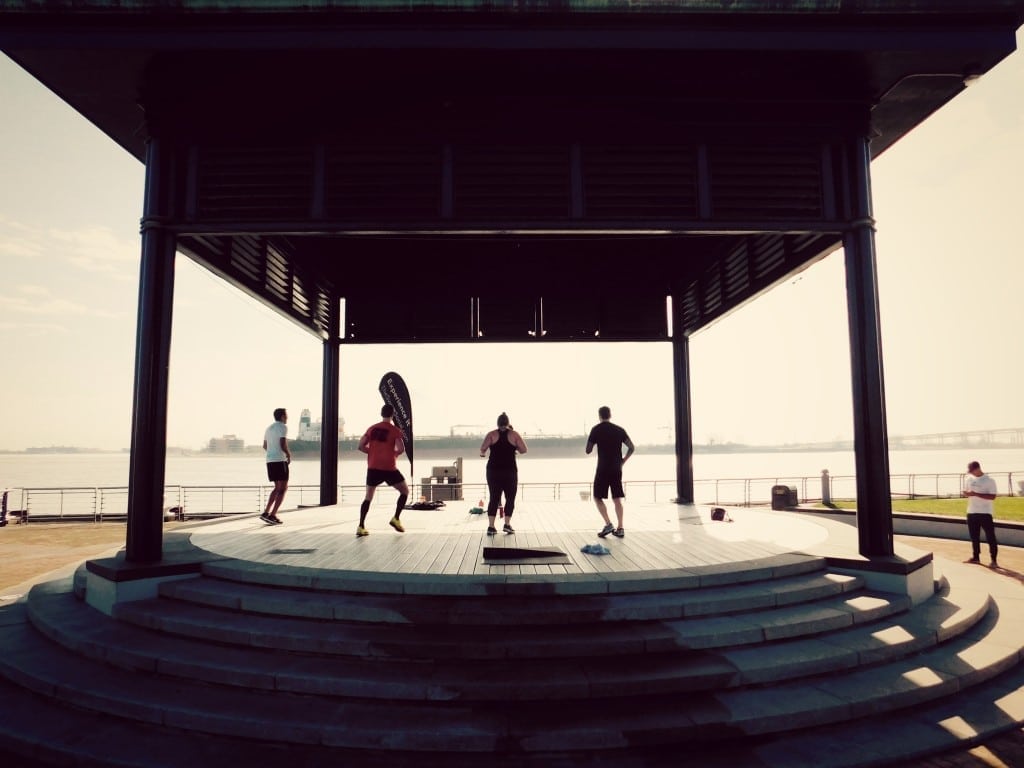 So the next time you travel to New Orleans for business travel, we recommend that you take a class with The Sweat Social. These classes are designed for visitors with a packed schedule, and are incredibly fun. Working out on the road has never been this enjoyable, and you and your new friends from The Sweat Social will want to do this program again and again when you visit New Orleans.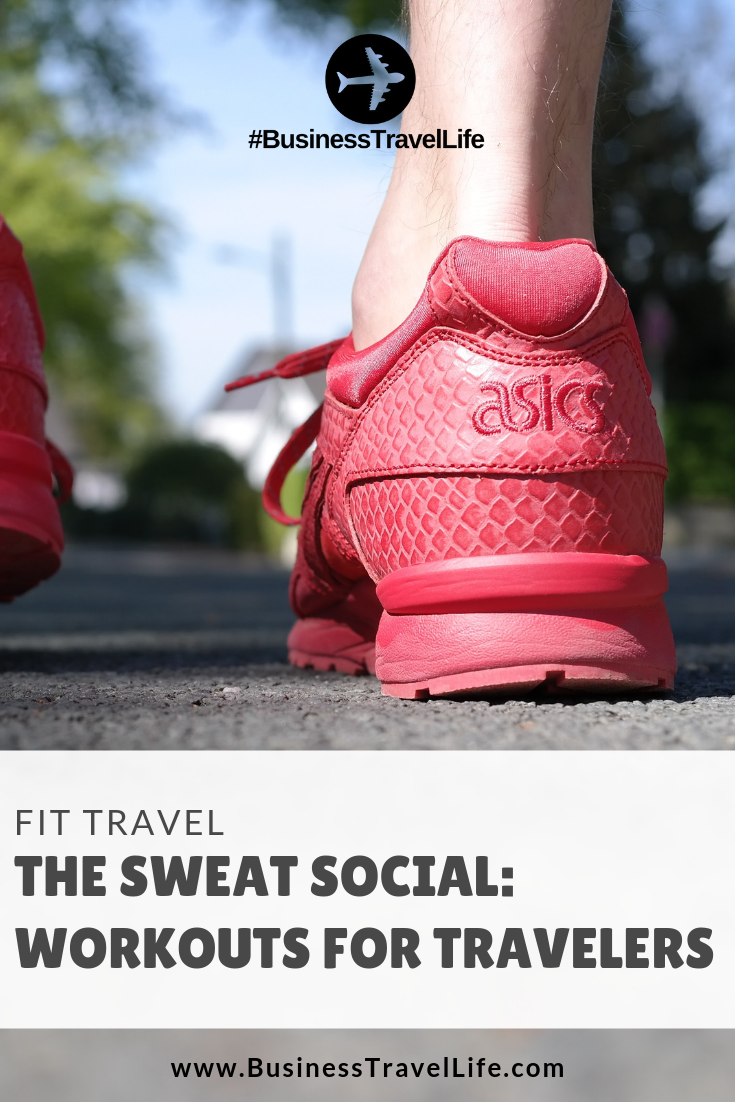 Business Travel Life
Business Travel Life is an online resource supporting the road warrior lifestyle. We give business travelers the tools they need to maintain their wellness and productivity when traveling. The topics we cover include business travel tips, travel workouts, healthy travel hacks, travel products, general travel tips, and industry trends. Our goal is to make business travel a healthier experience – and to make healthy travel practices more accessible to all road warriors.