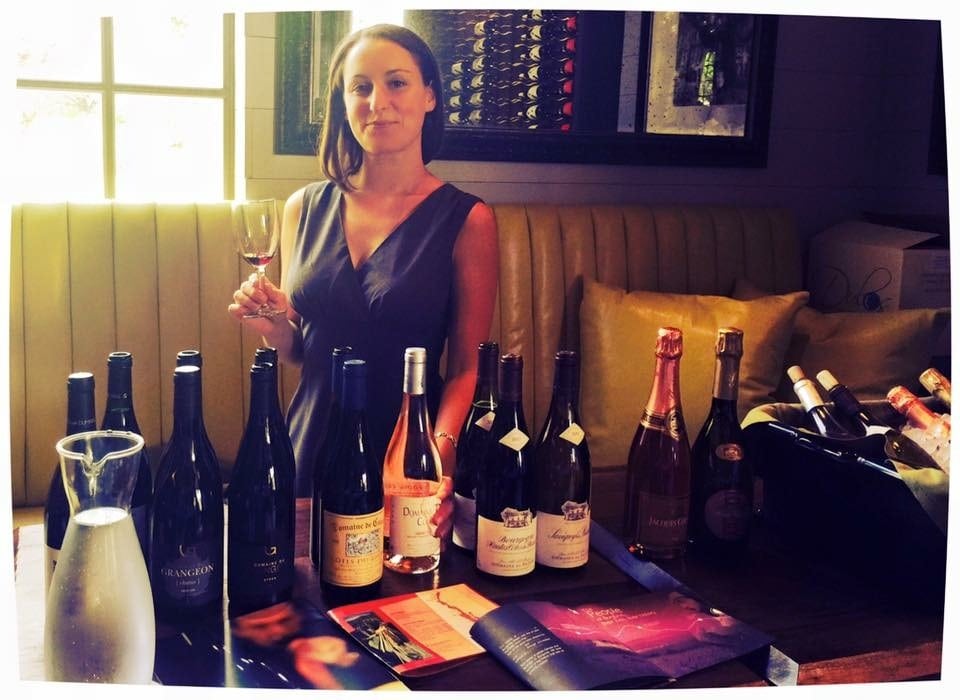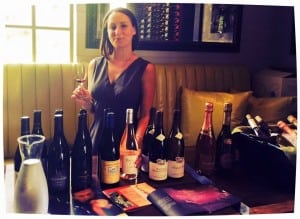 As a Brand Ambassador for Chloe Wine, Sarah Mader spends 10-11 months out of the year on the road. Similar to other small business travelers, Sarah does her best to keep her travel costs low in an effort to keep expenses minimal and customers happy. She shared her tips for traveling comfortably on a budget.
Sarah Mader has not always needed to conduct business travel on a budget. Previously, her business travel always favored comfort over cost (a perk many corporate travelers enjoy). Now, Sarah works as a Brand Ambassador to several small family wineries in France and Italy. She is half of a two person team that imports the wine for these family vineyards and works with US distributors to purchase the wine from Chloe Wine. Her company remains competitive by keeping its expenses (including travel) as low as possible- something many entrepreneurs, small business owners and start-up companies can appreciate. She has learned to travel on a budget without sacrificing comfort.
Does your company offer an incentive for you to travel on a budget?
I would not say there is an incentive but more of an expectation that I will book budget friendly flights and lodging. We do everything we can to keep our prices competitive, and we don't feel I need to be staying at the Four Seasons while traveling. (However – if the Four Seasons is reading this, I very much would like to, wink wink). When booking, especially hotels or Airbnb, I have a number in my head that I do not want to go above. However, some cities you just can't win and half to pick your battles – and pay a more premium price.
Does your company give you a per-diem?
(Laughing) I have a $75 food per-diem per work city. This is tricky – because as a supplier, I am often expected to buy lunch for the sales person I am working with, so my policy now is, "Do you mind if we split this?" Our relationship after-all, is a partnership.
How do you keep your costs down when you travel?
I always try and book market visits as far as in advance as I can, so I have plenty of time to grab a good airfare price. I always start looking for airfare at Kayak.com which will give me an overall idea of what I'm looking at. I also use Expedia.com. Once I see which airline is lowest on Kayak, I will go that airlines website to book direct. I always use my frequent flyer numbers for each airline, it adds up sooner or later. I will also check Southwest, Jet Blue and other airlines that you won't find on Expedia or Kayak.
Booking travel takes time, but it pays off in the end to save money.
For hotels, I really like staying at Choice Hotels – they have a variety of chains, they are budget friendly and they have a reward program for free nights that really adds up quickly. As a business traveler, you are gone during the day, and when you get back in the evening, you really just want free internet, a comfy bed and a free breakfast in the morning! I will also check Expedia for deals as well. As an Expedia member, I often save on hotel rooms booked on Expedia, since I book frequently.
And! Let's not forget about Groupon or Living Social deals – I have often lucked out there as well.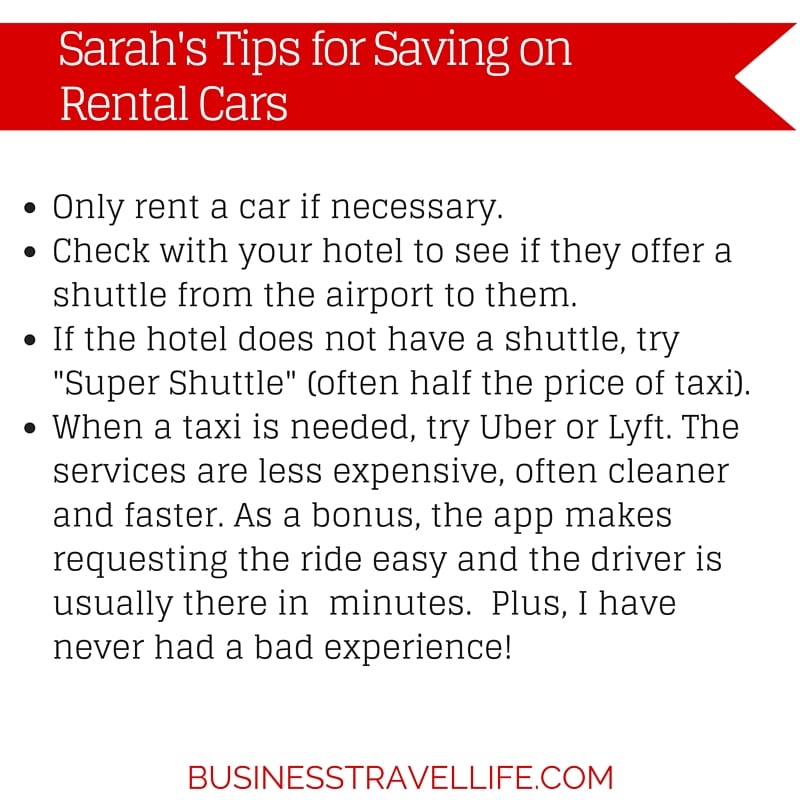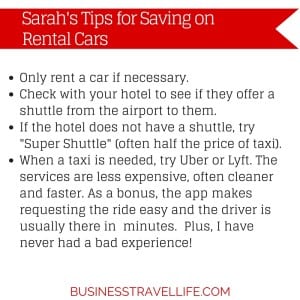 Do you fly on the same airline or book whichever flights are cheaper?
At one time, I always flew on Southwest. They seemed the cheapest and they didn't charge a penalty for changing or canceling flights. While I prefer certain airlines, I book the cheapest airline that I can.
After you fly so much – you realize an economy seat is what it is on any airline!
What do you think of Airbnb?
I LOVE Airbnb! I have been a member since 2012 and have used it over 20 times! Sometimes, you just get tired staying in hotels and want more "creature comforts." I have stayed in a room, an apartment and have even rented a house all over the country – everywhere from Atlanta, Austin, San Francisco and little cities in between. I will often compare hotel prices vs AirBnb prices when choosing my lodging accommodations.
Sarah's Tips for Business Travel on a Budget
Always plan ahead! As soon as you book your ticket, take a few minutes and pick your seat assignment so you are not surprised with the middle seat.
You know those u shaped neck pillows? Buy one.
At airports, you are paying a premium for everything – from bottled water to a sandwich. Eat before you get to the airport, pack snacks and even a meal and bring an empty water bottle to fill up once you pass thru security.
Bring your own headphones, because when they show that movie on your your flight, they are going to charge you for it.
I always travel with Chap Stick, hand lotion and gum to avoid the need to buy them at the airport.
I'll also bring my iPad that already has Kindle books or magazines downloaded, so I'm not tempted to buy a magazine or two.
When on the ground, it's tempting to eat out since you may not always be able to cook. I always take to-go from Whole Foods salad bar and hot bar along with juices. It's hard to eat healthy on the road but always worth it.
I always pack granola bars and trail mixes in my purse, often worth its weight in gold.
Remember, everything adds up quickly during travel!
Business Travel Life
Business Travel Life is an online resource supporting the road warrior lifestyle. We give business travelers the tools they need to maintain their wellness and productivity when traveling. The topics we cover include business travel tips, travel workouts, healthy travel hacks, travel products, general travel tips, and industry trends. Our goal is to make business travel a healthier experience – and to make healthy travel practices more accessible to all road warriors.