If you spend enough nights away from home to get a reserved parking space at your favorite hotel, these apps are for you. Frequent travelers face many challenges while away and when returning home from a trip. These challenges can be as basic as finding the time to get the laundry done or as complicated as finding time to research contractors to remodel the kitchen. These apps solve many problems that occur as a result of being away from home. And the best part is you can use the apps from your phone or tablet on the go.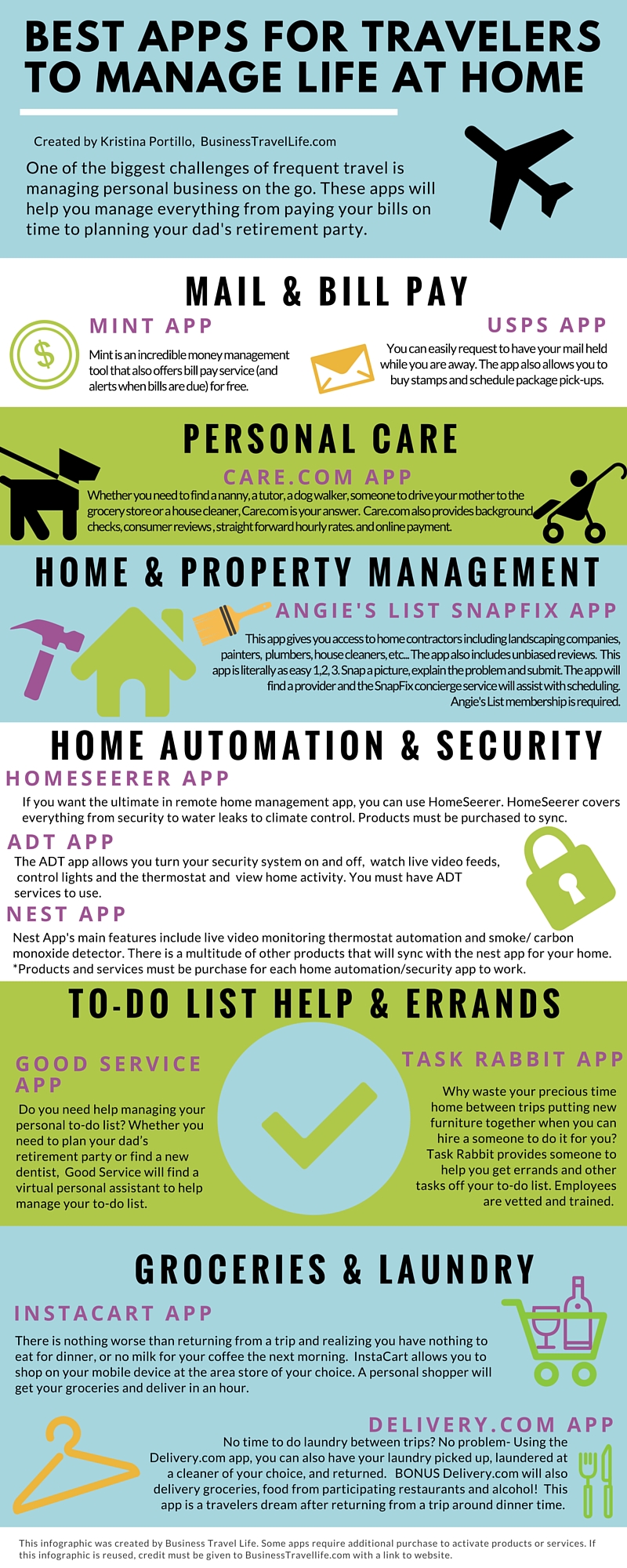 Business Travel Tips: Best Apps to Manage Life at Home
Mint Bills for bill pay service: Mint is an incredible money management tool that also offers bill pay service (and alerts when bills are due) for free. If you are uncomfortable using an app, set up your bills on automatic withdrawal or utilize the bill pay service offered by your bank (which you can also likely access via your banks app). Mint is available on iTunes and Google Play.
USPS to manage your mail: The USPS app is fantastic! You can easily request to have your mail held while you are away. The app also allows you to buy stamps and schedule package pick-ups. USPS is available on iTunes and Google Play.
Care.com for child, pet, senior or home care: This app covers all types of care. Whether you need to find a nanny, a tutor, a dog walker, someone to drive your mother to the grocery store or a house cleaner, Care.com is your answer. You can even find a personal assistant on this site. Care.com also provides background checks, consumer reviews and straight forward hourly rates. The Care.com website states, "Care.com's premise is simple: Our consumer matching solutions allow families to search for, qualify, vet, connect with, and ultimately select caregivers in a low-cost, reliable and easy way." Care.com is available on iTunes and Google Play.
SnapFix for home repair and property / home maintenance: Sure, the neighbor kid might be able to mow your lawn and shovel snow, but isn't it better to use a reliable professional? It can be difficult to find a reliable professional when you are not home very often. The SnapFix app (created as a part of Angie's List) is a dream app for travelers. It is literally as easy as snap a picture, explain the problem and submit. The app will find a reliable service provider and the SnapFix concierge service will assist with scheduling. This app gives you access to home contractors, repair services, and even house cleaners. Angie's List does have a membership fee, but in return you have access to reliable reviews and a complaint resolution center. SnapFix is available on iTunes and Google Play.
HomeSeerer App for home automation & security: If you want the ultimate in remote home management app, you can use HomeSeerer. HomeSeerer covers everything from security to water leaks to climate control (available on iTunes and Google Play) If security is your main concern, try something like ATD for home security. ADT offers other features such as remote lighting and thermostat control (available on iTunes and Google Play). Nest is another option if your priority is to see live camera feeds. Nest also control the thermostat and smoke/ carbon monoxide detectors. More services are available with Nest using other compatible products (available on iTunes and Google Play).
Good Service for virtual personal assistance– Do you need help managing your personal to-do list? Whether you need to plan your dad's 80th birthday party or find a dentist that will accept your insurance, Good Service will match you with a personal assistant. Good Service is available on iTunes and Google Play.
Task Rabbit for live personal assistance– Task Rabbit (available in 19 cities) provides someone to help you get errands and other tasks off your to-do list. Why waste your Saturday at home, putting your new furniture together or wrapping Christmas presents when you can hire a college student to do it for you? Employees of Task Rabbit are vetted and trained. Task Rabbit is available on iTunes and Google Play.
InstaCart for grocery delivery: There is nothing worse than returning from a trip and realizing you have nothing to eat for dinner, or no milk for your coffee the next morning. Currently available in 18 cities, InstaCart allows you to shop on your mobile device at the area store of your choice. A personal shopper will get your groceries and deliver in an hour. If this is not available in your area, try Shipt, Safeway or Amazon Fresh. InstaCart is available on iTunes and Google Play.
Delivery.com for food, alcohol, groceries and laundry– Don't spend your only day home between trips doing laundry. Delivery.com will pick up your laundry, launder it at a cleaner of your choice, and return it to you. Feeling too tired to cook after a long day of travel? Delivery.com (available in 36 cities) can pick up carry out (from your favorite restaurant) and a bottle of wine and bring it your front door. Delivery.com also does grocery delivery! Mint is available on iTunes and Google Play.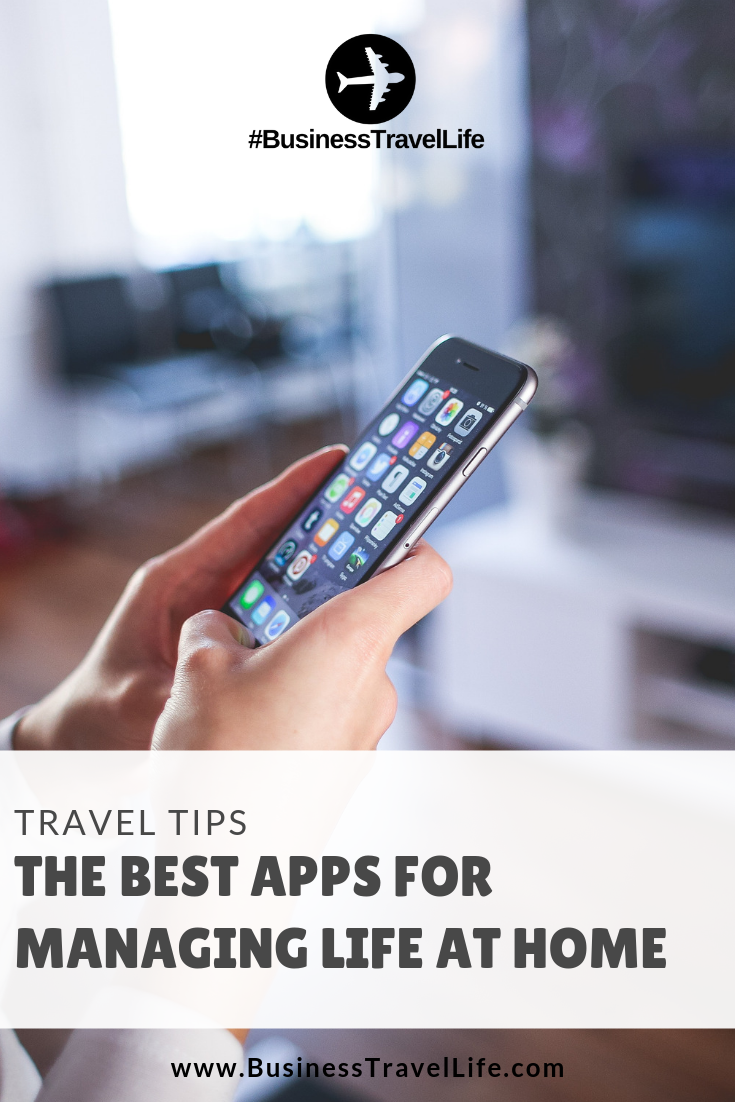 Business Travel Life
Business Travel Life is an online resource supporting the road warrior lifestyle. We give business travelers the tools they need to maintain their wellness and productivity when traveling. The topics we cover include business travel tips, travel workouts, healthy travel hacks, travel products, general travel tips, and industry trends. Our goal is to make business travel a healthier experience – and to make healthy travel practices more accessible to all road warriors.