Pack you own travel snacks with these (mostly) healthy DIY trail mix variations.
Whether you are driving 250 miles to see a client or flying 2,500, it is unlikely you will make it the entire journey without grabbing a snack. Trail mix is a popular on-the-go snack because it usually fairly healthy, not messy, provides energy and is easy to find. Like many other pre-packaged snacks, portion size is the challenge with trail mix.
I am the first to admit that on more than one occasion, I have purchased a bag of the tropical trail mix at the airport, and accidentally devoured the entire bag over the course of a travel day. It is an easy mistake to make, especially if you are prone to eating when you are bored.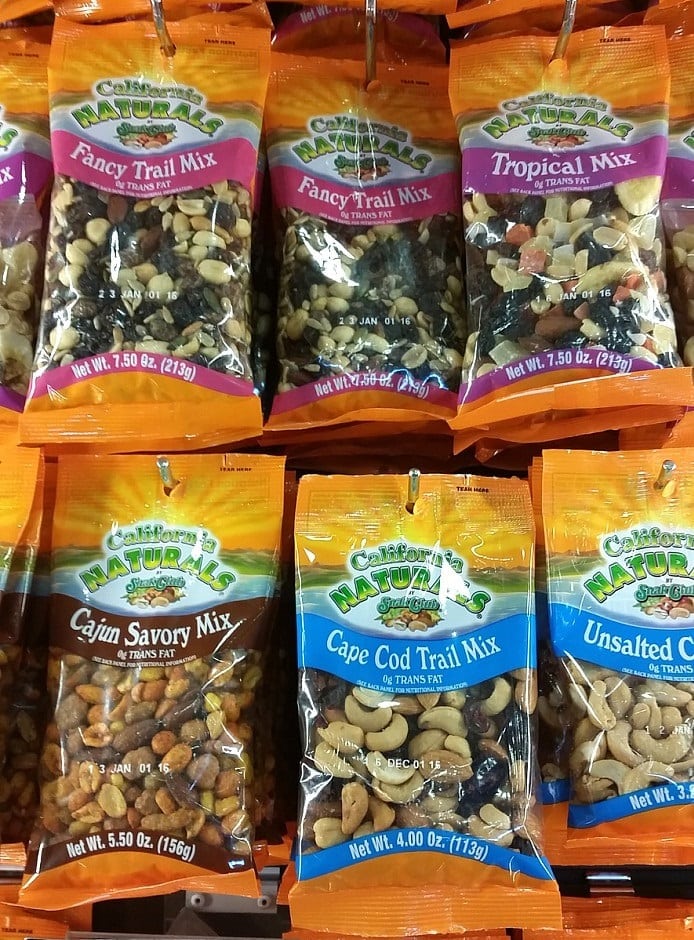 You may be surprised to learn the serving sizes of the popular airport trail mixes shown in the photo:
Instead of relying on portion control during travel, try making your own trail mix. You can make a big batch and then portion each serving size out into a small bag or containers to take on your trip. If DIY trail mix is not something you have time for, simply pack a few small Ziploc bags and portion out the larger bag of trail mix before you start snacking.
Portion control is the key to healthy snacking (and a healthy travel lifestyle!).
DIY Trail Mix Recipes
If you are interested in making your own batch of trail mix before your next trip, get creative! According to Personal Creations, you can easily make your own trail mix by mixing one or two ingredients from each category:
Nuts – peanuts, almonds, walnuts, pecans, pistachios, cashews
Fruits – raisins, cranberries, dried apple rings, banana chips, dried blueberries, goji berries, dates, dried apricots, dried cherries
Seeds – sunflower seeds, pumpkin seeds, flax, hemp
Extras – pretzels, chocolate, cacao nibs, cereal, wasabi peas, granola, sesame sticks
Personal Creation shared 10 easy trail mix recipes for us to try. And, don't forget, DIY trail mix is also a great snack to take to the office when you are not traveling.
10 DIY Trail Mix Recipes


Will you try a DIY trail mix recipes or practice portion control when you purchase a larger bag at the airport?
Business Travel Life
Business Travel Life is an online resource supporting the road warrior lifestyle. We give business travelers the tools they need to maintain their wellness and productivity when traveling. The topics we cover include business travel tips, travel workouts, healthy travel hacks, travel products, general travel tips, and industry trends. Our goal is to make business travel a healthier experience – and to make healthy travel practices more accessible to all road warriors.