"I'm in the best shape of my life!"
Veteran Flight Attendant Helen Fritsch has mastered the art of healthy travel. Business Travel Life wanted know how Helen manages to train for body building competitions while traveling four to six days per week. She shared her secrets with us along with many useful tips for road warriors to stay fit on the road.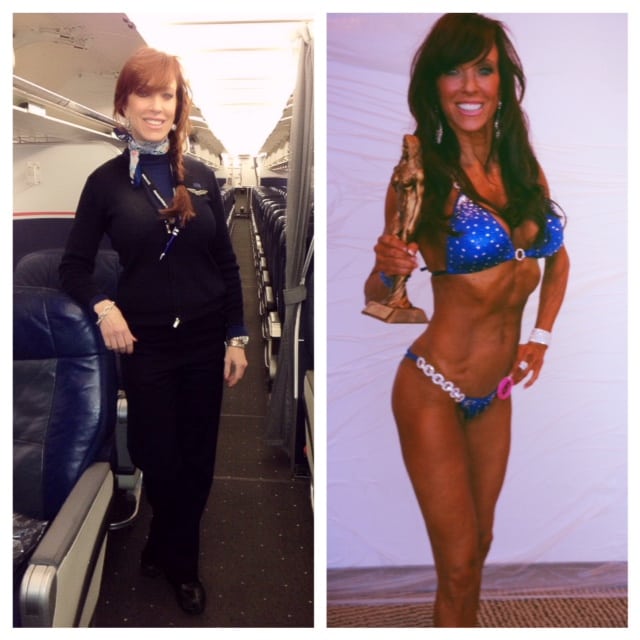 At the age of 57, Helen Fritsch is in the best shape of her life. Two years ago, the US Airways Fight Attendant decided to begin participating in bodybuilding competitions. In two weeks, Helen will be stepping on stage to compete in the Governors Cup Bodybuilding show in Sacramento, CA. in the 50+ Bikini Division and she is hoping to bring home the first place trophy!
Preparing for a body building contest takes an indescribable amount of time, hard word, and dedication. It is a major undertaking for someone with a normal 9 to 5 job, so image the challenges Helen faces by traveling four to six days per week.
When Helen embarked on her fitness journey, she quickly realized packing her own food would be a necessity. "In airports, on airplanes, in gift shops and hotel lobbies, there are an abundance of snacks that are always available. Chips, cookies, M&Ms, candy bars…temptation everywhere!" Helen beats temptation by carrying healthy snacks to hold her over until her next meal. Her go-to travel snacks are protein bars, Go Raw Live Pumpkin Bars, Skinny Pop Popcorn, pretzels, hummus, fruit and veggies.
Helen also avoids eating fast food at the airport. She will order a grilled chicken salad at an airport restaurant in a pinch, but she typically packs a cooler containing her food. Helen said "I cook everything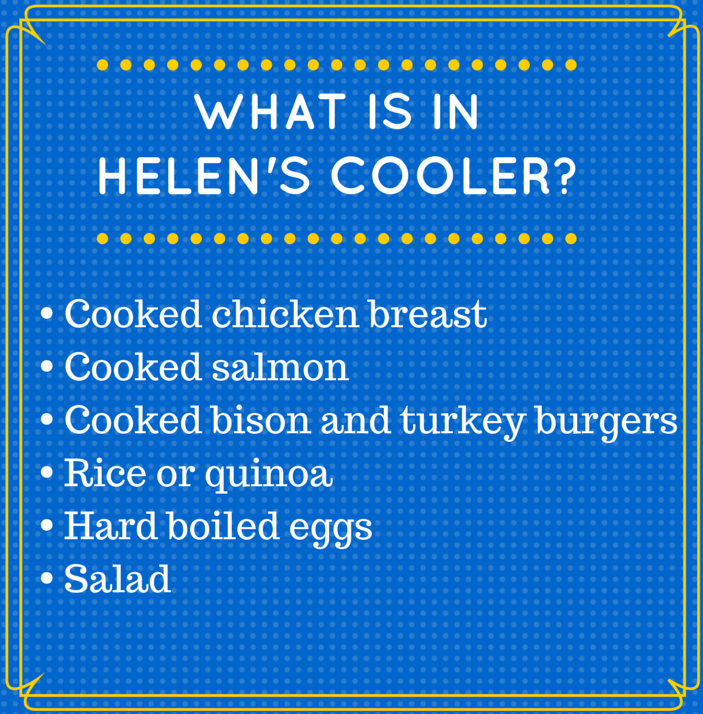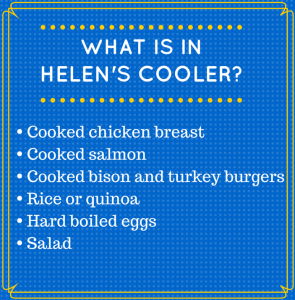 before I leave home. This means cooking in bulk." On Sundays, she cooks enough food to last her entire trip (up to 6 days!). She packs the food into a cooler with a refillable ice pack.
Helen is adamant about planning ahead to make your travel healthy. "Look where you are going and what's around where you are staying. If it's a new destination, Google restaurants close by or call the hotel for food recommendations." She also says finding a hotel that offers refrigerators and microwaves makes it easier to eat healthy.
Just like every other business traveler, Helen is often exhausted when she finally arrives at her hotel room after a long day of travel. When she is struggling to get up and go workout, she re-energizes herself by putting on her workout clothes and having a cup of coffee.
Helen keeps an open mindset when it comes to her workouts. "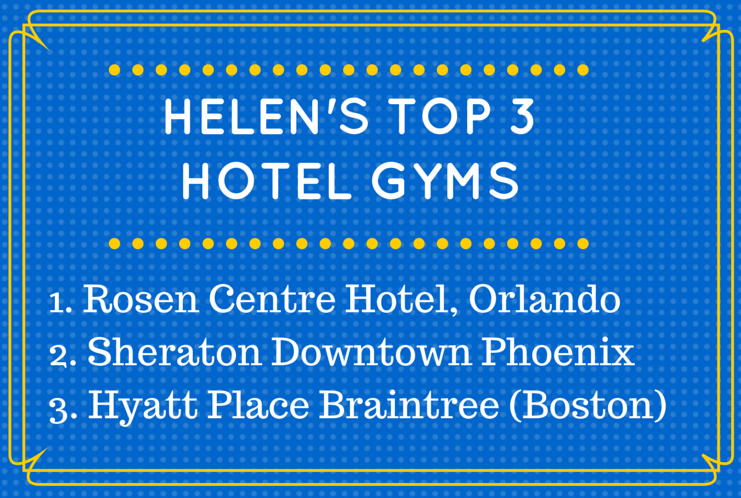 I belong to the YMCA and LA Fitness so if either of these facilities are close to my hotel, I will go there. If all else fails and the fitness room at the hotel is subpar then I always resort to my own bands and work out gear and www.crunchlive.com for a huge variety of workouts." Her normal workout involves one hour of lifting weights; however, if she is short on time she will do supersets (2 exercises in a row) or giant sets (3 exercises in a row) with no rest in between. She will also add in cardio if time permits.
Depending on the length of her trip, Helen will pack a cooler or a stylish tote bag made by Six Pack Fitness that holds four meals and has room for other items. She also packs resistance bands and a jump rope when needed. Helen highly recommends an app called Nutritionist to track daily caloric and macro-nutrient (carbs/fats/ protein) intake.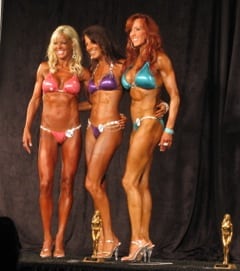 Helen's coworkers at USAirways are very supportive of her lifestyle. She said some have even improved their own health as a result of her suggestions. Her advice to road warriors interested in maintain a healthy lifestyle on the go? "Planning ahead is essential! Carry a cooler with food to help deter eating poorly. If that is not an option then carry flat packs of tuna/salmon, almonds, protein bars or fruit to satisfy you between meals with customers or clients."
You can follow Helen on Facebook and Instagram.
Business Travel Life
Business Travel Life is an online resource supporting the road warrior lifestyle. We give business travelers the tools they need to maintain their wellness and productivity when traveling. The topics we cover include business travel tips, travel workouts, healthy travel hacks, travel products, general travel tips, and industry trends. Our goal is to make business travel a healthier experience – and to make healthy travel practices more accessible to all road warriors.