Marriott Cancellation Policy Loses Flexibility for Business Travelers
Business travelers often experience last minute travel changes and cancellations, often due to circumstances out of their control. For business travelers staying at Marriott, expect a penalty for not-so-last-minute changes. The chain's previous cancellation policy required a 24-hour notice to avoid additional charges.
On Thursday, Marriott announced an update to the hotel chain's cancellation policy. The hotel chain will now require a 48-hour cancellation notice to avoid any room charges. Hotels in United States, Canada, Caribbean and Latin America are included in this policy update. The new Marriott cancellation policy will also apply to Starwood hotels, which Marriott acquired in 2016.
Guests will now be required to cancel their room reservation by midnight 48 hours prior to arrival in order to avoid a fee," Marriott International said in a statement.
Marriott explained that the change will help out customers seeking reservations on short notice, adding that hotels with a one-day policy were left with "a significant number of unsold rooms" due to last-minute cancellations.
Marriott noted a few hotels already had a 48-hour or 72-hour cancellation policy. The hotels that require a 72-hour cancellation policy will remain the same. Some hotels that previously required 48-hours notice will now require 72-hours notice.
Marriott International has a large portfolio of hotels includes W Hotels, St. Regis, Westin, Sheraton and Courtyard hotels, in addition to many others. This new policy does not apply to Design Hotels, which are independently owned, and Marriott Vacation Worldwide hotels. It would be a good idea to read the cancellation policy before booking your next Marriott or Starwood hotel stay.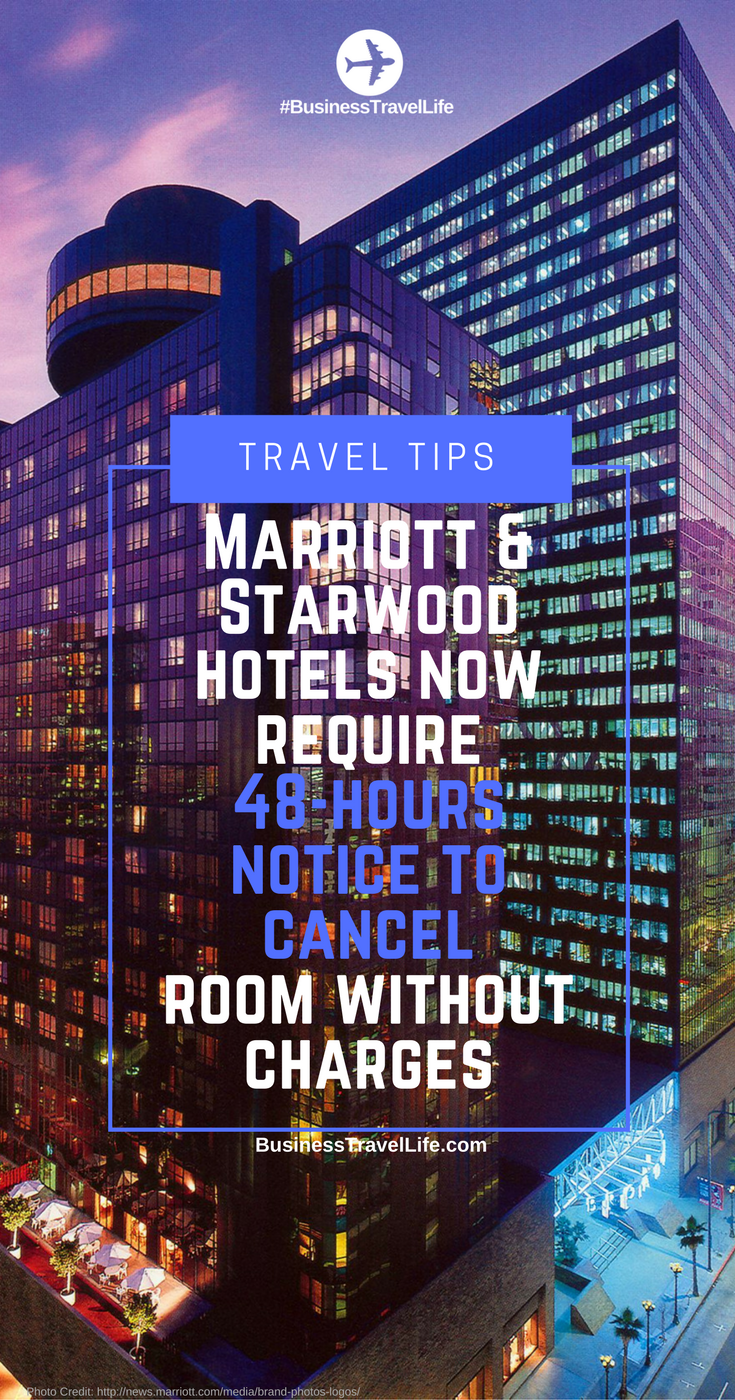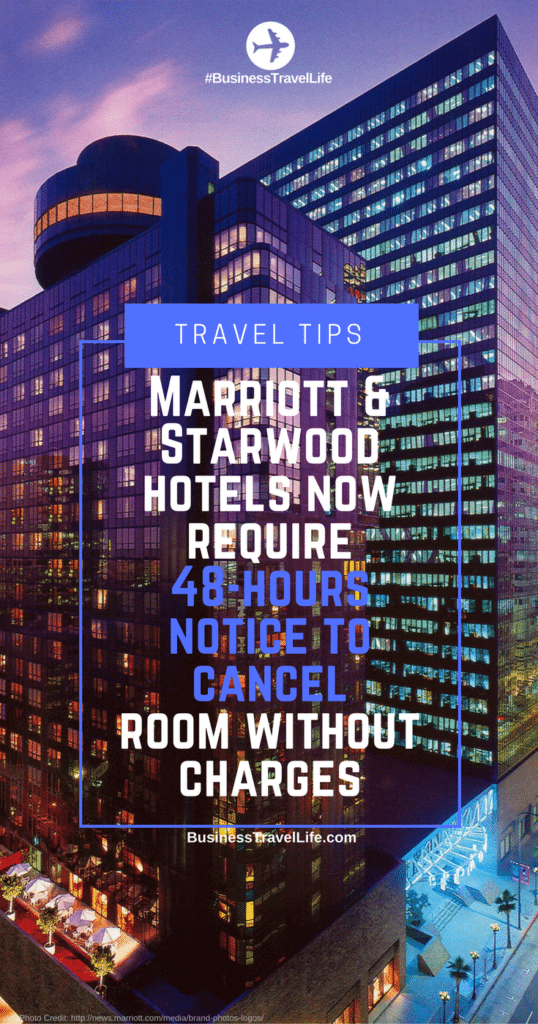 What do you think of the new Marriott Cancelation Policy? Will this influence your decision to stay at Marriott hotels?
Photo Credits: http://news.marriott.com/media/brand-photos-logos/
Business Travel Life
Business Travel Life is an online resource supporting the road warrior lifestyle. We give business travelers the tools they need to maintain their wellness and productivity when traveling. The topics we cover include business travel tips, travel workouts, healthy travel hacks, travel products, general travel tips, and industry trends. Our goal is to make business travel a healthier experience – and to make healthy travel practices more accessible to all road warriors.