Removing makeup at the end of the day has become increasingly difficult thanks to 12-hour lipstick and waterproof mascara. Makeup removal is even more challenging during travel due to dried out skin, hotel towels, and limited packing space for essential toiletries. Some hotels do offer makeup wipes, but more often than not you wind up with a bar of face soap and a washcloth.
If for some reason you have been traveling without makeup remover, seriously, stop it! I will do my best to stay on track here, but sleeping with your makeup on is bad! It is bad for your skin and can lead to premature aging. Washing your face is often not enough to remove your makeup, especially on your eyes. Sleeping with your eye makeup has several side effects including infections and ulcers. Think about how uncomfortable you will feel traveling with an eye infection. Now, let's check out some makeup remover that you can travel with!
This week for our Friday Finds, we found five travel size makeup removers that will take off all your makeup without drying out your skin.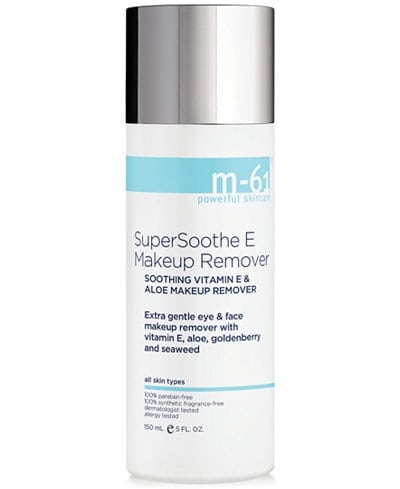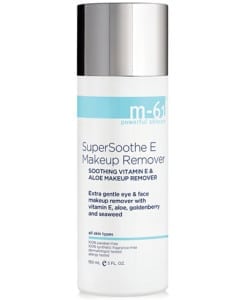 m-61 SuperSoothe E Makeup Remover (and toner!)
Why we love it: The m-61 SuperSoothe multitasks as a toner and is TSA friendly at 2 oz.
The m-61 SuperSoothe is an extra gentle sulfate-free eye & face makeup remover with vitamin E, aloe, goldenberry and seaweed which helps to maintain skin elasticity and promote moisture retention. The antioxidant vitamin E helps protect and nourish the skin while aloe, chamomile, licorice root and cucumber help cool and hydrate. In addition to cleansing away makeup, it soothes and calms the skin. Recommended for the travelers who want a soothing, gentle makeup remover that can also double as a toner. Safe and effective for all skin types. $12, Macys.com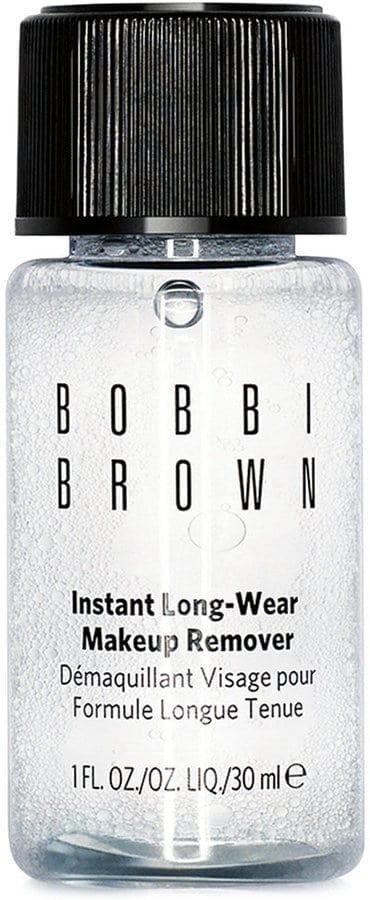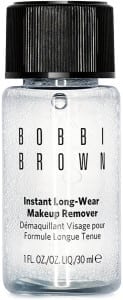 Instant Long-Wear Makeup Remover
Why we love it: This makeup remover is gentle yet effective!And, it is available in two different sizes that are both TSA compliant!
The Bobby Brown Instant Long-Wear Makeup Remover is an extra gentle formula effectively removes long-wearing and waterproof eye and lip makeup, while conditioning lashes. Leaves eyes and lips clean and pleasantly refreshed. Safe for contact lens wearers. Dermatologist and Ophthalmologist tested. Available in 3.4oz for $28, NeimanMarcus.com or 1 oz. for $12 at Macys.com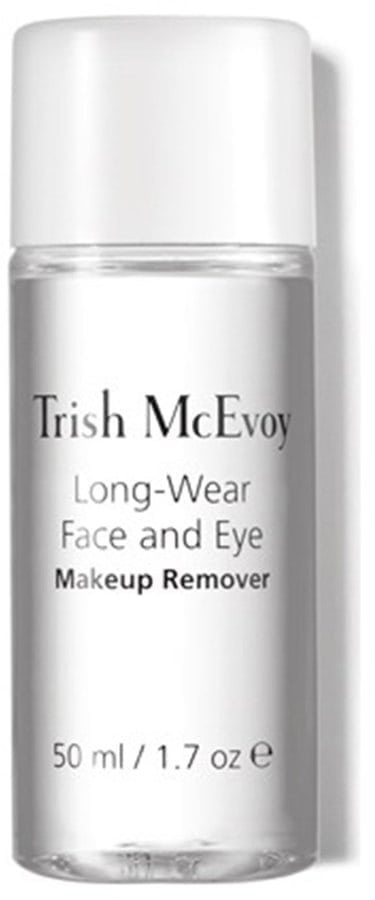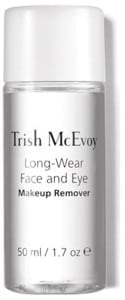 Long-Wear Face & Eye Makeup Remover
Why we love it: This oil-free makeup remover works well on any skin type and comes in three sizes, so you can buy a travel size bottle one time and refill it from a larger 4.2 oz. or 8.4 oz. bottle.
Makeup artist Trish McEvoy's one-step long-wear makeup remover water instantly and gently removes all traces of makeup from the eyes, face and lips. The water-light, skin-conditioning formula leaves skin perfectly clean and ready for skin care. Safe for contact lens wearers. Dermatologist and Ophthalmologist tested and ideal for all skin types. Available in 1.7 oz for $18.50 at NeimanMarcus.com

Take The Day Off Makeup Remover
Why we love it: This makeup remover is non-greasy and moisturizing. Available in a TSA-friendly 1.7 oz. size and a larger 4.2 oz. size you can use at home to keep your travel size full.
This is a go-to makeup remover that gently erases long-wearing eye and lip makeup without tugging skin. Clinique Take the Day Off Makeup Remover For Lids, Lashes & Lips dissolves and lifts away long-wearing makeup, even waterproof mascara, with its non-irritating, non-stinging formula. Suitable for all skin types, 100% fragrance-free, and safe for contact lens wearers. Ophthalmologist and allergy tested. Available in 1.7 oz for $9.50 at Nordstrom.com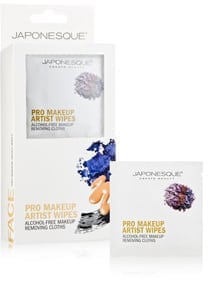 Pro Makeup Artist Wipes
Why we love it: Wipes are very convenient for travel (more space for your liquids!). And, as a bonus, these wipes are wrapped individually, meaning you can take what you need and the other's will not dry out during or between trips.
Japonesque Pro Makeup Artist Wipes are biodegradable towelettes for removing makeup and impurities. The moisturizing formula contains vitamin E to soften and smooth, leaving your complexion glowing and refreshed. The individually wrapped wipes are perfect for travel or stashing away in your purse for everyday use. $12 for a box of 20 at Dermstore.com
Makeup removing wipes are really convenient for travel, here are a few others to check out!
What do you use to remove makeup during travel? Comment below!
Business Travel Life
Business Travel Life is an online resource supporting the road warrior lifestyle. We give business travelers the tools they need to maintain their wellness and productivity when traveling. The topics we cover include business travel tips, travel workouts, healthy travel hacks, travel products, general travel tips, and industry trends. Our goal is to make business travel a healthier experience – and to make healthy travel practices more accessible to all road warriors.