Editor's Note: AirGrub is no longer in business.
AirGrub is truly a dream come true for business travelers who have empty stomachs, tight connections, and like avoiding lines while traveling.
For business travelers, airports are just another form of transportation to get to work. You don't find yourself walking aimlessly through terminals trying to kill time before a flight. Instead, you head straight to your airline lounge to work, or book flights with tight connections to avoid wasting time at the airport. If you are landing at your final destination, you are probably heading straight to a meeting as soon as you walk off the plane. If during any of the previous circumstances you find yourself hungry and dislike waiting in lines while traveling (looking at you TSA Pre-Screens), then you will want to download the AirGrub app to improve your next business related airport experience. The app allows you to pre-order food, set a pickup time, pay, and then skip lines to grab your food from the VIP counter at the restaurant of your choosing.
I was able to connect with Laurel Wilde from AirGrub while making my way from San Francisco to Bangkok. She arrived at Andale Mexican Restaurant in the International Terminal at SFO wearing her bright orange AirGrub shirt and I could immediately sense her extremely upbeat and positive demeanor. Wilde is the social media manager over at AirGrub and works alongside nine other people out of their office in Millbrae, California. The whole AirGrub crew came over from Eat 24, which is an online delivery service, so they all had quite a bit of experience in the food industry before starting up AirGrub.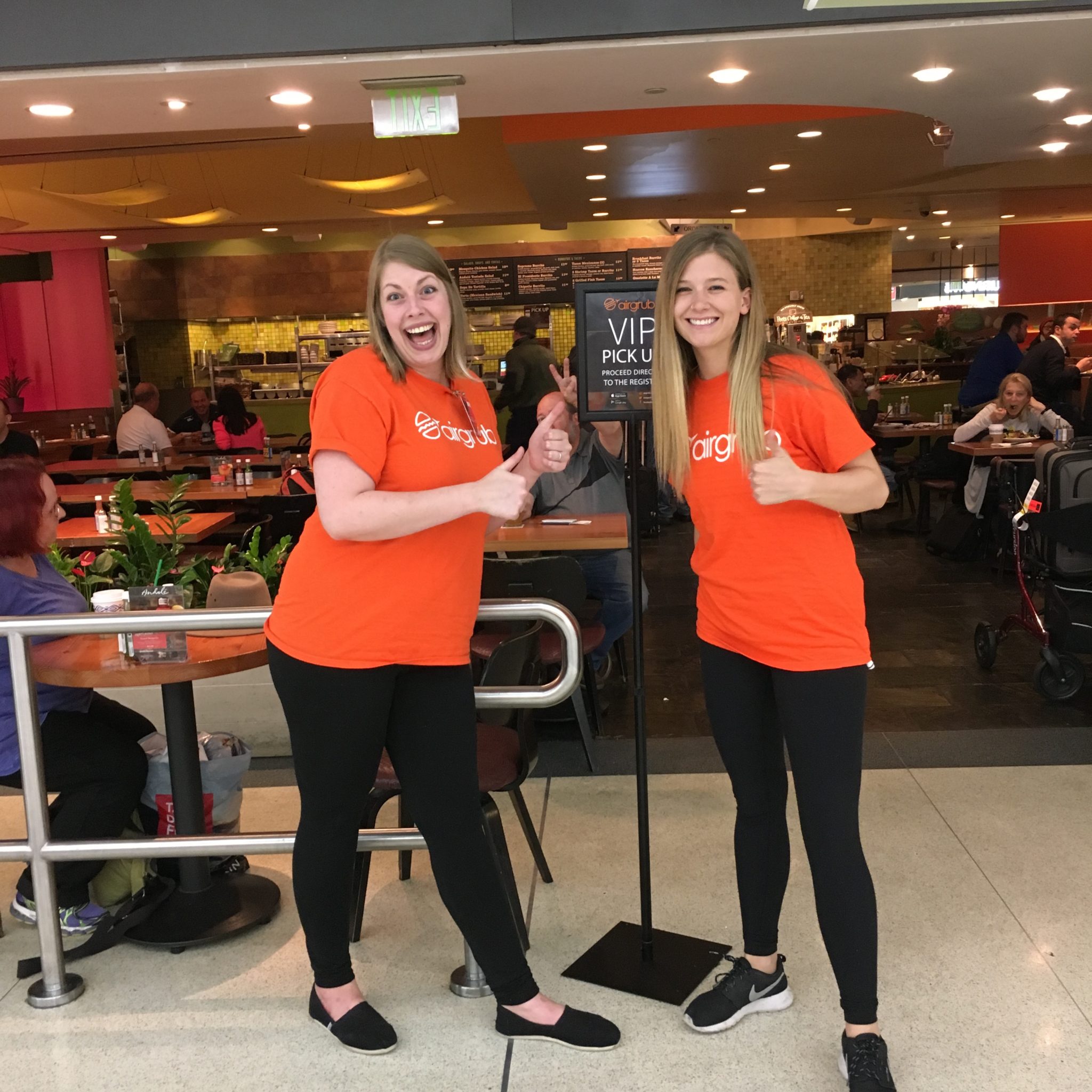 Wilde explained how it all started when CEO Surya Panditi had a sub-par airline food experience while traveling on an international flight. After being stuck on a 14-hour long haul with little to no options for good food, he started researching how to preorder food at the airport and found nothing. And that's how he found his niche. This experience sparked the idea that food shouldn't be something that you just have to wing while traveling and hope for the best. It should be planned as part your travel day, and you should be able to eat what you want when you want (and in good time)! With Panditi's vision and the help of the other nine like-minded team members, this seed round funded start-up launched on July 8th of 2015.
AirGrub has the vision to bring travelers great food in real time. They aim to bring peace of mind to travelers by allowing them to order food from whichever step they are at during their travel day and know that a hot meal will be waiting when they need it most.
Basically, the way that it works is that you open the app on your smartphone, and it will immediately ask that you enter in your airport, airline and flight number. You will also need to set up a profile; this is where you will put in your frequent flyer number so that you can earn 4 miles for every $1 spent when you used the code: BTLGrub.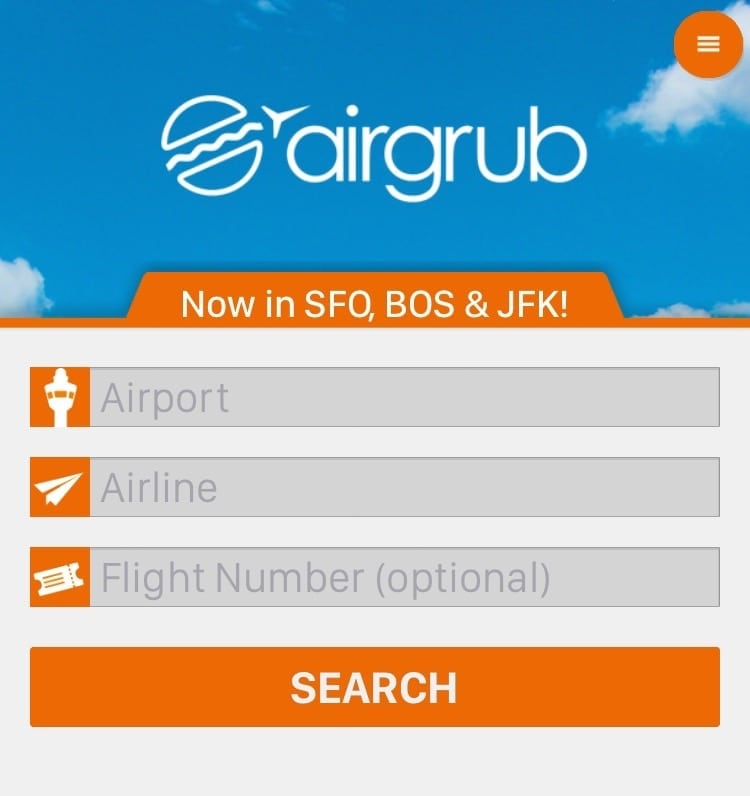 This is perfect for business travelers who have a tight connection, or have to rush to a meeting but want to grab a quick bite first. You can order your food right when the wheels are down and pick it up as you are walking to your next gate, or trying to get out of the airport for a meeting. The next step is, based on which terminal you will be in, choosing where you want to order your food from. The app will show you all of the restaurants that have teamed up with AirGrub and you can choose which one sounds best.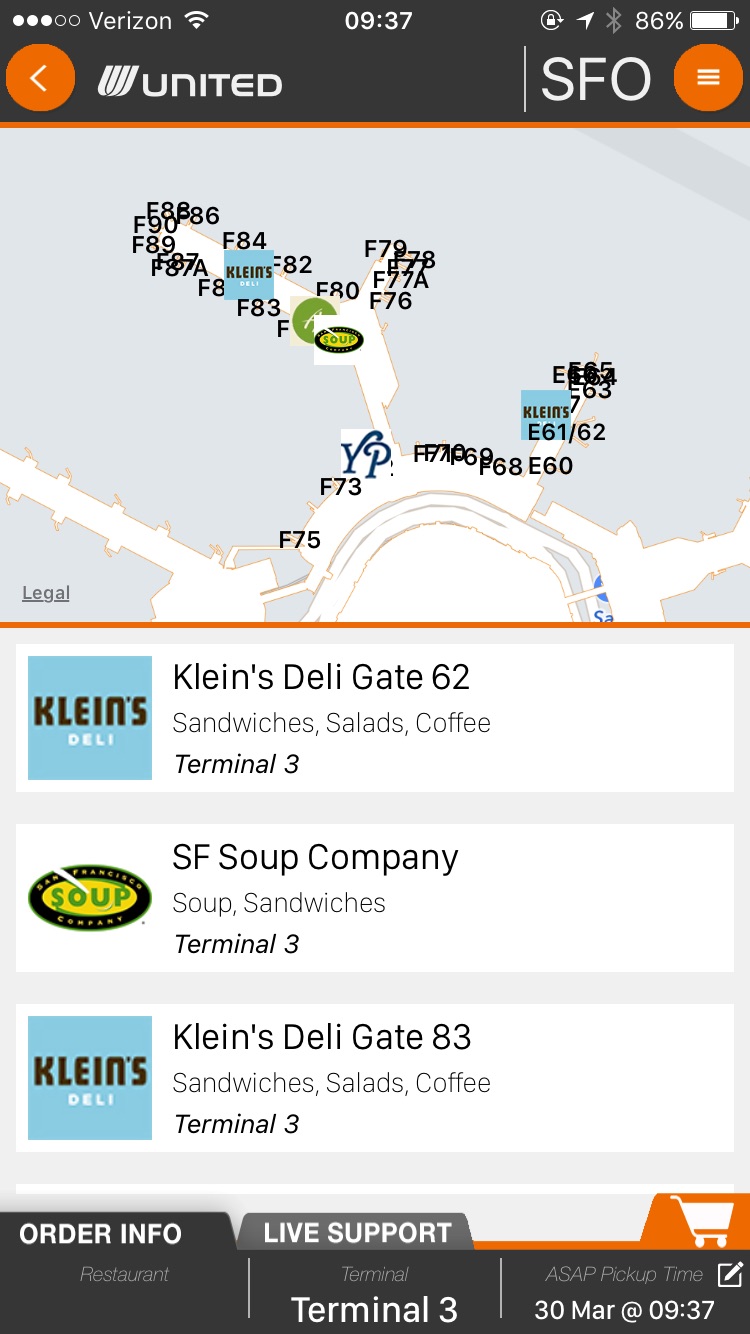 Once you have your restaurant chosen, you can look through all of their menu options. AirGrub has all of the items on the menu available to order, and updates menus and wait times in real-time.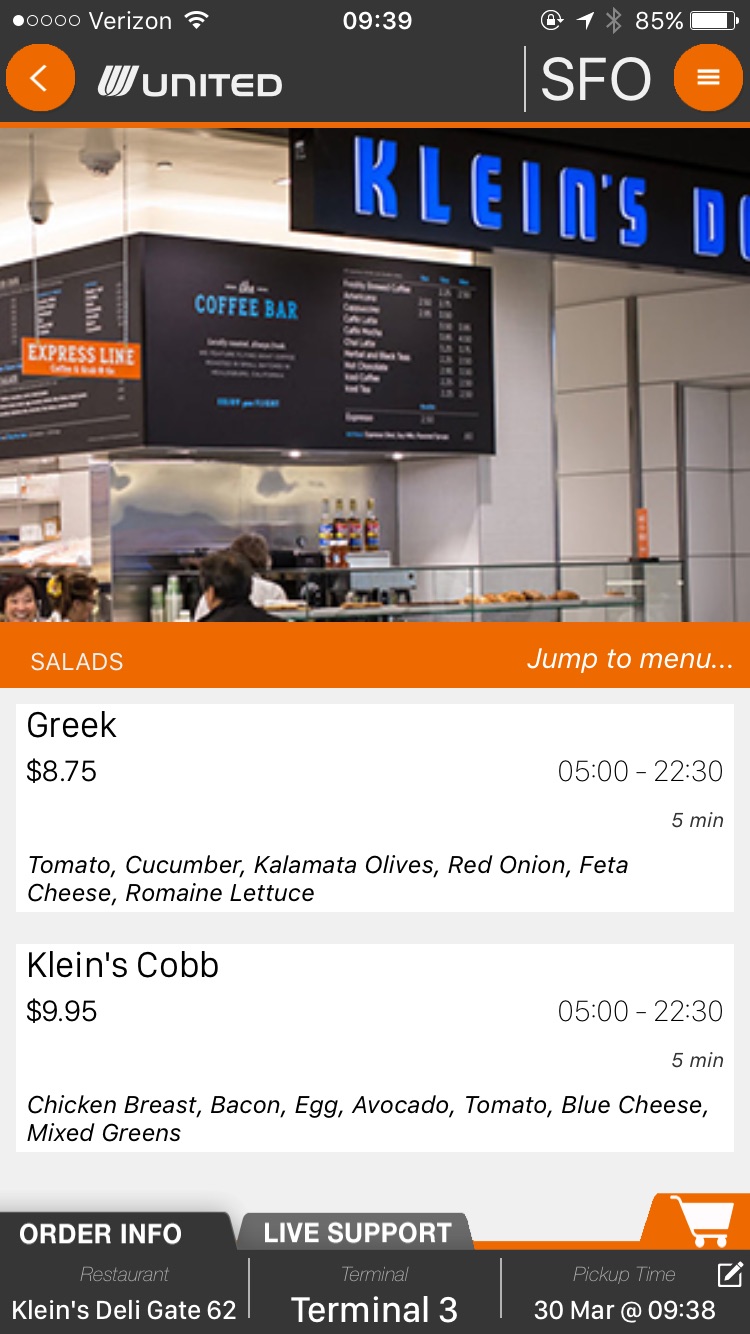 Working in real-time is another benefit for business travel. Sometimes wait times can change unexpectedly if the restaurant gets a wave of customers, and you have the ability to see that through the app. I had a breakfast meal in my cart from Andale and then encountered network issues with my phone. Once I finally got my phone connected to wifi, I went back to order my food and was prompted with a message saying those items weren't available anymore. I looked at my clock and it was 10:30 on the dot. While I was bummed that I didn't end up getting my breakfast tacos, I was very impressed by how fast the app kept up with real-time when the restaurant stopped serving breakfast. Needless to say, I got a delicious burrito instead.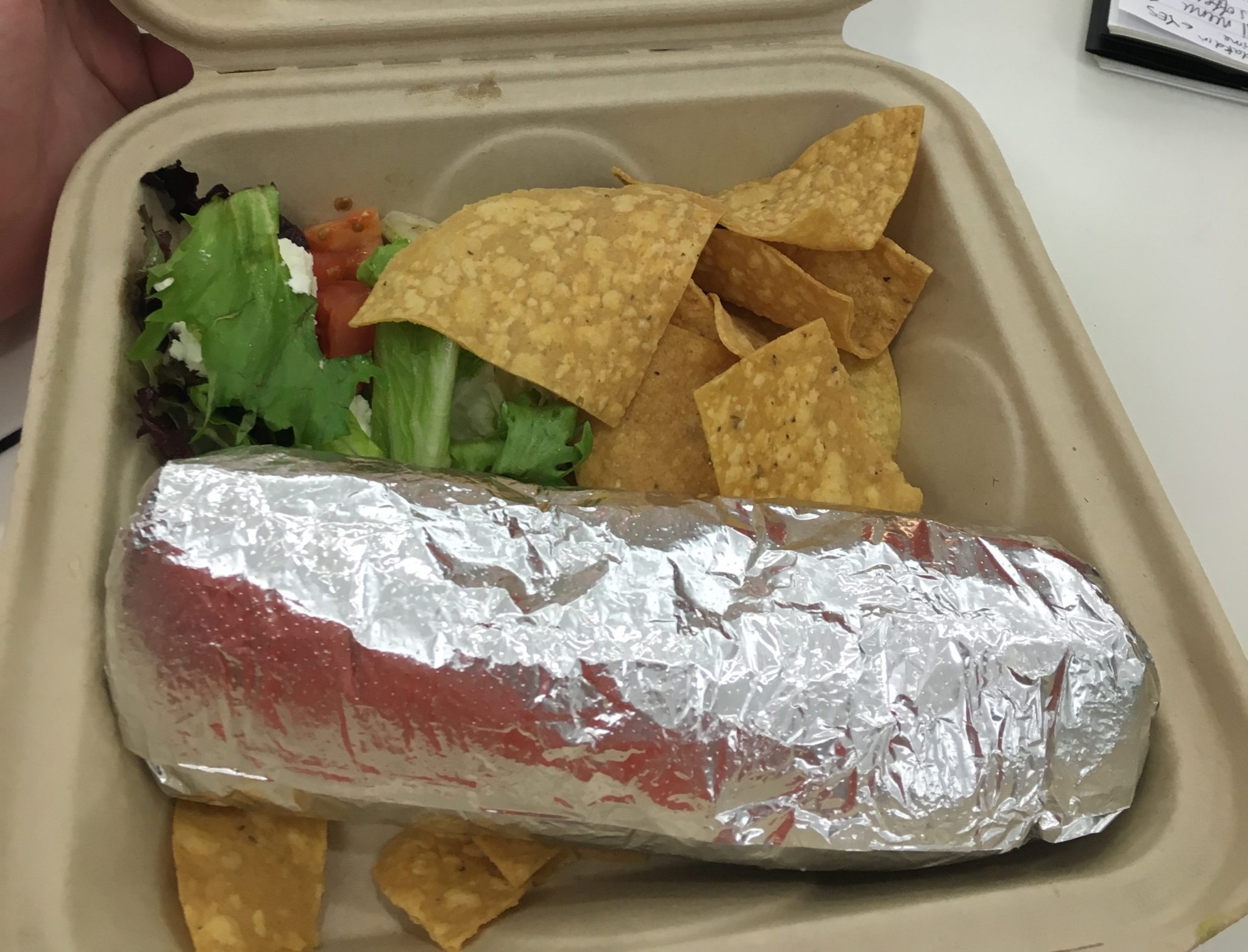 Once you have your meal in your cart you can proceed to checkout. Here you can write in special notes should you choose to modify your meal. Just enter your credit card details, request a pickup time, and you are good to go! Just three simple steps: order, grab, and go!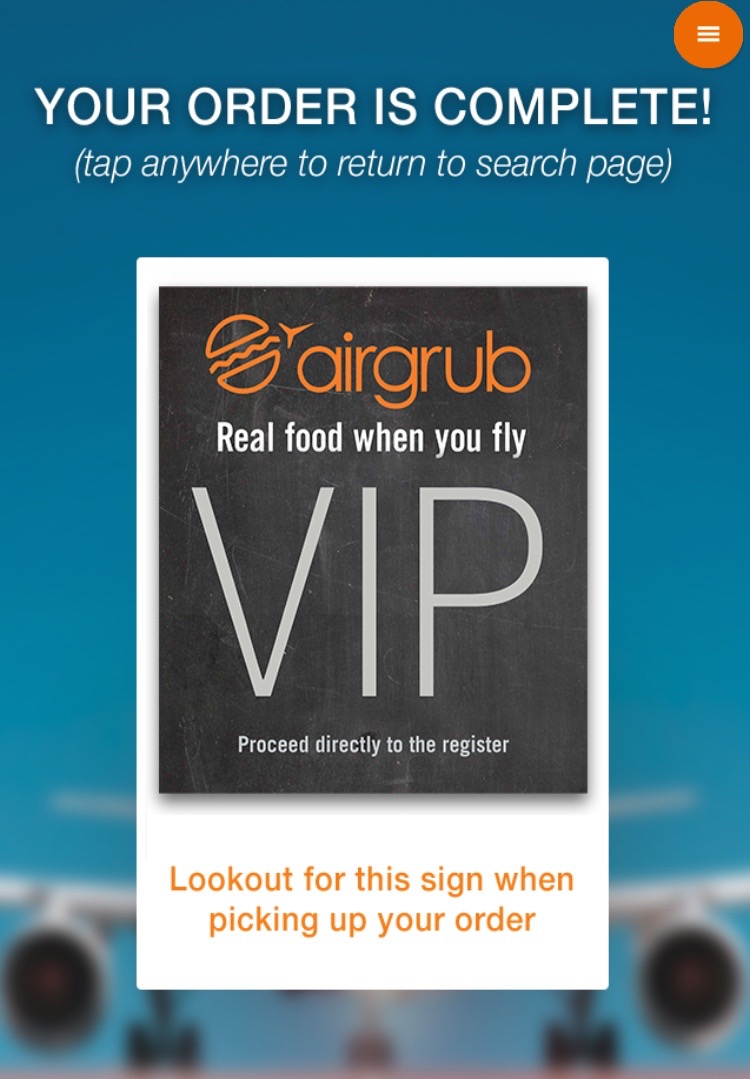 Another amazing feature of the app is that you can live chat with an AirGrub team member if you have any questions or concerns. I had to use this feature during my AirGrub experience and got a response within seconds. So let's say you have to taxi longer than expected, simply start a chat through the app and let them know you may be later than expected. From there AirGrub will let the restaurant know to hold off on the food so that you can have a hot meal when you pick up.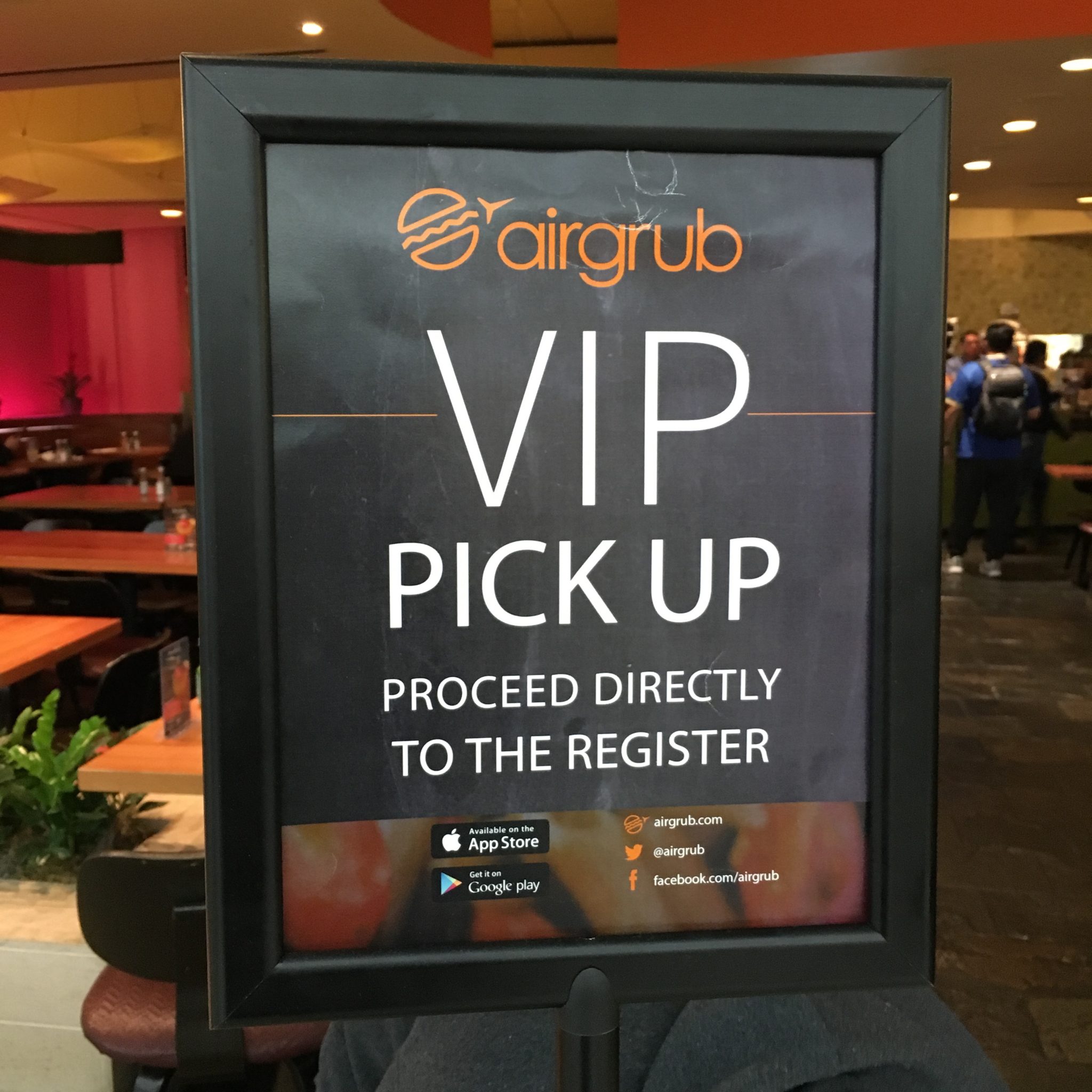 What does the future look like for AirGrub? Well, they recently made their way over to Germany to meet with Lufthansa with hopes of going international, and according to Wilde, the meeting went really well. They are also working on a feature in the app where the user can sort menus according to dietary restrictions to be able to save time. Wilde also mentioned something in the works about gate delivery as well, so that your food could literally be waiting for you at your gate when you arrive. Although Air Grub is only available at three airports right now, there are high hopes for expansion. As Wilde told me, "The end goal would be 100% saturation; every restaurant, every terminal, everywhere we can be".
Though business travel is frequent, it still takes a fair bit of planning and sorting out before hitting the road. Travel days can be stressful and time always seems to be an issue, and it doesn't help if you are doing it on an empty stomach or without a nutritious energizing meal to keep you going. So, why wing it?
"At AirGrub, our primary goal is to eliminate stress from the airport dining experience. Travel is stressful enough – passengers should be able to check in, eat a burrito or enjoy a cup of coffee in PEACE, and trust their technology to take care of the heavy lifting. By focusing on the core emotional needs of our community, AirGrub is combining the latest tech, exemplary customer service and delicious food to change the way we think about the airport experience." – Laurel Wilde, Social Media Manager at AirGrub
Download the AirGrub app today to be able to skip lines and grab some delicious, pre-ordered food next time you are at SFO, JFK, or BOS! Remember that for every dollar spent through AirGrub you earn 4 miles! Have any of you Business Travel Lifer's used Air Grub?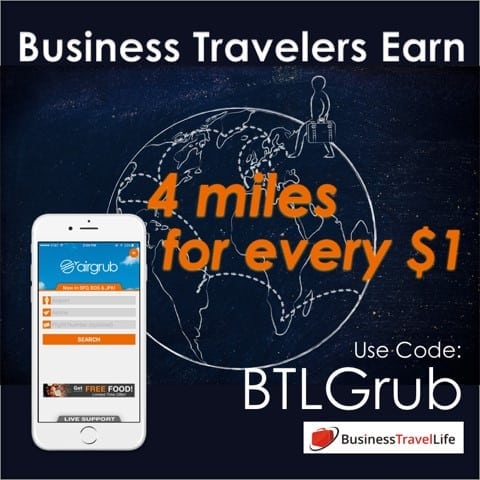 Business Travel Life
Business Travel Life is an online resource supporting the road warrior lifestyle. We give business travelers the tools they need to maintain their wellness and productivity when traveling. The topics we cover include business travel tips, travel workouts, healthy travel hacks, travel products, general travel tips, and industry trends. Our goal is to make business travel a healthier experience – and to make healthy travel practices more accessible to all road warriors.