The Best and Worst Hotel Wi-Fi
Written By: Will Smith
It wasn't that long ago that the most exciting amenity a hotel could offer was a swimming pool. We'll bet that most of us stayed in a hotel close to home at least once just so we could use that pool.
Times change. Many of us — of all ages — are now more interested in the quality of a hotel's Wi-Fi than the quality of the pool or the number of channels on the TV. For a while, finding a hotel that offered any Internet access was a huge plus, especially for business travelers. Today, it's surprising to find a hotel that doesn't offer Wi-Fi. But when you do, it's often slow. And being forced to pay for it? That's worse than getting a room on the only floor without a working ice machine.
If the quality of a hotel's Internet access matters to you, your next vacation doesn't have to be a gamble. HotelWiFiTest.com conducted a survey of chain hotels in America, Europe, and Asia, rating the quality of access according to its availability, price, and performance.
A Note on Methodology

The researchers measured only in-room Wi-Fi, so a signal you can get in the lobby, business center, or other common area doesn't count. Rather than averaging the speed of every hotel in every chain, the study ranks performance according to the percentage of a chain's hotels offering "adequate speed" in the geographic test area.
The study defined adequate speed as at least 3 Mbps down, which isn't fast enough for streaming HD video but will get standard-definition performance from Netflix, and 500 Kbps up.
The Land of the Free Wi-Fi
HotelWiFiTest.com included 25 American hotel chains in its rankings. If you prioritize free access over performance, then booking your next room at a Hyatt, Hyatt Place, or Extended Stay America is a sure bet: Wi-Fi is free at every hotel in each of these three chains. Rounding out the top five, Courtyard offers free Wi-Fi in 98 percent of its hotels, and 97.1 percent of Hilton Garden Inns offer free Wi-Fi.
If you must have free Wi-Fi, you might want to avoid Marriott Hotels & Resorts, as only 16.7 percent offer free wireless access. That's worst among all hotels ranked in the study. Westin, at 20.7 percent, and Embassy Suites, at 23.3 percent, took the next lowest spots on the list. The only other hotels to fall under the 50 percent mark were Hilton Hotels & Resorts at 34.8 percent, and Sheraton Hotels & Resorts at 41.9 percent.
And the Home of the Broadband
In looking at the performance results, maybe the pool is still the most exciting part of a hotel. Not one hotel chain surveyed had an adequate performance in half its hotels. The best was Marriott Hotels & Resorts, with adequate performance at 47.2 percent of its hotels; Westin was next, at 46.1 percent, followed by Hyatt Hotels at 45.6 percent, Sheraton Hotels & Resorts at 45.6 percent, and Best Western at 44.1 percent.
Hampton Inn had the worst performance: only 7.4 percent of its hotels offered adequate performance. Every Extended Stay America may offer free Wi-Fi, but only 8.9 percent met the standard for adequacy. Finishing out the bottom five are Homewood Suites at 9.1 percent, Embassy Suites at 10.6 percent, and Hilton Garden Inn at 12 percent.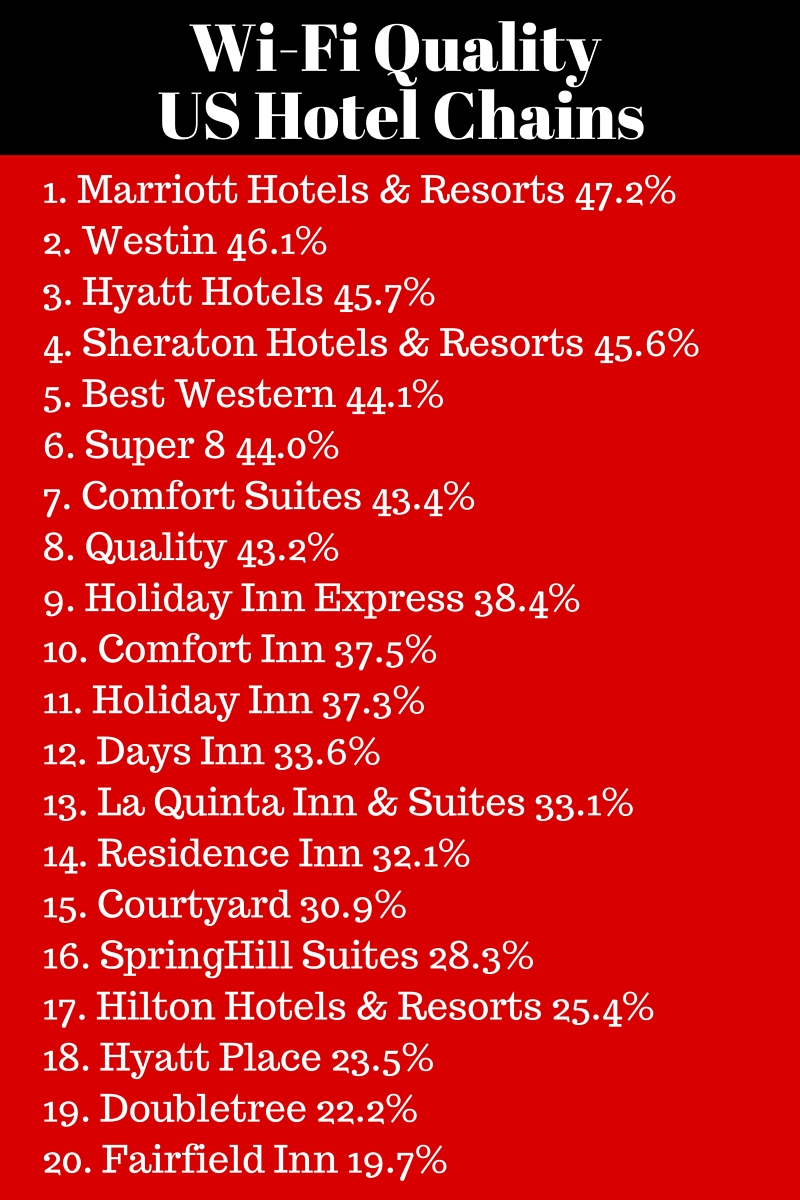 Going Overseas?
If you're headed to Europe, Nordic Choice wins in both metrics: every one of its hotels offer free Wi-Fi, and 84.7 percent of them offer adequate performance. Only 14 percent of Marriott's hotels offer free Wi-Fi, the worst percentage rated on that continent. And only 11.8 percent of NH Hotels deliver an adequate signal.
FaveHotel is the only tested chain in Asia with free Wi-Fi in every hotel, but only 30.8 percent of them have an adequate connection. Only Aston Archipelago is worse, at 28.6 percent. If you want a faster connection, 87.5 percent of Inter-Continental hotels have better-than-adequate speed.
There's No Place Like Home, We Hope
These results make it clear that if you come back home from your road trip longing for the blazing-fast broadband you had in your hotel, you need to improve your standards — and your home Internet connection. After all, getting a hotel room just so you can take a dip is one thing, but doing it to surf the Web is another. Good thing finding a high-speed Internet connection for your home is easier than finding one on the road.
This post was written by Will Smith and Originally Appeared on HighSpeedInternet.com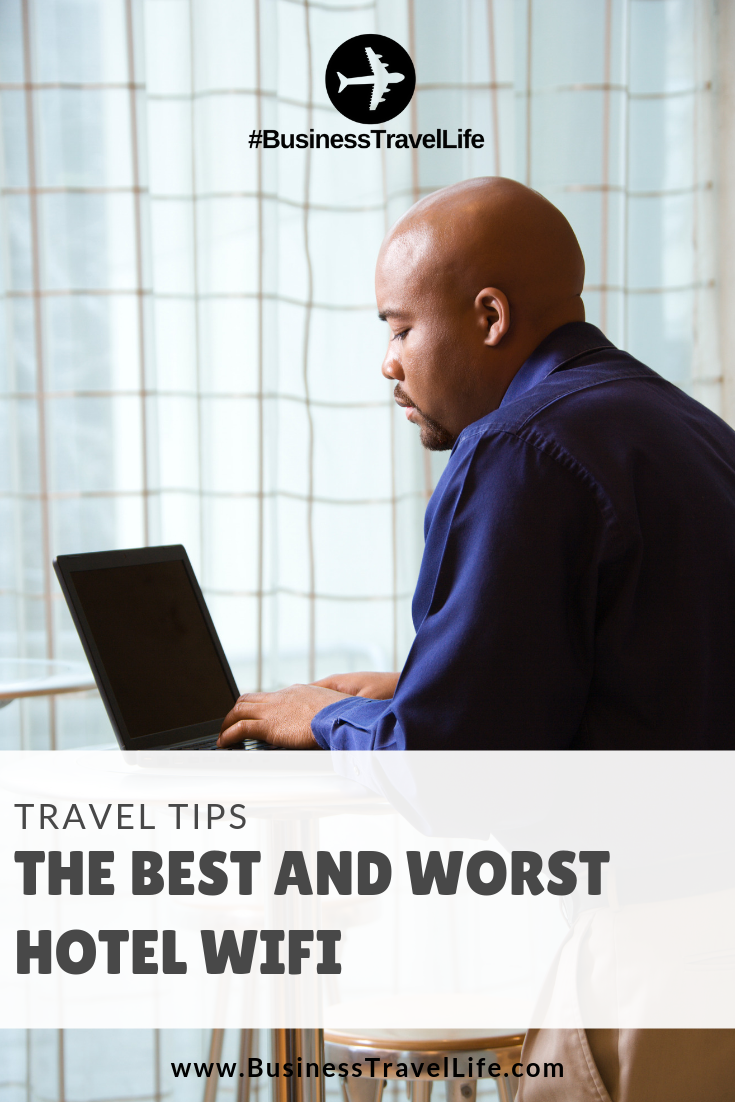 Business Travel Life
Business Travel Life is an online resource supporting the road warrior lifestyle. We give business travelers the tools they need to maintain their wellness and productivity when traveling. The topics we cover include business travel tips, travel workouts, healthy travel hacks, travel products, general travel tips, and industry trends. Our goal is to make business travel a healthier experience – and to make healthy travel practices more accessible to all road warriors.