Top Business Travel Trends 2017
This year, more business travelers than ever buckled into the passenger seat of a Lyft ride to get to airports, client events, and meetings across the country. Lyft tallied the business rides that travelers took in 2017: Here are your top business travel trends and destinations of the year.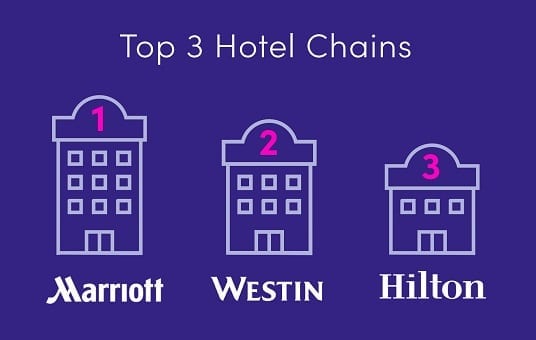 Hotel Chains
From San Diego to Boston, business travelers sunk into luxury pillow-tops and iconic hotel pools (after the meeting, of course) at over 6,000 Marriott Hotel
properties — like the Ritz-Carlton and Courtyard by Marriott — recently ranked #1 on J.D. Power's 2017 Hotel Loyalty Program Satisfaction Study.
1. Marriott
2. Westin
3. Hilton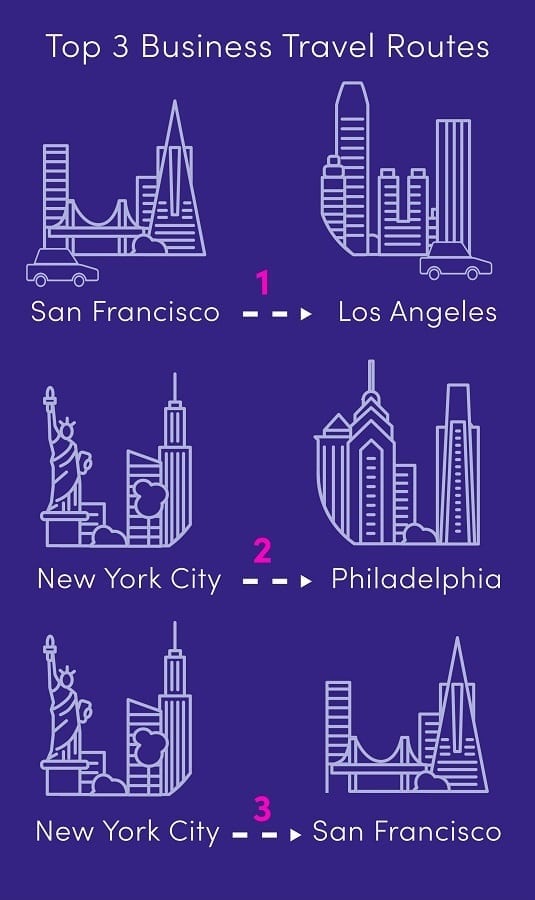 Business Travel Routes
Millions of business travelers bookended their trips with Lyft rides to and from the airport or train station on our most popular business travel route: San Francisco to
Los Angeles.
1. San Francisco to Los Angeles
2. New York City to Philadelphia
3. New York City to San Francisco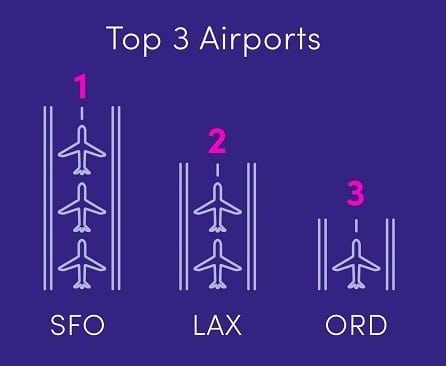 Airports
SFO welcomed an all-time record 53.1 million airline passengers in 2017, as well as an all-time record of business travelers who arrived or departed in Lyft rides.
1. San Francisco International Airport
2. Los Angeles International Airport
3. Chicago O'Hare International Airport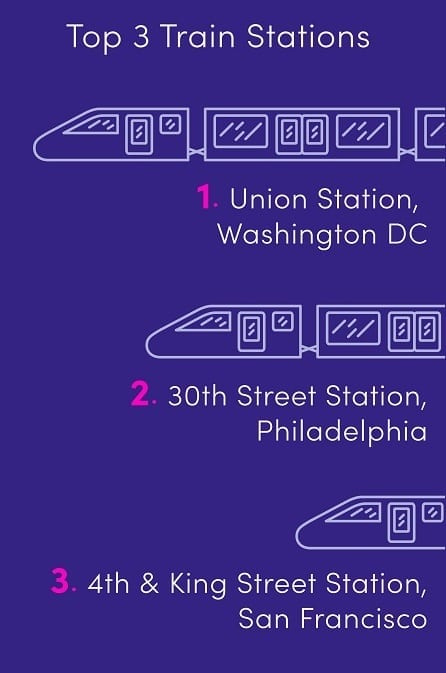 Train Stations
Whether they were one of millions of Amtrak or DC Metro riders, or just a snazzy, gold leaf ceiling enthusiast, Lyft's business travelers rode through Union Station in
Washington DC more often than any other train station in the country.
1. Union Station, Washington, DC
2. 30th Street Station, Philadelphia
3. 4th and King Street Station, San Francisco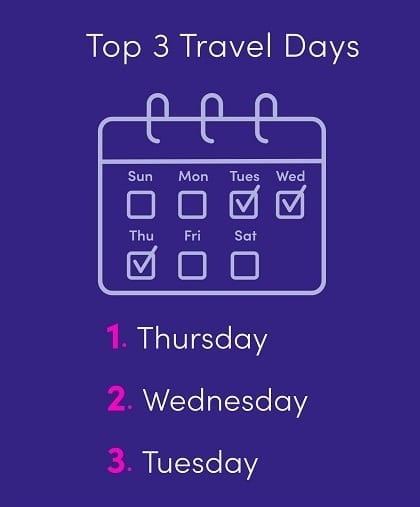 Business Travel Day
After a week of client meetings or a long business trip, there's nothing quite like grabbing a Lyft ride home on a Thursday. Business travelers ride the most during
the middle of the week, and the least on Monday and Friday.
1. Thursday
2. Wednesday
3. Tuesday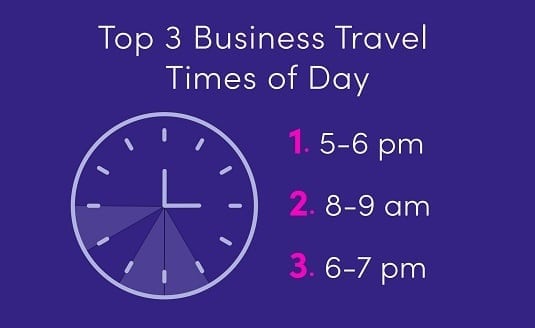 Business Travel Time of Day
The most popular times for business rides came so close we could almost call them a three-way-tie: The commuter hours see the most business rides during the
day. And while some business travelers start their days as early as 4 AM, the business ride traffic rises steadily to the morning peak from 8 AM to 9 AM.
1. 5-6 PM
2. 8-9 AM
3. 6-7 PM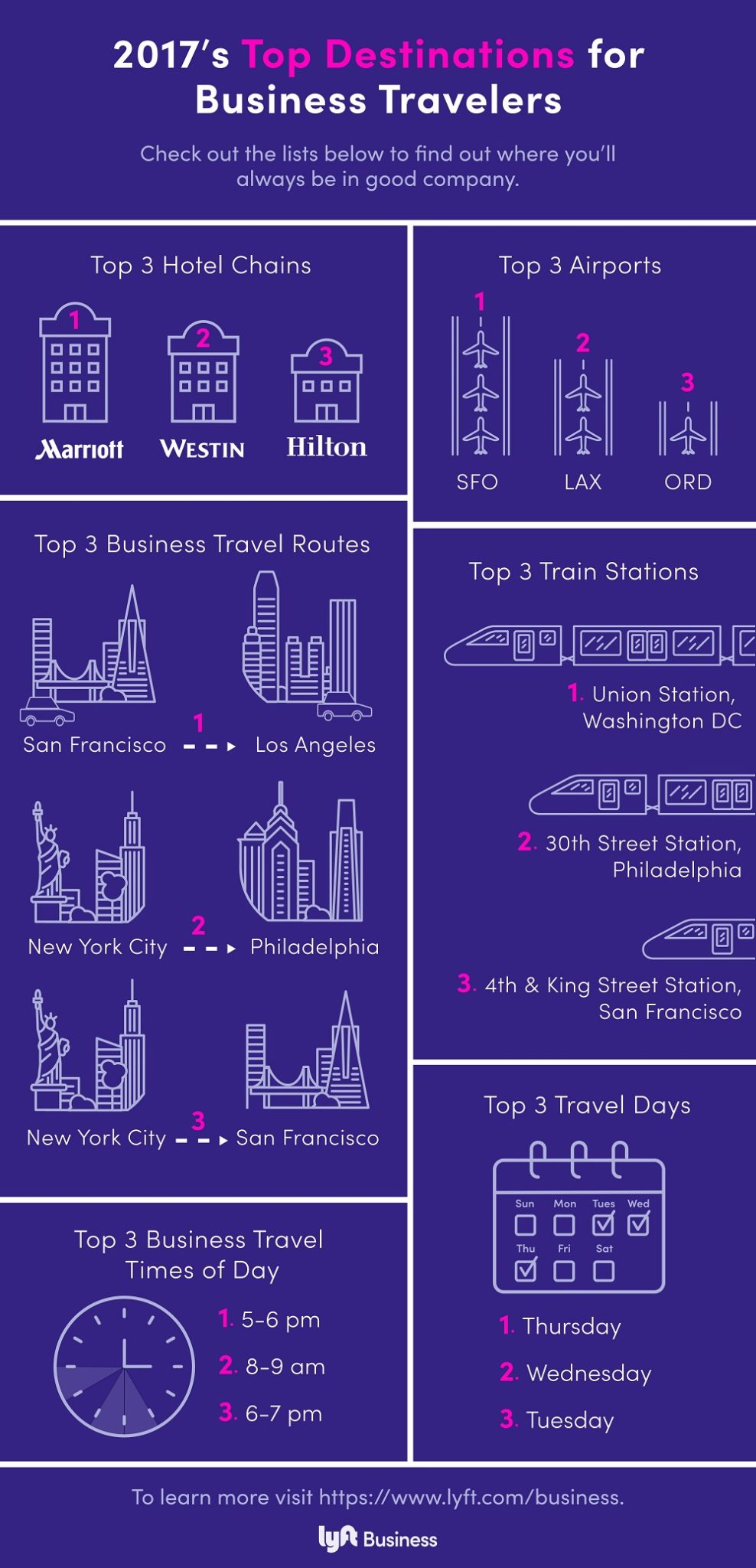 Learn more about how you can leverage Lyft's network of drivers to take care of your customers, patients, students, and employees, and get started with our Lyft
Business management tools: Visit Lyft.com/business.
Business Travel Life
Business Travel Life is an online resource supporting the road warrior lifestyle. We give business travelers the tools they need to maintain their wellness and productivity when traveling. The topics we cover include business travel tips, travel workouts, healthy travel hacks, travel products, general travel tips, and industry trends. Our goal is to make business travel a healthier experience – and to make healthy travel practices more accessible to all road warriors.