Healthy travel tips to help you make the most of your next trip.
Business travel can take a toll on your health. The combination of dining out, jet lag, sleepless nights, stress, and lack of exercise can take a toll on your health, often faster than you expect. During business trips, travelers often do not have very much control over their schedule and meal times. Finding healthy food on the go can also be challenging.
Despite the many challenges, business travelers CAN stay healthy with proper planning. Healthy habits are easier to incorporate into travel than many people realize. Being conscious and aware of the decisions you make throughout the day will greatly improve your ability to be a healthy traveler.
Being conscious and aware of the decisions you make throughout the day will greatly improve your ability to be a healthy traveler.
Building healthy habits during travel takes time and planning. A simple suggestion is to incorporate one healthy travel tip per trip and you will be traveling healthier in just a few short months.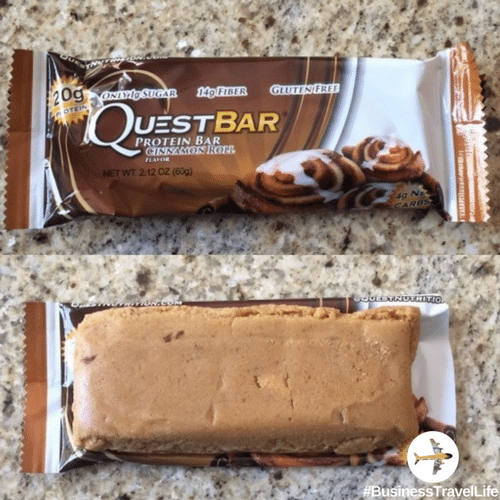 Pack Healthy Snacks
Traveling with healthy snacks ensures you will have something healthy to eat when hunger strikes. Healthy snacks will also help you resist temptation at the airport and when you reach your destination. If you are short on space, pack a few healthy snacks for the first day or two of your trip and stop somewhere near your hotel when you arrive and stock up on more healthy snacks. A few ideas include nuts, fresh fruit, protein bars, trail mix (watch portion sizes), and jerky.
See Related: 30 Healthy Snacks for Flying
Pack Workout Clothes
You are more likely to workout during your trip if you pack workout clothes and shoes. Hotels have really stepped up their workout rooms. If you hate the hotel gym, you can workout in your room using an on-demand workout (or even something on YouTube). Another fun idea to exercise during travel is to look up local classes and try something new (like Aero Yoga).
See Related: 20 Minute Hotel Workout

Stay in an Equipped Hotel
Before you book your hotel, do some research to make sure your hotel will keep you on track. Find a room with a mini-fridge and microwave. Also, check out the fitness amenities. In addition to state-of-the-art fitness centers, some hotels offer personal trainers, in-room treadmills, classes, and more. If your hotel does not have much to offer, consider packing a TRX or resistance bands that you can use in your room for a workout.
See Related: No Excuse to Skip a Workout at this Hotel

Make Time to Exercise
Finding time to exercise is a challenge for most busy people. Whether you are at home or on the road, schedule time for exercise. Do not skip working out because you don't have enough time. Make time- even if you have to break it into chunks, like 15 minutes in the morning and 15 minutes in the evening. Give your body the exercise it deserves and your mind a break.
See Related: How to Find Time to Exercise During Business Travel

Be Healthy at the Airport
Calories count at the airport, so avoid mindlessly munching and over drinking. When dining at the airport, seek out restaurants with healthier offerings and avoid fried food. If you have extra time, walk around instead of sitting. Some airports even have yoga rooms, which are also great places to stretch.
See Related: 8 Ways to Eat Healthy at the Aiport
Stay Hydrated
Drink as much water as possible when you are traveling. Drinking water (and avoiding dehydration) reduces jet lag. Choosing water over soda, juice or alcohol also reduces the number of calories you are consuming. And, you may find yourself eating less as many times thirstiness is confused with hunger. Tip: Add lemon to your water for even more health benefits.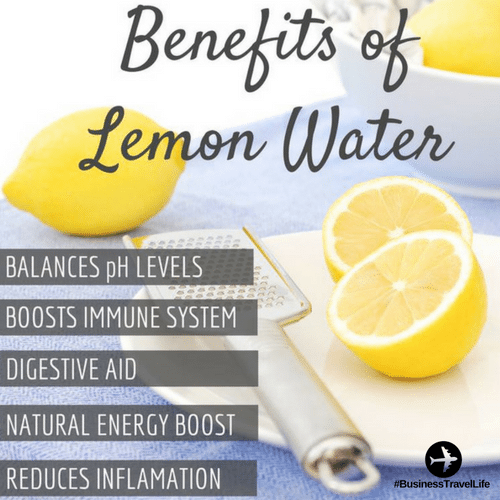 Drink Less Alcohol
It can be really easy to drink more alcohol than you should when you are traveling. Between airport lounges, drinks on the plane and hotel happy hours, the number of drinks (often free) can really add up. Factor in entertaining clients after work during your trip and you may return home feeling like you need a detox. Limit the number of drinks you have each day and plan ahead. If you know you have to take clients out the second night of your trip, skip the drinks on your travel day. Also, be aware of how many calories are in your drink. You can easily consume 500+ calories in alcohol in 2 or 3 drinks. And, if you are drinking 2 or 3 drinks each day of your trip and you are gone five days, expect to gain a pound a week (if not more).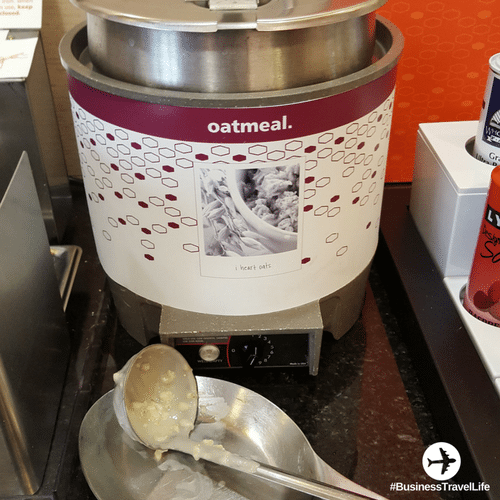 Don't Skip Breakfast
Skipping breakfast is a recipe for disaster. You will find yourself eating more later in the day and likely grabbing for unhealthier options along the way. Plus, any business traveler knows lunch is rarely served at noon. Even if you cannot stomach a large meal first thing in the morning, drink a smoothie or some milk and have some fruit.
See Related: How to Eat a Healthy Hotel Breakfast

Eat Healthier Meals Out
Dining out is nearly unavoidable during travel, but it is not an excuse to eat unhealthily. Find restaurants with fresh ingredients and healthier options on the menus such as grilled fish or chicken. Skip the appetizers and dessert to save on calories. And, most importantly, keep an eye on your portion sizes. Restaurants famously serve generous portion sizes. Ask for a half serving or a box and box up half of your meal before you dig in to keep things under control.
See Related: Healthy Restaurants for Travelers

Eat a Few Meals In
When possible cook your own meals, or go to the grocery store and find some fresh options to make your own meal (ie: rotisserie chicken and salad mix). There are many services that offer healthy prepared meals such as Snap Kitchen or Fresh Fit Meals. If you enjoy cooking (and have time) stay in a hotel with a kitchen (like Homewood Suites) and cook your meal. Bottom line- find an option that works for you and skip a few meals out.

Get Sleep
A good night's sleep is essential to your health. It can be challenging to sleep well during travel due to jet lag, uncomfortable bedding, noisy rooms, etc. Set yourself up for sleep success by giving yourself the opportunity for 6 or more hours of sleep. It can be tempting to stay up late checking emails in bed but don't burn the candle at both ends.
See Related: How to Sleep Better in a Hotel Room
What are your healthy travel tips? We would love to know how you stay healthy during travel. Please share in the comments!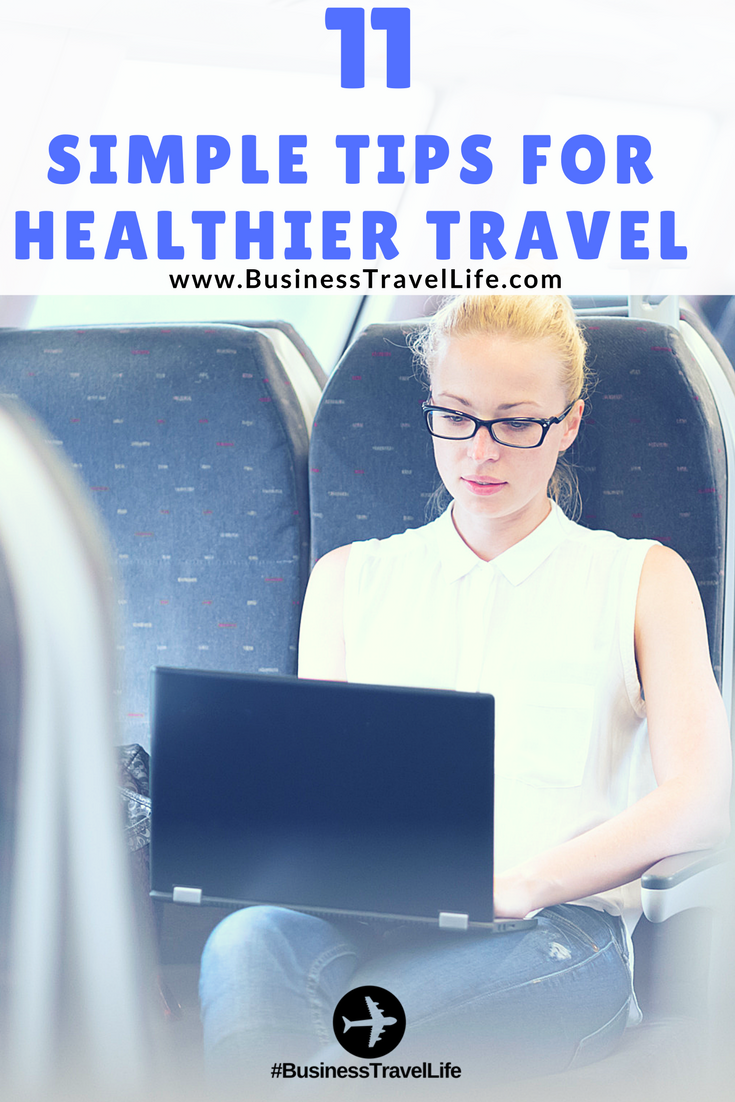 Business Travel Life
Business Travel Life is an online resource supporting the road warrior lifestyle. We give business travelers the tools they need to maintain their wellness and productivity when traveling. The topics we cover include business travel tips, travel workouts, healthy travel hacks, travel products, general travel tips, and industry trends. Our goal is to make business travel a healthier experience – and to make healthy travel practices more accessible to all road warriors.