The future of the hotel room is coming, and it doesn't involve a desk. A few hotels are implementing this futuristic layout of their rooms to cater to the millennial lifestyle, and it's leaving seasoned road warriors upset and confused.
Bob Dylan had it right when he said, "the times they are a-changin.'" My most recent stay at a Marriott hotel spoke volumes to these classic lyrics. I pulled out my laptop to get some writing done and noticed that the desk was missing from my room. I couldn't believe it and immediately assumed that it was some sort of mistake. I called down to the front desk and they explained that some of their newer rooms are purposely redesigned to not include desks. I found myself wondering why on earth that made any sense and immediately turned to the Internet to find answers.
Turns out that more and more hotels these days are trying to win over the millennial travelers, who apparently want more casual workplaces that are more social than secluded. Yes, it is true that millennials have been known to deviate from traditional business travel in some ways, but for hotels to make such a bold move leaves some of the older generations in the dust, does it not?
Being a millennial myself, even I am not on board with hotels forcing me to have to use their lobby or restaurant to get my work done. This is purely a generational mindset that we care more about the social scene than actually getting work done, therefore, hotels like Marriott, Best Western, and Hilton are not including desks in their newly designed rooms.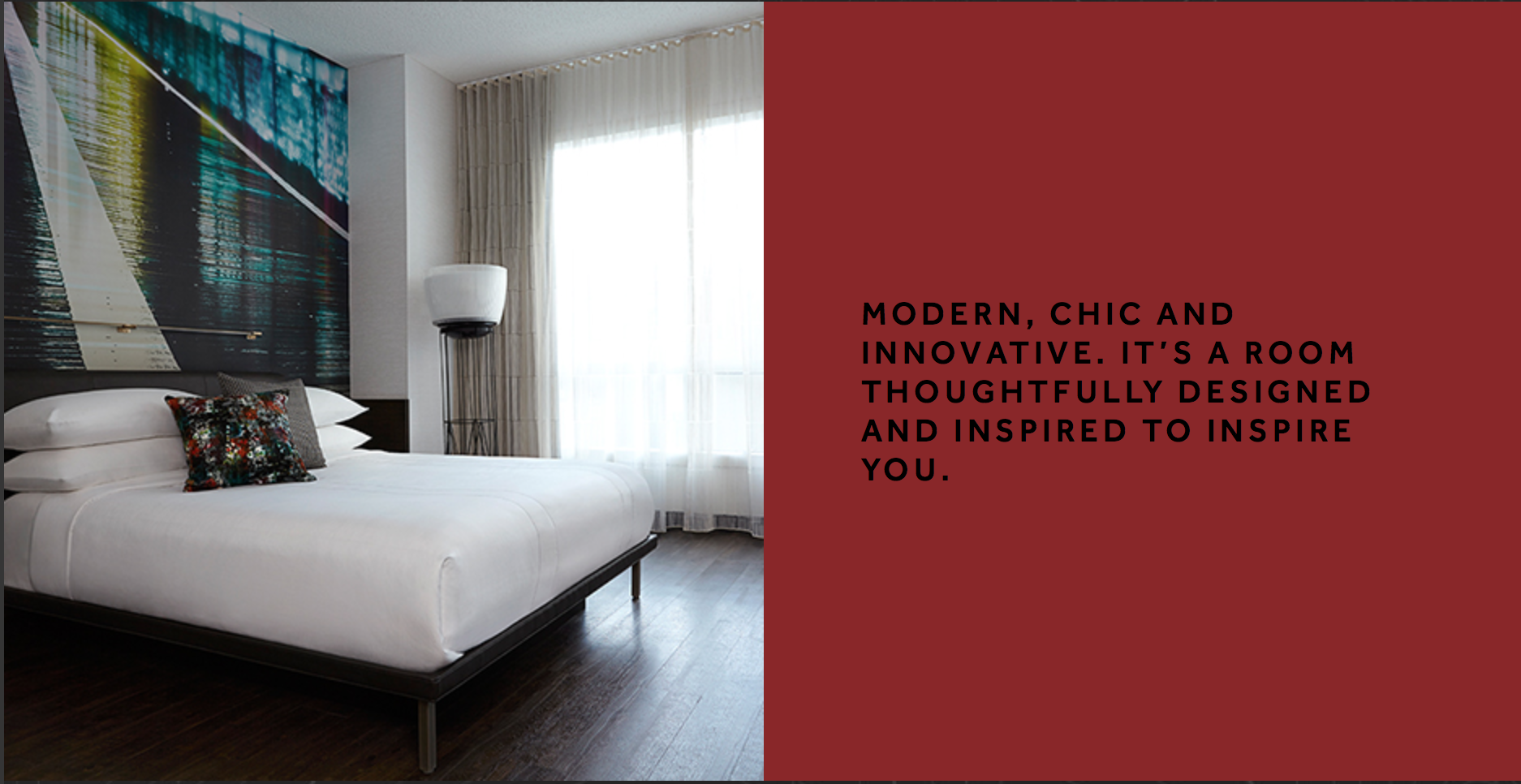 Call it minimalistic, call it innovative, or call it chic if you must, but I call it a problem. For those of you who are on the same page, I am here with a solution to our problem. Fine, the hotel won't allow you to get work done in your room, but thankfully there is another option (though still less convenient in my opinion) and that is: co-work spaces.
If you are like me and are too distracted to get work done in a hotel lobby, restaurant, or coffee shop then you may want to consider finding a nearby co-working space instead. These spaces definitely have their up's and down's. The up side is that you have a physical desk, there are plenty of outlets to charge your laptop, high speed Wi-Fi, and even the opportunity to network with other business men and women. Some places even offer complimentary coffee and tea as well. The down side is that you still have to put in the effort to find these places, find transportation to get there, pay extra money just to find a place to work, and then risk being too distracted by the people around you to actually be able to get work done. This all could have been avoided if hotel designers realized that most people on the road aren't there for socializing and every minute is precious when it comes to a day's productivity.
What exactly are co-working spaces? Basically the solution for those who are work-at-home professionals, freelancers, or frequent travelers who need an office-like setting to work at. Or, of course, the solution to the missing desk conundrum that is appearing in hotels more and more these days. At a co-working space, you can either rent out a desk (which is usually a large table shared with others), or you can rent out private rooms. A lot of these shared spaces are only available on a month-to-month basis, but there are some that allow you to rent rooms or desks by the hour. The following resources allow you to find shared spaces, private spaces, or meeting rooms nearby your desk-less hotel room. Obviously all cities aren't on the co-working space bandwagon, but a lot of the major cities are.
DesksNear.Me, Share Desk, and LiquidSpace are sites that allow you to search for available desk spaces near you. You can seek out private desks, desks within a common area, shared office spaces, or meeting rooms.
With over 9,000 listings, DesksNear.Me is the largest provider of shared workspaces, and here is where you can download the mobile app. Share Desk has 1,800 locations spanning across 70 different countries and is continuously growing. LiquidSpace uses location services to find the closest short term and ongoing workspaces near you from the moment you enter the site. Download the app for the iPhone here and Android here.
Rent them out by the hour, by the day, or by the month. Each space has different amenities, but they usually include high speed Wi-Fi, plenty of power outlets, and a kitchenette with complimentary coffee and tea. Prices range from about $10-$40 to rent these spaces out, obviously depending on how long you wish to stay.
Another site to check out is We Work. This is great for the business travelers that often find themselves in need of a place to productively pass some time during their trips. You can buy a membership and use it at any We Work location in the world. They offer different types of memberships, whether you want to be able to grab any available seat in a common area from time to time or have a dedicated desk that you work from regularly. The membership includes not only your workspace but also access to conference rooms, online member networking, discounts (think gym memberships, travel, web hosting, etc.), and weekly events.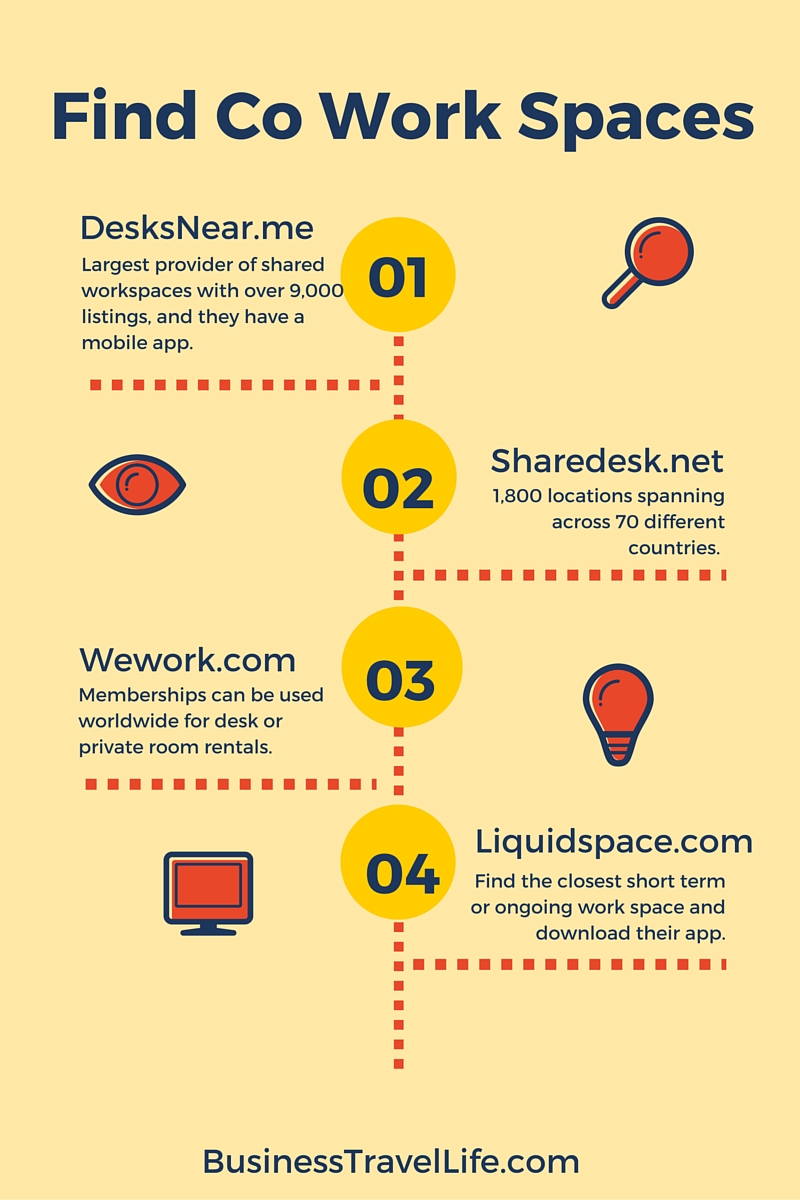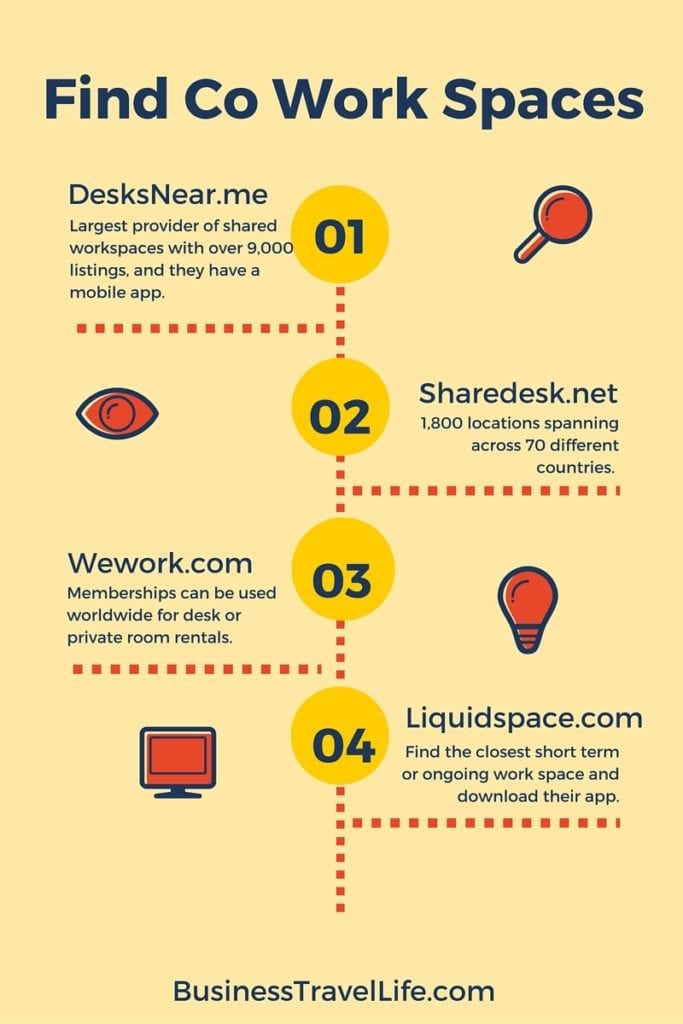 Hotels should continue to include desks in their future design plans because…well that should be obvious. However, if the times really are a-changin' then I guess we have to do what we do best and acclimate to this ever evolving business world we live in.
Business Travel Life
Business Travel Life is an online resource supporting the road warrior lifestyle. We give business travelers the tools they need to maintain their wellness and productivity when traveling. The topics we cover include business travel tips, travel workouts, healthy travel hacks, travel products, general travel tips, and industry trends. Our goal is to make business travel a healthier experience – and to make healthy travel practices more accessible to all road warriors.