Steve Gray is a music aficionado and self-proclaimed geek. His job in Technical Sales and Marketing for Peavey Electronics requires frequent international travel. Steve shared his international travel tips for everything electronic.
Traveling Abroad with Electronics
After numerous international trips, electronics expert Steve Gray has made a science of packing electronics for international travel. Traveling with electronics, like your phone, tablet and or laptop is a standard for most business travelers. While domestic travel with electronics can be a cinch, international travel can be a headache. Here are Steve's tips for traveling abroad with electronics.
Tip 1: Find the Right Adapter
Every electronic device you pack will need to be charged. You will need to purchase an adapter since the electrical outlets and voltages are different depending on where you travel. While many travelers bring a universal adapter with them, Steve says, "I don't like these. They tend to be flimsy, the mechanism is just something that will wear out or break and they are big, so the outlet you want to plug it into might not always have enough space around it to make that possible. That's happened to me."
Steve uses individual adapters instead of using a universal adapter. "Individual adapters are very robust, making a solid connection and plugging into each other for travel." Other benefits he points out are that individual adapters are smaller so they can be used in a tighter spot and can withstand the rigors of frequent travel.
Steve recommends that you take time to find out exactly what kind of adapter you will need prior to your trip to avoid packing adapters that you don't need. And Steve adds," Even if you bring your whole assortment of adapters, they won't take up much more space than the one universal kind."

Steve tells us, "I bought my assortment in a grocery store in Macau for less than a dollar each. That's far less than you'd pay for a single universal adapter. You can also find them online but not as cheap as the grocery store in Macau! The odd looking one with the three skinny prongs I got on Amazon to accommodate a trip to Brazil."
You can find a guide to electrical outlets around the world here.
Tip 2: Plugging In
"Rule number one is never bring anything electrical that will only work on US 120V power."
The United States and Japan are the only countries that do not use 220 volts or higher. So, while the plug adapter may let you plug your electronic device in, if your electronic device cannot handle the higher voltage, you will damage it. Most electronic devices have universal power supplies that will work in any country, but be sure to check the label on your device, especially for hair blow dryers and electronic shavers. Steve also said, "Most decent hotels will even have 120V outlet by the sink to plug a razor into." If you require a hairdryer, check to see if your hotel will supply one instead of packing yours.
Bonus Tip: Pack one international adapter to plug into the local wall outlet, and pack a regular old US multi-way outlet adapter to plug into the international adapter. "I always take my short orange extension chord with three outlets on one end. I sometimes also travel with just a three way wall adapter."
Steve's International Travel Electronic Essentials
Cheater Adapter– The "cheater" adapter shown here is similar to a US plug but it is missing the ground pins. Steve says, "There are many outlets in Japan that just take the old style two conductor plugs." He also packs the cheater adapter with him on every international trip. "It's just too small and light and indispensable when needed to leave behind, and comes in handy in the US as well.
Multi-port Adapter– Rather than bringing an assortment of chargers, he brings one multi-port adapter that accommodates four USB cables. Two of the ports are high current to charge a tablet.
Bluetooth Speaker– Invest in a small, high quality Bluetooth speaker like a UE Mini Boom or a Jambox. Steve enjoys using his UE MiniBoom to watch movies and listen to music with high quality sound. The added bonus is his speaker has a microphone so he can also use it for hands free calling or Skype. Steve says he prefers the UE MiniBoom because it is "more rugged, sounds better and the battery lasts longer." He does not have to worry about scratching or denting it during travel because it has a rubber sheathed exterior.
Headphones– A lot of people use noise cancelling headphones on the plane. They are bulky, expensive, and you need to make sure they are charged. Instead I use in ear monitors with foam tips. The same kind of expandable closed cell foam used in earplugs. They work great providing as much or more noise isolation as the noise cancelling headphones. And they take up no room and don't need to be charged. The only downside is that the foam tips can get soiled or lose their pliancy. I replace mine for every trip. I have a huge bag full of replacement tips that I bought on E-Bay. If you don't want to use the foam tips then similar isolation is still possible with the standard rubber tips if they fit your ear canal properly.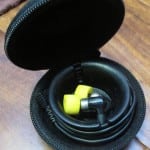 WiFi– Be prepared for the possibility that your hotel abroad may not have WiFi. You can use a CAT-5 Ethernet hardwire connection for your laptop, but what do you do for your tablet or phone? Steve recommends bringing your own WiFi access point or you can change your laptop into a WiFi access point. Lifehack.com has an easy to follow tutorial for this.
What electronics do you pack on international trips?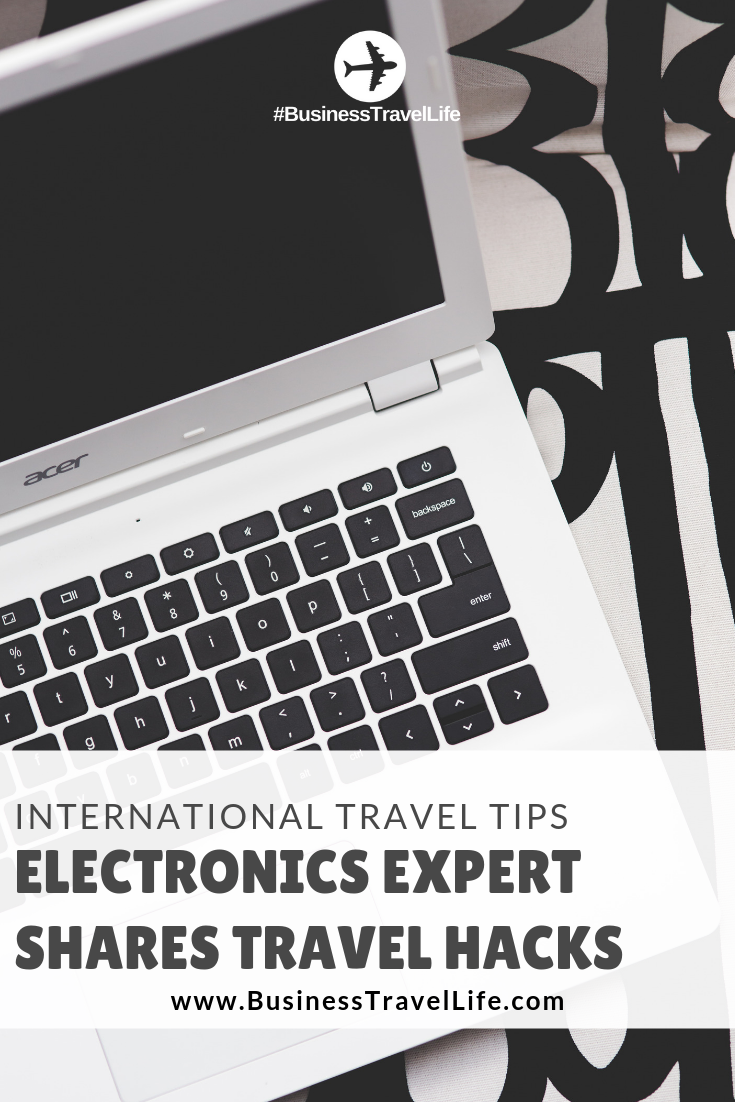 Business Travel Life
Business Travel Life is an online resource supporting the road warrior lifestyle. We give business travelers the tools they need to maintain their wellness and productivity when traveling. The topics we cover include business travel tips, travel workouts, healthy travel hacks, travel products, general travel tips, and industry trends. Our goal is to make business travel a healthier experience – and to make healthy travel practices more accessible to all road warriors.