If you are tired of spending hours on the hotel treadmill, perhaps its is time to change up your hotel workout routine. Interval training is a very effective way to burn fat and increase your metabolism. Interval training involves alternating between high intensity exercise (jumping jacks) and short periods of rest. According to Greatist.com, studies show High Intensity Interval Training (HIIT) for 27 minutes 3 times per week produces the same aerobic and anaerobic improvement as 60 minutes of steady state cardio 5 days per week.
Switching from steady state cardio to HIIT can reduce your workout time by over 50% per week while achieving the same results.
If the time saving benefit alone isn't enough to have you convinced, interval training also increases your metabolism and the calories you burn after your workout. Interval training can be applied to running, biking, swimming, jumping rope, plyometrics or any other form of activity that you can do at a high intensity. Remember to warm up before you begin your intervals and cool down after you are finished.
Interval training is highly adaptable and does not require equipment, which makes it perfect for a hotel workout. Whether you want to head outside for some fresh air, dive into the pool, or even complete a hotel room workout, interval training will fit the bill.
Greatist.com created a very informational visual guide to interval training.
More Health and Fitness News & Tips at Greatist.
If you are interested in a custom hotel workout, we can help. We provide hotel workout routines that are customized for you and the hotel that you will be staying at. If you need more help learning how to exercise or would like encouragement along the way, we offer Virtual Personal Training over Skype. Our trainer can work with you one-on-one from any location! Contact us today to learn more.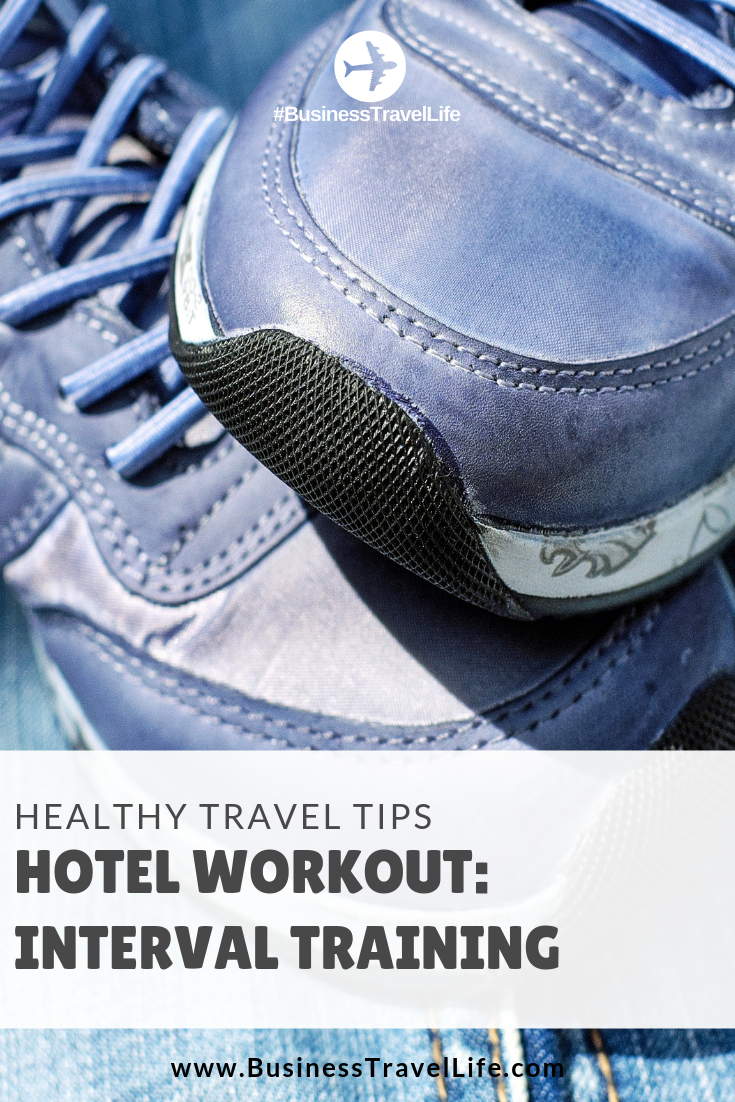 Business Travel Life
Business Travel Life is an online resource supporting the road warrior lifestyle. We give business travelers the tools they need to maintain their wellness and productivity when traveling. The topics we cover include business travel tips, travel workouts, healthy travel hacks, travel products, general travel tips, and industry trends. Our goal is to make business travel a healthier experience – and to make healthy travel practices more accessible to all road warriors.
Business Travel Life strongly recommends you consult with your physician before engaging in a new exercise program. You should be in good physical condition and be able to participate in the exercise. Business Travel Life is not a licensed medical care provider and represents that it has no expertise in diagnosing, examining, or treating medical conditions of any kind, or in determining the effect of any specific exercise on a medical condition. You should understand that when participating in any exercise or exercise program, there is the possibility of physical injury. If you engage in this exercise or exercise program, you agree that you do so at your own risk, are voluntarily participating in these activities, assume all risk of injury to yourself, and agree to release and discharge Business Travel Life from any and all claims or causes of action, known or unknown, arising out of Business Travel Life's negligence.