Don't let unexpected travel delays ruin your trip.
Travel delays can be highly frustrating, especially when traveling for business. The idea of running late to a client meeting or missing a presentation can be very stressful. March and April are the busiest months for business travel around the world. With that in mind, Egencia's Phoebe Schultz, senior director, Global Service Delivery, offers the following tips.
Before you go:
Try to minimize disruption. Avoid the most heavily traveled airports if possible. According to Sabre's flight and airport data, London Heathrow International Airport (LHR), Chicago O'Hare International Airport (ORD), LaGuardia Airport (LGA), John F. Kennedy International Airport (JFK), and Sao Paulo Congonhas International Airport (CGH) are some of the most heavily traveled airports by business travelers, and susceptible to delays. Additionally, avoid connections at airports that are susceptible to extreme winter weather.
Avoid checking in online ahead of your flight if there is a chance for bad weather. Your Travel Management Company will not need to call the airline to uncheck you before re-booking—one less step toward getting you on another flight. Instead, check in via mobile on your way to the airport.
Check your flight status before you go to the airport. You will also receive notifications through the app in case of delay.
Stuck at the airport? You should:
Be aware that the weather or any other natural events are out of anyone's control and airlines are exempt from compensating passengers for food, transportation or lodging. With the crazy winter the west and east coast has been having, this is especially notable this year.
Avoid releasing your hotel room or rental car until you are certain of delay or cancellation, and be aware of potential cancellation charges when you book.
Know what the airline is offering as far as ticket flexibility for changes, refunds, fees or penalty waivers.
Minimize the time you spend in the line changing travel plans:
Consider buying an airport lounge pass to gain access to airline representatives that may be able to help you more quickly than main terminal representatives – and gives you a comfortable place to wait out your delay. Some companies are now offering lounge access as a frequent traveler perk so you may want to check your policy before your next trip.
Book a hotel close to the airport ASAP if your flight is canceled, as rooms fill quickly. Take advantage of mobile-only deals offered for last minute bookings.
The bottom-line: be prepared to try to minimize delays as much as possible through preparation, and knowing options to minimize potential delays. But, if all else fails, try to keep your sense of humor. It will not only make the ordeal more tolerable but people will be more willing to help you.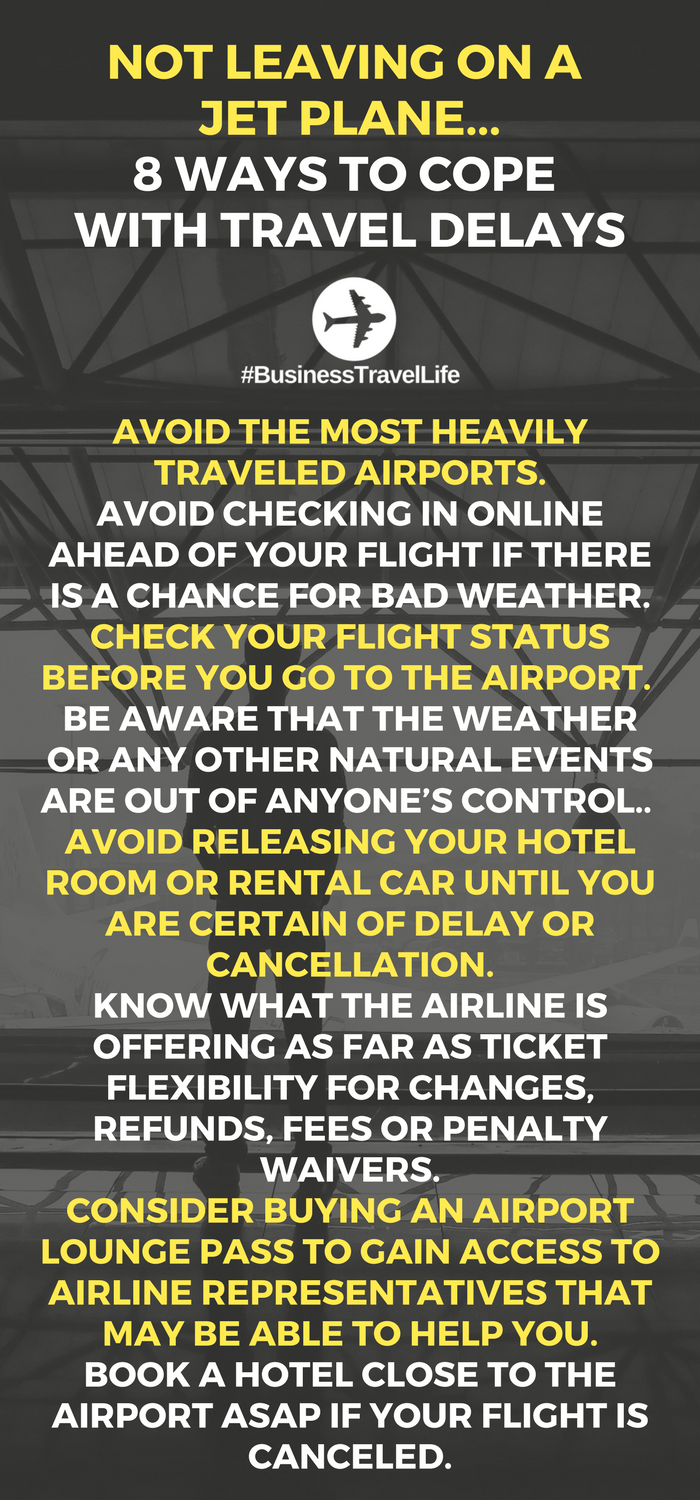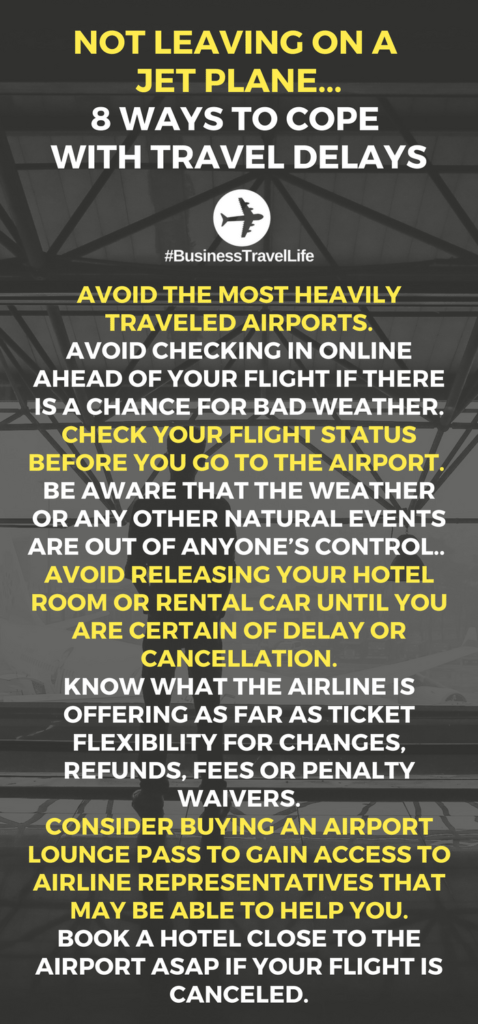 Business Travel Life
Business Travel Life is an online resource supporting the road warrior lifestyle. We give business travelers the tools they need to maintain their wellness and productivity when traveling. The topics we cover include business travel tips, travel workouts, healthy travel hacks, travel products, general travel tips, and industry trends. Our goal is to make business travel a healthier experience – and to make healthy travel practices more accessible to all road warriors.