Female road warriors can use these travel safety tips from Maiden Voyage to stay safe on their next business trip.
The life of a solo female traveler can be incredibly rewarding, but it is not without a few drawbacks. One common concern among women travelers is safety. Since 48% of female road warriors travel alone, understanding how to stay safe during a business trip is incredibly important. Simply being cautious and avoiding potential risks is not a permanent solution for traveler safety, and female business travelers should not be afraid to leave their hotel room.
In honor of International Women's Day on March 8th, Maiden Voyage, a website devoted to female traveler safety, hosted a webinar outlining their safety strategies for businesswomen on the road. Business Travel Life was listening in and compiled a list of the best travel safety tips from the webinar. We hope this helps you female road warriors stay safe on your next work trip (or any trip!) without missing out on the joys of solo travel.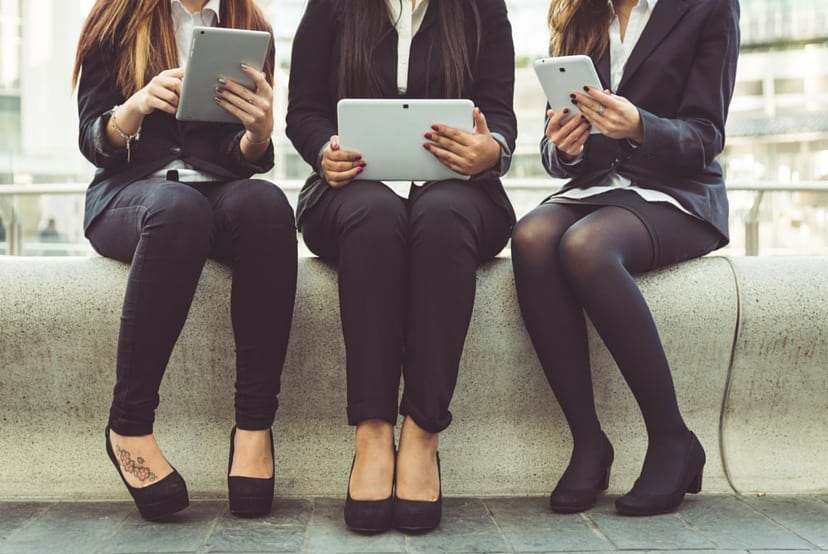 Never take an unlicensed taxi. Ever.
When it comes to luggage, avoid designer brands and other markers of affluence. They could make you a target of theft.
Preserve the original packaging for any medications you take with you. It will make potential interactions with customs officials much easier.
Make copies of important documents, such as your passport. This will make the replacement process much smoother should you lose anything while abroad.
If you are being picked up by a driver at the airport, ask for a password that you can use to verify your identity. The driver will know who you are (avoiding someone stealing your ride), and you will know who he or she is (avoiding someone stealing you).
If you are using Airbnb or Uber, be sure to closely examine reviews left by your fellow travelers. This is a great way to gauge how safe your accommodations or ride will be.
Ask for a hotel room that has double-locking capabilities and check that those locks work properly before you get comfortable.
If you plan on going out, have an exit strategy prepared in case things go awry. Understanding the local public transportation system beforehand could be a good tool if you need a quick escape.
Date rape drugs aren't just used at bars and clubs; you can be a victim at any point throughout the day. Always keep an eye on your drink, no matter what time it is or where you are.
Be sure that you will have access to your phone at all times. Research in advance any restrictions your carrier may have on cellphone use abroad, and carry your charger and adapter in case you run low on battery life.
Be sensitive to local customs regarding makeup, women's dress, and interactions with men.
Plan as much as you can for your trip in advance, including where you are staying, how you will get around, the location of the nearest hospital, and the proximity of your country's embassy if you are visiting a foreign nation. By doing this, you will be prepared for any surprises you may encounter during your business travel.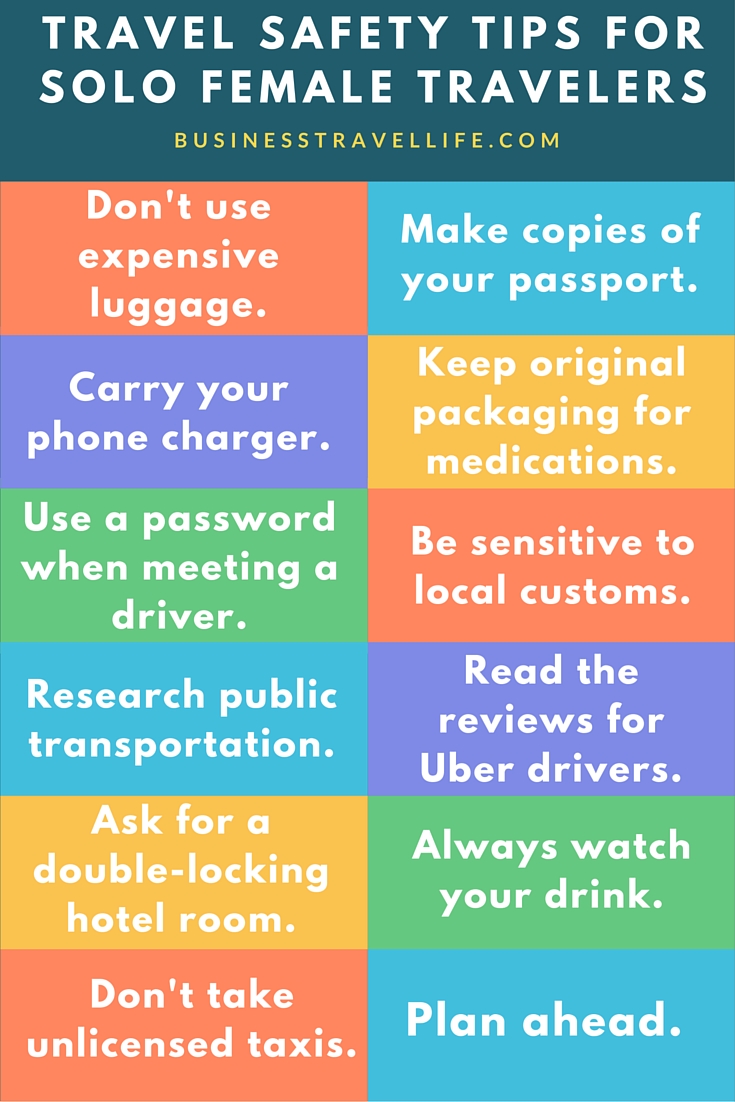 For more information on female traveler safety, the Maiden Voyage website is a terrific resource, especially for hotel safety.
What travel safety tips do you have for female road warriors? Comment and share below!
Business Travel Life
Business Travel Life is an online resource supporting the road warrior lifestyle. We give business travelers the tools they need to maintain their wellness and productivity when traveling. The topics we cover include business travel tips, travel workouts, healthy travel hacks, travel products, general travel tips, and industry trends. Our goal is to make business travel a healthier experience – and to make healthy travel practices more accessible to all road warriors.