Increases in spending and the rise of the sharing economy made 2015 a year of change for business travel trends.
It is no secret that the sharing economy, also described as collaborative consumption, has increased in both availability and popularity over the past few years. Initially, the sharing economy was driven by the Millennial generation. Last year, companies such as Uber and Airbnb, that are leading the sharing economy market, experienced a major influx of business travelers as users.
Certify, a company that provides expense reporting software, released its annual summary of the SpendSmart™ report. Certify looked at more than 30 million receipts and travel expenses in 2015 and discovered business travelers are increasingly interested in saving time and increasing comfort by using on demand services such as Uber.
Uber Surpasses Taxi Service
Ground transportation preferences have changed significantly over the past year, with Uber usage showing an annual increase of 417% by business travelers. To meet the needs of corporate travelers, Uber released Uber for Business. When it comes to ratings, business travelers ranked both Uber and Lyft higher than rental cars and taxis.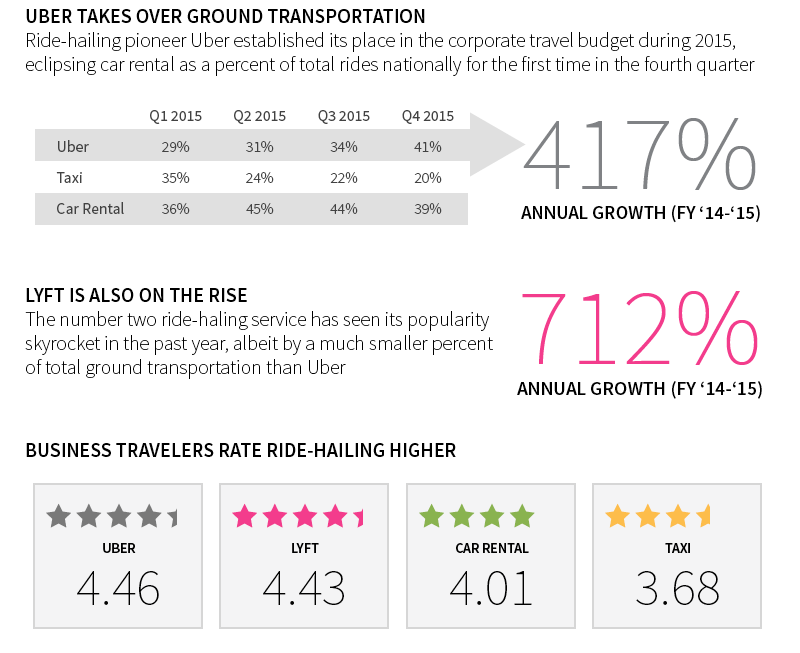 Airbnb Increases in Usage for Business Travel
With advertising slogans like, "Travel for work, feel at home," and "Feel at home when you're on the road," it is easy to understand the allure for of Airbnb for corporate travelers. According to Certify data from the third quarter of 2015, business travelers do stay an average of twice as long at Airbnb compared to hotels (four nights versus two nights). Something worth noting is Certify's report also showed user satisfaction was higher at Airbnb (4.3 stars) than hotels (3.79 stars). Airbnb revamped its business travel module in July of 2015 to meet the needs of 250+ companies that have corporate accounts for their road warriors.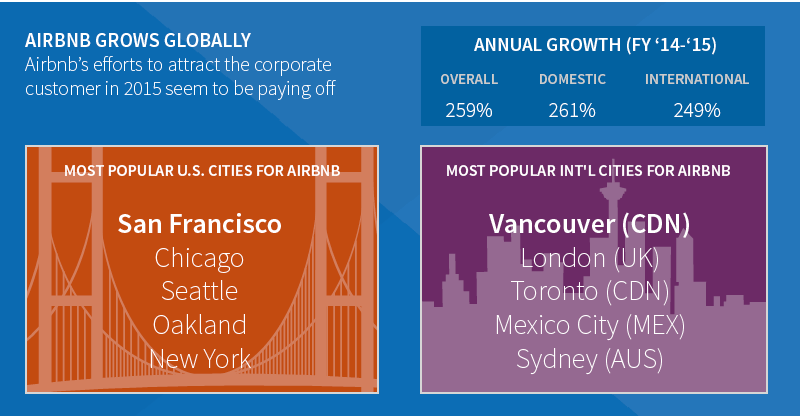 Growth for Other Sharing Economy Services
This year, corporate travelers also increased spending on creative sharing economy services such as WeWork. WeWork provides co-working office space, including hourly conference room rentals in 14 cities across the US. Reinforcing the trend for on-demand services, food delivery companies Door Dash and Sprig experienced substantial increased usage by corporate travelers. Another on-demand service that seemed to take off with business travelers in 2015 is delivery company Postmates, which will deliver food or goods from local merchants in under an hour. Hotel Tonight, an app that allows you to book last minute rooms at a discounted rate, experienced the highest rate of growth in the corporate travel sector.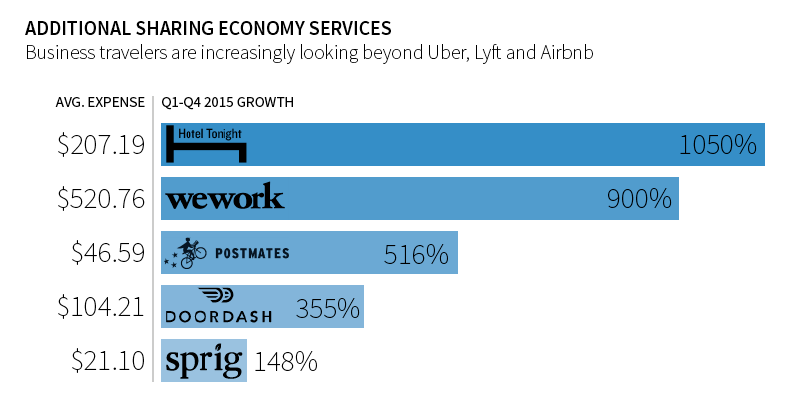 Business Travel Spending Breakdown
The Global Business Travel Association estimated business travel spending would increase by 6.2% in 2015 to an estimated $310.2 billion this year. This is how business travel expenses were divided in 2015. Thanks to reduced gas prices in 2015, corporate travelers saved an average of $13.55 per trip compared to 2013.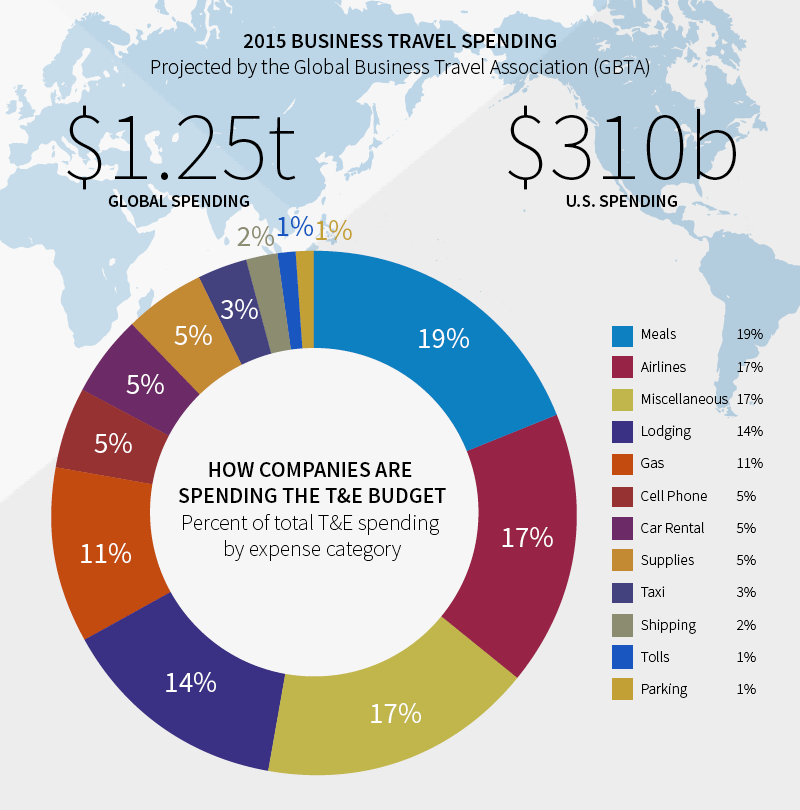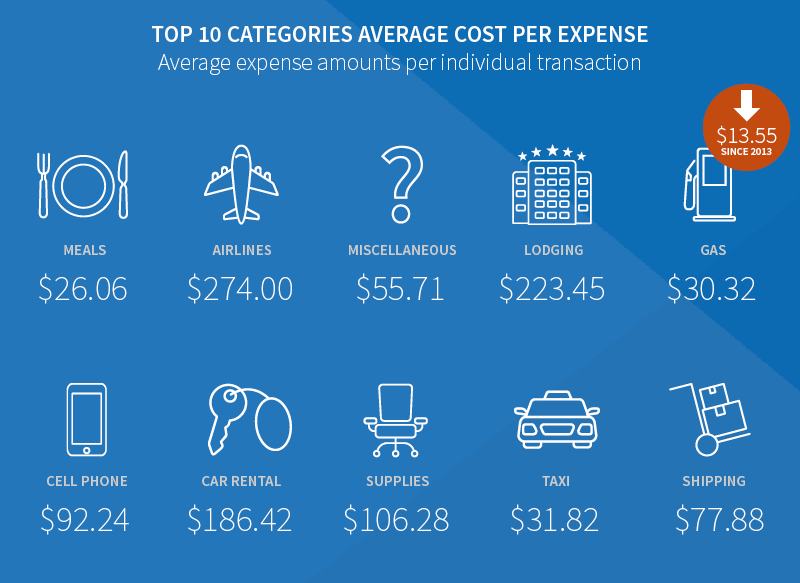 2016 Trends
It will be interesting to see how the sharing economy grows into corporate travel in 2016. With the sizable increases in volume during 2015, it is safe to assume companies such as Uber and Airbnb will continue to see growth from business travelers who prefer convenience and comfort over tradition.

Business Travel Life
Business Travel Life is an online resource supporting the road warrior lifestyle. We give business travelers the tools they need to maintain their wellness and productivity when traveling. The topics we cover include business travel tips, travel workouts, healthy travel hacks, travel products, general travel tips, and industry trends. Our goal is to make business travel a healthier experience – and to make healthy travel practices more accessible to all road warriors.