The Ultimate List of Hotel Hacks For Frequent Travelers
Business travelers know better than most how the quality of the hotel can impact the overall experience of your trip. Whether you are hotel hopping all week or staying in the same room, these hotel hacks are sure to improve your trip.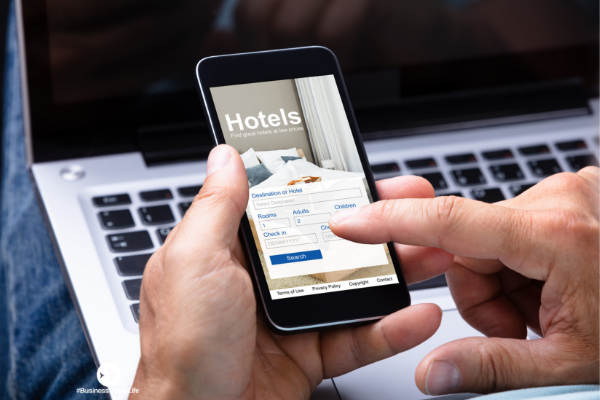 Hotel Booking Hacks
Reserving a decent hotel room can be a hassle. Sometimes the hotel you want to stay at is over budget or sold out, other times it can be hard to tell if you the hotel you are reserving will provide you with an adequate's night sleep. These hotel booking hacks will make it easier to get a room in the hotel you want, when you want it.
Rewards Programs. The majority of hotel chains have reward programs you can sign up for free. That's right. For free! Take full advantage of what they offer. When you book through the hotel and stay with the same hotel chain you can earn points to get discounts off of your room. Lou Haverty from Financial Analyst Insider recommends requesting a status match if you can't make the same reward status two years in a row.
Travel Credit Card. Another way to get hotel perks is with a travel credit card. Much like credit cards that you can use for flying you can use a traveling credit card to stock up on cashback and use points for traveling and hotels.
Plan ahead for events. One key hotel booking hack to keep in mind is to plan ahead. Call the hotel you're staying at and ask if there are any events happening the week you're going to be there. Nothing's worse than getting there and finding out you're on the same floor as a wedding party.
Check-In Early. One way to save time is to check-in early through the hotel's app via your cell phone or tablet. Hotel chains like Marriot and Hilton let you check-in ahead of time and choose your room. There are also some hotels like YOTEL that replace the front desk with kiosks to make check-in faster.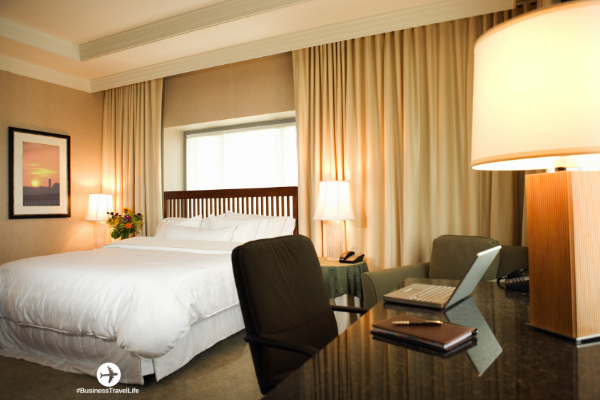 Hotel Hacks to Make the Room Feel like Home
It's tough being on the road all the time and missing your comfortable bed. After a long day of travel, the hotel needs to feel like home so you can relax. From morning to night, let's try to make your hotel room feel a bit more like home with these helpful hotel hacks.
Coffee. Nothing is better than a good cup of coffee to start the day. Hotel coffee can be a tad bland and not up to par with your usual morning joe. To help your mornings feel amazing instead of just "good", try bringing your own single-serve packets to make your coffee feel a bit more like a good home-brewed cup. If tea is your preference, pack your own tea bags.
Essential Oils. Melissa Picoli Philips, a frequent traveler for Skin and Sky Beauty recommends using Lavender oil. Philips says "Another easy trick to make the room smell lovely and neutralize airborne bacteria is to put a few drops of lavender essential oil on the room light-bulbs. Just a few will do the trick without causing damage."
Car Fresheners. Car fresheners are easy to pack and useful for more than freshening your rental car. Find a scent that you like and hang it in your hotel room. African Travel writer Alex McCormick says "While no good hotel room will smell particularly bad, they can quite often be a tad sterile, these little air fresheners can help to make the room feel that bit more welcoming and homelier, making your temporary living quarters more pleasant to reside in."
Dresser Drawers. All hotels have storage for your clothes. Utilize the space to make it feel more like home. Shane Allen, a frequent business traveler, told us he prefers to unpack his suitcase when he arrives. "If a hotel has a dresser or chest of drawers, I almost always unload my suitcase into it if I'm staying more than one night. I then hide my suitcase in the closet and use it as a place to put my dirty clothes."
Pack A Mini-Humidifier. If you have a hard time with dry air in the hotel room, consider packing a mini-humidifier. There are multiple options available on Amazon that will easily fit into your luggage.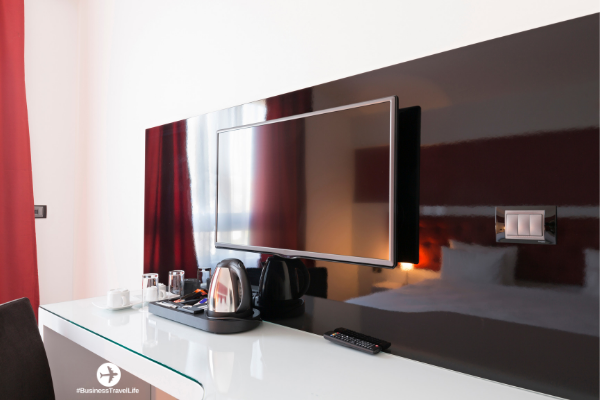 Travel Technology Hacks
Nothing is worse than a dead cell phone or paying extra for Wi-Fi to connect all your devices to the Internet. Another major annoyance for business travelers is not enough plugs or plugs that are in inconvenient places. Try these travel technology hacks to stay connected in your room.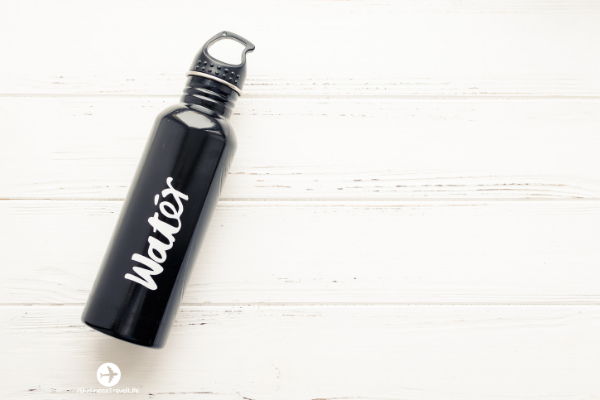 Hotel Hacks to Stay Healthy
It's tough to stay healthy during travel. Between business meals out and endless to-do lists, it can be a real challenge to stay healthy on the road.
Bring own water bottle. Don't forget to drink water when you are traveling. Frequent Traveler and co-owner of The Travel Sisters, Matilda Geroulis told us to "Bring a reusable water bottle and fill it up with free water at the hotel gym". Many hotels also offer infused water in the lobby.
Order Healthy Food. One of the best parts about traveling is someone else is cooking your food and you can order exactly what you want. If your hotel is offering healthy room service options, by all means, treat yourself to a healthy in-room meal. It is okay to request to modify something off the menu. Remember to sstick with grilled instead of fried when it comes to chicken, fish, and vegetables. If room service is not an option, try using an app that will deliver food to your room.
Coffee Pot. If you're looking for something quick and easy, you can make instant noodles, oatmeal, or even eggs in your coffee pot. All you need is hot water for an instant meal. You can see a ton of hotel cooking hacks here.
Simple Cleaning. It may not be much, but germs do spread. A quick hack to make sure everything is clean is to simply wipe everything down once you get in the room and that way you know it's been cleaned.  RealSimple has a great hotel room cleaning guide here.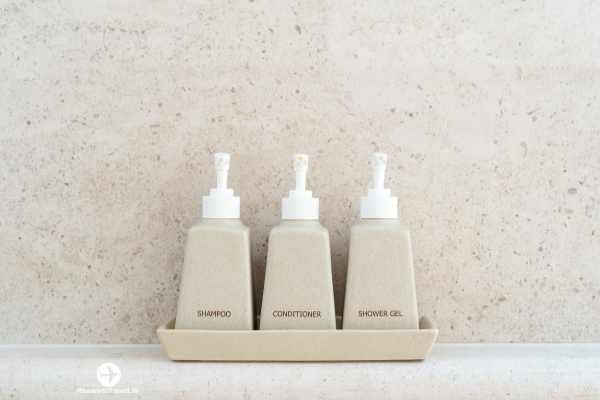 Hotel Packing Hacks
While most packing hacks happen at home (using a list, planning your outfits, rolling your clothes and/or using packing cubes) you can lighten your load even more with some of these hotel packing hacks. You can see a comprehensive business travel packing guide here.
Use The Hotel Toiletries: Luxury Hotel Traveler Alan Hutto and co-founder of RitzRoseRepeat suggests "Luxury hotels usually feature high-end toiletries. Save space in your toiletry kit and use the hotel's offerings." You can usually see what brand of toiletries your hotel offers on their website.
Shaving. If you need to shave and don't want to pack shaving cream, use the conditioner in your hotel room. If you have sensitive skin and need real shaving cream, call the front desk and ask. Most hotels will bring it to your room for free or sell a travel size shaving kit.
Use Hotel Amenities. Many hotels will bring just about anything to your room these days. Yoga Mat? Check. Clothing Steamer? Sure thing. Curling Iron? Maybe! Check the hotel website or give them a call before you leave to see what you can leave behind.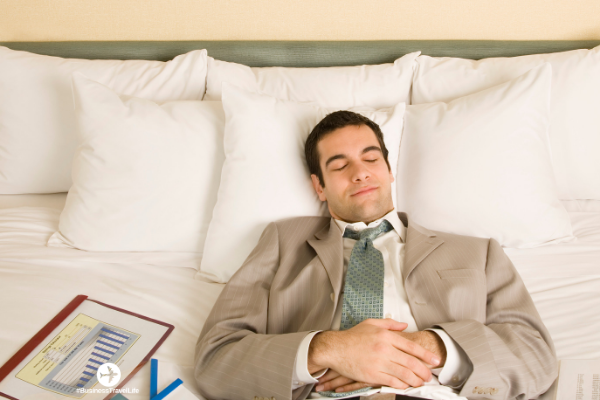 Hotel Sleeping Hacks
It is hard to get a good night's rest when you're not in your own bed. Feeling rested can make all the difference when going into a business meeting the next day. Getting enough sleep can definitely be a challenge, but we've created a list of hacks to help you get the full eight hours of sleep with little to no interruption. 
Check Everything. When you get to your room check everything. There is nothing worse than realizing at 11 pm as you crawl into bed that the sheets are dirty or the A/C isn't working. Before you unpack, take a few minutes to make sure the room was cleaned properly and everything is working.
Take A Moment Of Silence. This may be the most important thing you do to ensure a good night of sleep. Once you're in the room take a moment to just sit in silence. If you can hear the ice machine, elevator, noisy neighbors, traffic, etc. ask for a different room. At the most basic level, when you get a hotel, you are paying for a place to sleep- do not hesitate to request a room that may be away from loud noises.
Travel Candle. There's something about a certain scent that makes everything feel like home. Patricia Pinto a Yoga traveling teacher from Love Surf Yoga loves to bring a little piece of home with her traveling candle.
Pillows. If you are traveling by car, consider bringing your own pillow. If not, consider packing your own pillowcase. It will have the scent of home and if you're really looking for a piece of home while you sleep a worn t-shirt will do the trick. Many higher-end hotels also offer pillow menus, be sure to keep an eye out for that.
Ear Plugs. Many travelers use earplugs to block out hotel noise. This does not come without the risk of sleeping through an alarm, so try it out at home first.
Sleep mask. Travel blogger Charles McCool favors a sleep mask. Sleep masks will make it darker if the curtains are not blackout. Please try a sleep mask at home before hitting the road.
White noise app. McCool also recommends using a white noise app on a smartphone. Nothing like the sounds of various relaxing noises to fall asleep to. This is another thing you want to try at home first. You don't want to be at a hotel and not get enough sleep because you've never tried a white noise application before.
Binder Clips. Binder clips are great if your curtains do not stay closed and you want to block out light. If you forget a binder clip, you can also use the clips that come on the clothes hangers.
Towels. Travel blogger Patti Reddi likes to "use a towel to cover the opening between your door and the floor to block out noise from the hallway."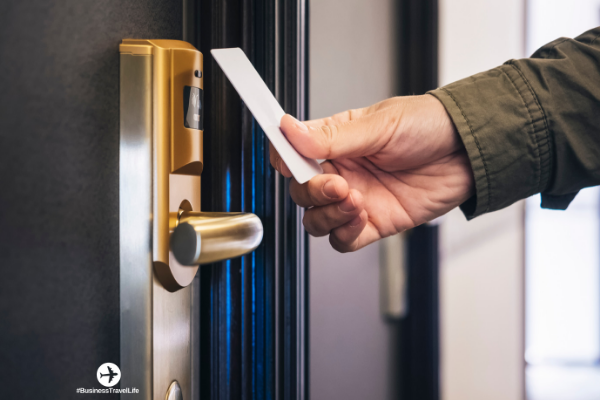 Hotel Hacks for Staying Safe
Your personal safety during travel should never be taken lightly. These simple tips to stay safe while traveling for business are quick and easy.
Chair. Michael Alexis co-founder of The Great Guac Off says that he "always sticks a chair in front of the door, even in fancy hotels as a home-alone trap for any would-be intruders."
Keep Your Room Number Private. Typically when you check into a hotel, the front desk agent will write your hotel room number on your key card paper holder. Many front desk agents are aware of the fact that revealing your room number upon check-in leaves you vulnerable. If your room number is spoken out loud, and you feel others have heard it, request a new room, and ask to have the number written down instead of stated out loud.
Do Not Disturb. The "Do Not Disturb" sign is a useful tool to use. Most hotels give two days before they check the room if the sign is still on the door, so if you can skip having your room cleaned for a day or two, leave the TV on and put out the sign when you leave. This will appear as if someone is in your room, which will hopefully deter anyone who was thinking of breaking in.
Map Your Route. If you're wanting to get out of the hotel for a bit for a walk or run, ask your hotel for a map and a recommendation for a safe route. Always take your phone with you on the run in case you encounter any issues.
For more hotel safety tips, see our comprehensive, 3-part hotel safety guide!
What are some of your favorite hotel hacks that you make frequent travel more comfortable? Please share below!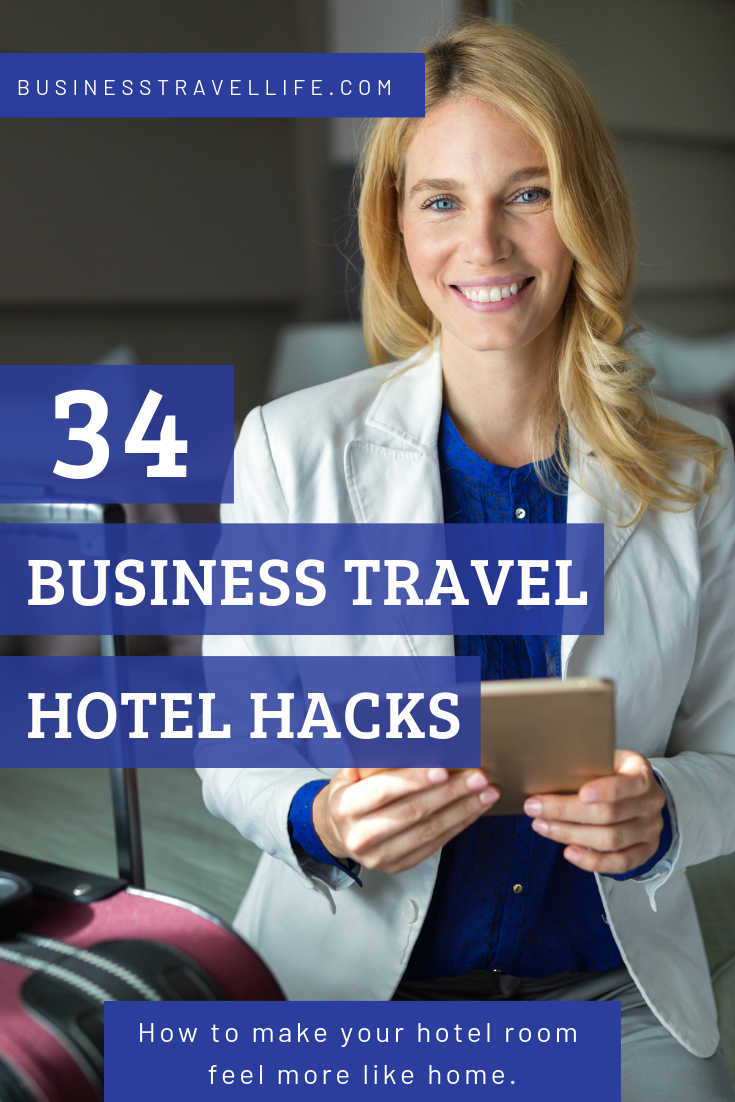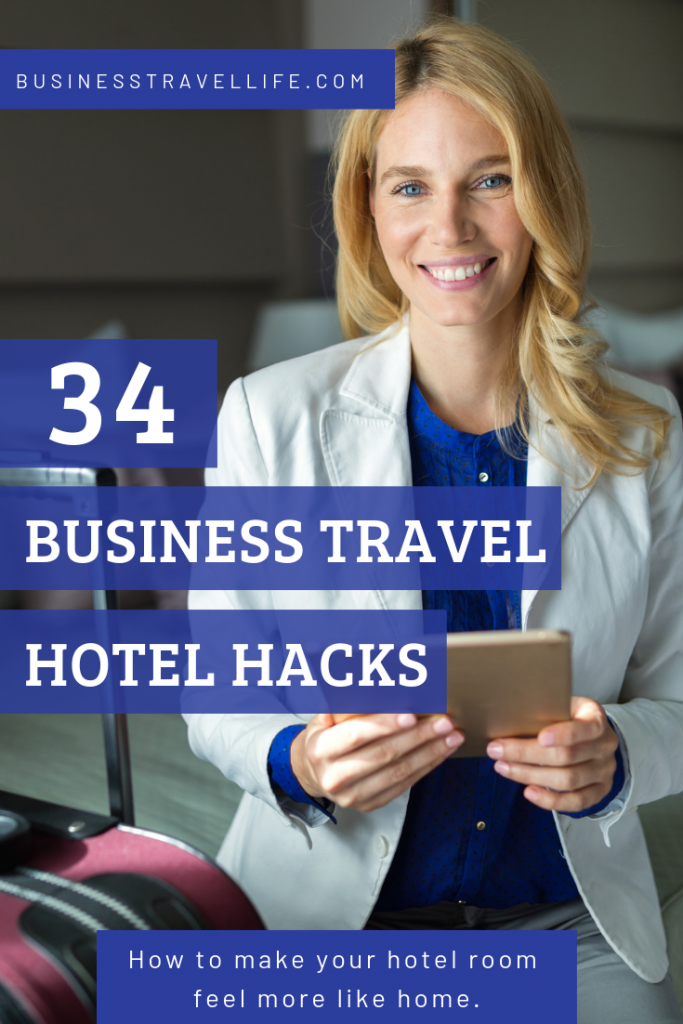 Business Travel Life
Business Travel Life is an online resource supporting the road warrior lifestyle. We give business travelers the tools they need to maintain their wellness and productivity when traveling. The topics we cover include business travel tips, travel workouts, healthy travel hacks, travel products, general travel tips, and industry trends. Our goal is to make business travel a healthier experience – and to make healthy travel practices more accessible to all road warriors.