Hotel safety is important to keep in mind, regardless of your location.
It is likely you are aware of travel risks in foreign countries, but how cautious are you when traveling inside the United States?
Regardless of your destination, it is important to remember to keep your guard up and be aware of your surroundings. We are going to discuss how to increase your level of personal safety at your hotel. Even in seemingly safe neighborhoods and nice hotels, travelers are vulnerable. A prime example of this is the Erin Andrews case, in which a stalker rigged a camera through the peephole of a hotel room. And, if you think women are the only targets when it comes to crime at hotels, think again. There are multiple reports of men inviting women up to their hotel rooms, only to find their Rolex , cash or other valuables missing the next morning.
Business travelers may be even more vulnerable during domestic travel as they are more likely to feel at home on the road (therefore letting their guard down) in the United States. For this reason, we have compiled a list of hotel safety tips for business travelers.
Research Your Hotel Before You Arrive
If you are heading to a new city, research the location of your hotel. Is it in a safe area? Can you safely park your car? Is there a restaurant in the hotel, or nearby that can you safely access? All these questions should go through your mind before you book. If you are not in a safe area of town, determine what safety precautions you should take before you arrive. This may mean parking your car with a valet and dining at the hotel restaurant instead of going out to dinner.
Valet Your Car or Find a Secure Lot
If your hotel offers valet service, take advantage of it. Especially if you are parking your car at night or will need access to your car at night. If your hotel does not offer valet, park as close to the building as possible, in a well-lit area.
Do Not Leave Valuables in Your Vehicle
This is a pretty standard rule for day to day life, but it is easy to forget when you are traveling. And, remember not to transfer valuables to your trunk when you park. If someone is watching, they will see where you have relocated the valuables.
Keep Your Room Number Private
Often when you check into a hotel, the front desk agent will write your hotel room number on a paper holder that your key card can slide into. If you are confident that you will remember your room number, ask for another one that has not been written on. If you cannot commit your room number de jour to memory, tuck the keycard into your purse or pocket immediately so no one else can see it. Many front desk agents are sensitive to the fact that announcing your room number leaves you vulnerable. If your room number is spoken out loud, and you feel others have heard it, request a new room, and ask to have the number written down instead of stated out loud.
Avoid Ground or Garden Level Rooms
When booking your room, make a request for a room on a floor above ground level. Request a new room if you are assigned a ground/garden level room. Ground level rooms are much easier to see into, especially at night. This is even more important if the hotel in which you are staying has rooms with entrances that open to the exterior of the hotel.
Do Not Make Bar Friends
Alright folks, I know business travel can be lonely. All you want is a little conversation, but be cautious before making friends at the hotel bar. If you do strike up a conversation, monitor the alcohol intake of your new friend as well as your own. Do not, under any circumstance, leave your drink unattended – yes, men, this applies to you as well. Be cognizant that you don't mention what floor you are staying on, and don't volunteer that you are traveling alone.
And, when it is time to call it a night, head up to your room alone. If your new friend "coincidentally" is leaving the bar at the same time, head in a different direction to avoid an elevator ride together. If you feel uncomfortable, request an escort from a hotel staff member.
Lock Everything
It does not matter if you are staying at the Ritz Carlton or Nana's Bed and Breakfast. Use all locks that are available.
Lock Your Door: Promptly lock your door after when you enter your room. Even if the door automatically locks when it closes, lock the deadbolt. Thanks to technology, keycards can be hacked and it is likely a matter of time before the digital keys are hacked.
Lock Your Balcony Door: If you are lucky enough to stay at a hotel with balcony remember to keep the door locked when you are not sitting outside or nearby the door.
Lock the Connector Door: If your hotel room has an adjoining room, make sure you have the deadbolt locked as soon as you enter the room.
Lock the Windows: If you are lucky enough to have hotel room windows that open, great! But do not leave them open and unlocked when you are gone.
Look Through the Peephole
Before you answer a knock at the door, look through the peephole and make sure you can identify who is knocking. If it is a staff member, ask what they need before you open the door.
Cover the Peephole
Speaking of peepholes, if your peephole does not have a cover, make one. We have already mentioned the recent case where a stalker rigged a camera up through the peephole. It can and has happened, so covering the peephole is a good idea.
Do Not Prop Your Door
It can be tempting to use the deadbolt out to prop your door open when you run down the hall for ice or a snack, but don't do it! Leaving your room open offers the perfect set up for a crime of opportunity to occur.
Hotel Shared Space Safety
When using the business center, pool or gym, remember to keep an eye on your valuables and your room key. Do not leave your room key unattended and do not write down your room number on any public forms.
Please share your hotel safety tips below!
Read More: Hotel Safety Tips Part 2: Protecting Valuables
Read More: Hotel Safety Tips Part 3: Travel Workout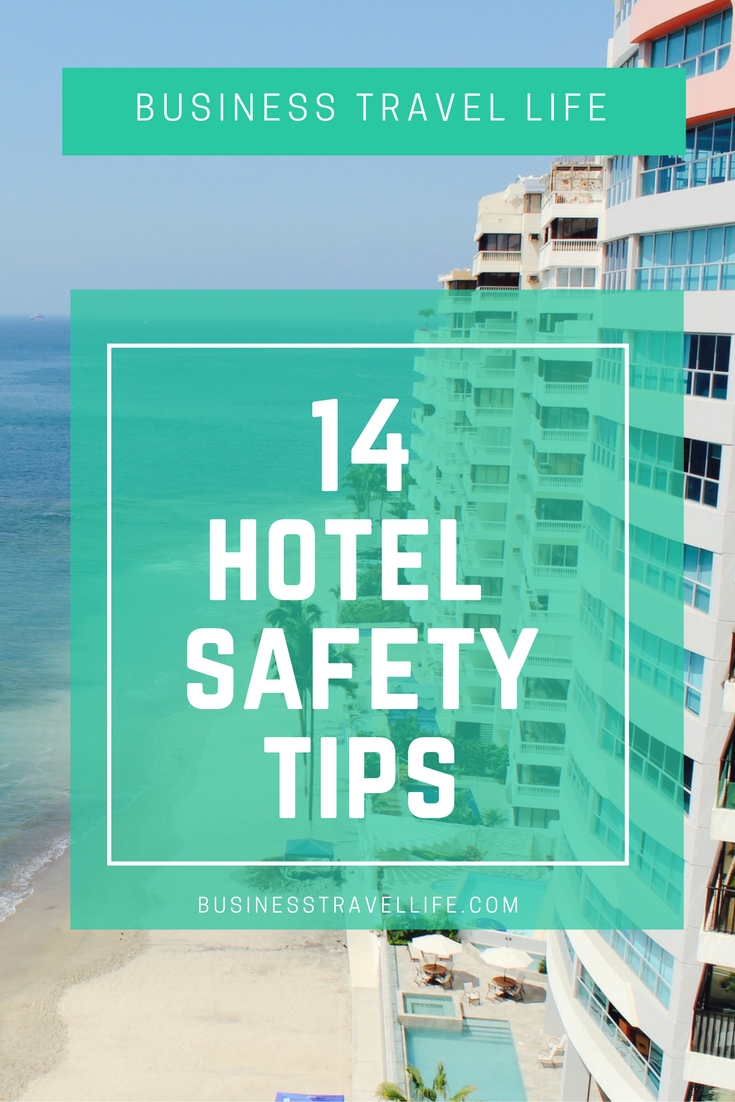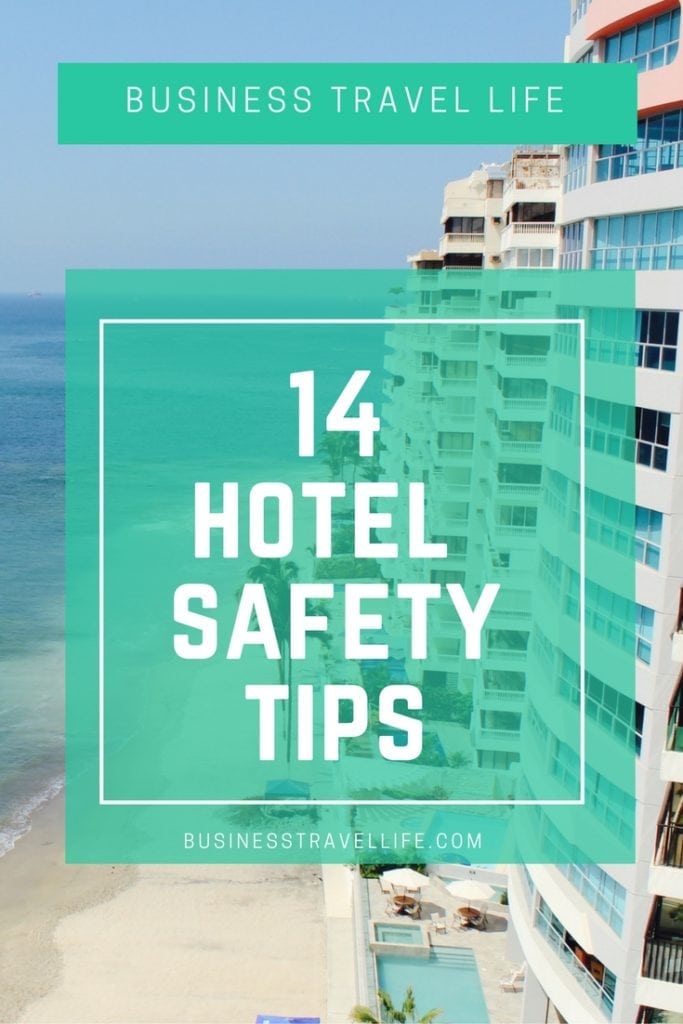 Business Travel Life
Business Travel Life is an online resource supporting the road warrior lifestyle. We give business travelers the tools they need to maintain their wellness and productivity when traveling. The topics we cover include business travel tips, travel workouts, healthy travel hacks, travel products, general travel tips, and industry trends. Our goal is to make business travel a healthier experience – and to make healthy travel practices more accessible to all road warriors.