Likely you have heard horror stories from someone who traveled abroad and accidentally racked up thousands of dollars worth of international roaming fees. You may not realize how much data you use during the day in the US, but when you are being charged international roaming fees, those megabytes will add up. The Wall Street Journal estimates watching a short three minute YouTube clip using international roaming fees could cost up to $100, and watching a full length movie could cost upwards of $18,000. Go ahead and pick your jaw up from the table and get ready for more shocking information.
The Huffington Post shared a story about another international traveler who racked up a whopping $22,000 in roaming fees during a family vacation in Mexico. He actually talked the company into reducing the bill to $500 and shared his tips to assist others to fight these charges. It was even troubling to read about a flight attendant who was charged $400 for three phone calls to the US (to fix a plumbing issue at his home) while he was in the Dominican Republic.
The good news is that you do not have to pay international roaming charges. With a little planning, it is easy to stay connected while you are traveling and avoid a $22,000 cell phone bill.
Verizon Customers
Verizon Wireless has introduced TravelPass. TravelPass allows you to continue using your normal cell phone services package abroad for a small fee on the days you use your phone. The cost is $2.00 per day in Mexico and Canada and $10 per day in other countries. Travel Pass is currently available in 65 countries. If you are a Verizon customer, you can activate TravelPass by logging into your account and selecting "manage international services" or by using the MyVerizon app on your phone to activate it before your trip. After you arrive at your destination, you will receive a text message welcoming you to the country and reminding you of the service and the daily fee.
T-Mobile Customers
T-Mobile offers customers unlimited coverage in Mexico and Canada with their 3 Country Plan. This plan can be added to your current service for an additional $10 monthly. T-Mobile also offers unlimited data and texting with their Simple Choice Plan in over 140 countries. If you need to make an old fashioned voice call you will pay 20 cents per minute.
Purchase an International Data Package
If you are not a Verizon or T-Mobile customer, check with your provider to find out what type of international calling packages they offer. Make sure you understand the fine print and be sure to monitor your usage throughout your trip.
International SIM Card + Old Phone
An international SIM Card will allow you to use a phone internationally. Payment structures vary by SIM card provider. For more information on SIM cards and activation visit this SIM Card guide. The downside to a new SIM card is that the SIM card changes your phone number (therefore you will not receive calls to your phone number if you are using your normal cell phone). This leaves you two options. The first option is to use an old phone and purchase an international sim card. This is a great strategy for two reasons. The first reason is you don't have to worry about your phone number being changed. The second reason is that if your phone gets stolen or broken during travel, it is not the brand new iPhone you just dropped $600 on (also making it less likely to be targeted for theft). The second option is KnowRoaming (below).
KnowRoaming Global SIM Card
KnowRoaming is a global SIM card sticker that you place over your original sim card (activate prior to travel). When you reach your destination the global SIM card activates and when you return home it switches back to your original phone. In addition to buying the SIM card sticker, you purchase the data package for as low at $7.99 per day for unlimited data. The reason this SIM card is well suited for your normal phone is that it allows you to keep your normal phone number while you are abroad.
Connect to Wi-Fi & Use Airplane Mode
You can avoid the headaches of international roaming fees if you keep your phone on airplane mode and connect to secure Wi-Fi. This is a great option if you want to check email, use your mobile browser, use social media or communicate with an app. Just remember you will not be able to use your GPS if you rely only on Wi-Fi. There are many options you can use to communicate when you are connected to Wi-Fi that will also save your valuable data.:
Here are a few other tips for reducing data usage:
Turn off push notifications in your phone's settings. This will prevent your phone from constantly downloading data when it is turned on.
Turn off automatic syncing in your app settings. This is especially important for photo apps like Shutterfly and Google+ that involve large photo files.
Whatever option best meets your needs, make sure you read the fine print before you leave for your trip.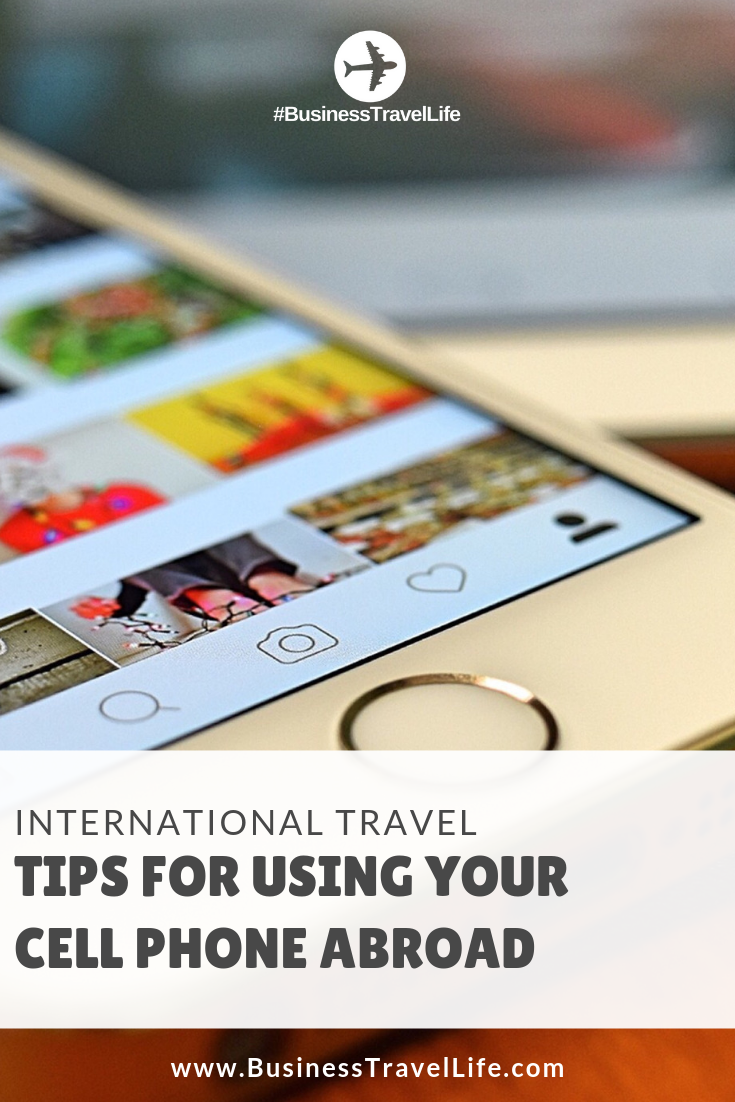 Business Travel Life
Business Travel Life is an online resource supporting the road warrior lifestyle. We give business travelers the tools they need to maintain their wellness and productivity when traveling. The topics we cover include business travel tips, travel workouts, healthy travel hacks, travel products, general travel tips, and industry trends. Our goal is to make business travel a healthier experience – and to make healthy travel practices more accessible to all road warriors.