8 Space saving packing tips for your next trip!
Packing your suitcase does not have to be a challenge. With a little planning and a few tools, you can have a mega organized suitcase that is packed to capacity with everything you need. Many frequent travelers develop their own favorite tips and techniques. Personally, I use a compression packing cube system and roll any clothes that do not fit into the cubes. The following packing tips will make packing easier and allow you to pack more items for your next trip!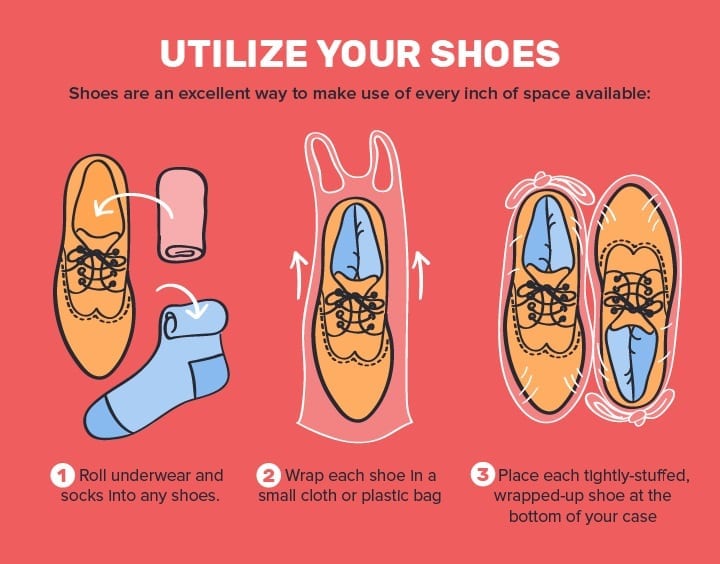 I suggest investing in a shoe bag or heel bag to protect your shoes and the other clothing in your suitcase. These bags are more durable than a plastic bag.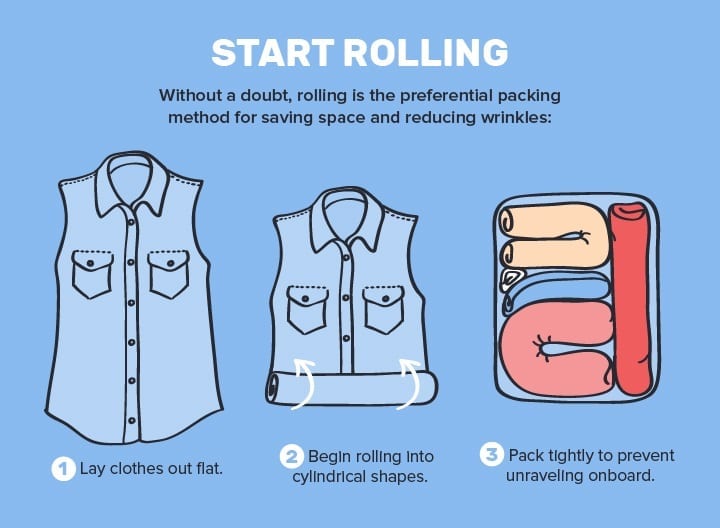 Rolling vs. folding is a long-standing debate when it comes to travel pros. If you prefer to fold, place the folded clothes into a packing cube. If not, you are better off rolling. Add a rubber band or tie to ensure the garment remains tightly rolled.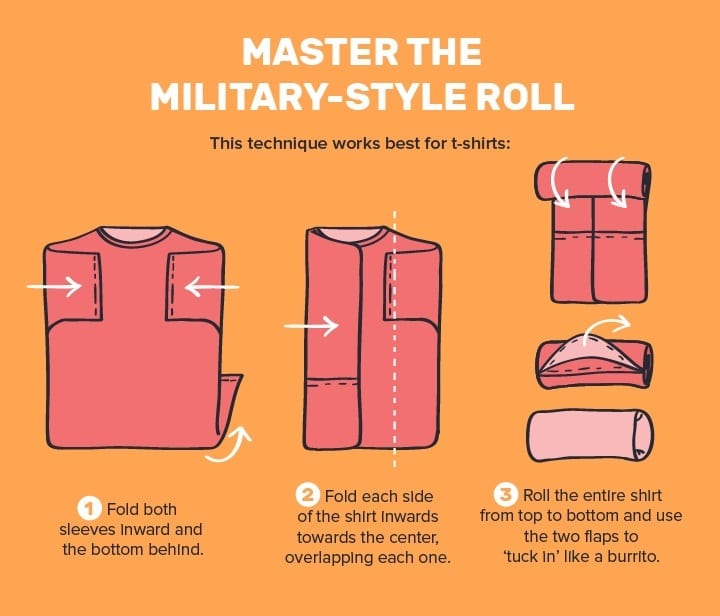 Recently, we interviewed a road warrior who mentioned rolling was more effective and referenced that is how the military packs. Now, we can see the exact technique used by the military!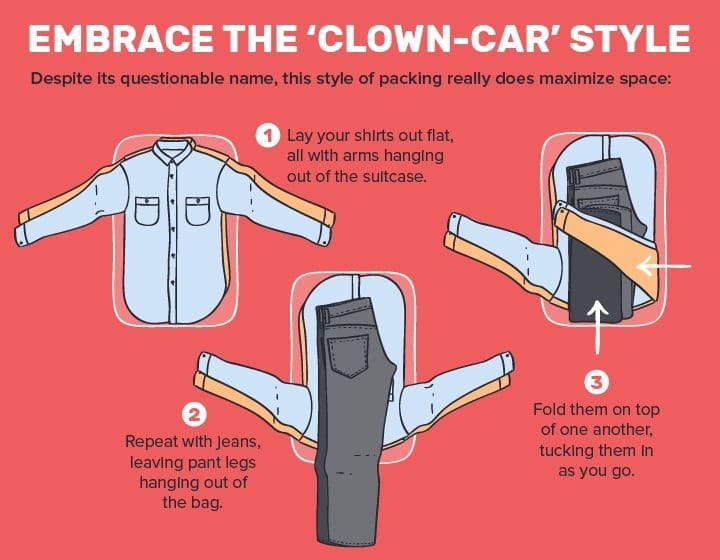 If you are not using a packing cube, this is a surprisingly effective way to maximize space in your luggage.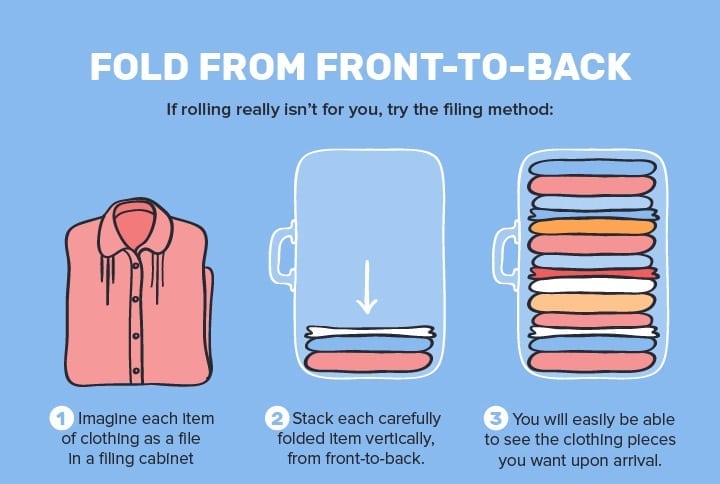 This technique is helpful if you do not want to unpack your entire suitcase. Keep in mind, you will need to fold neatly and stack tightly for this to be effective.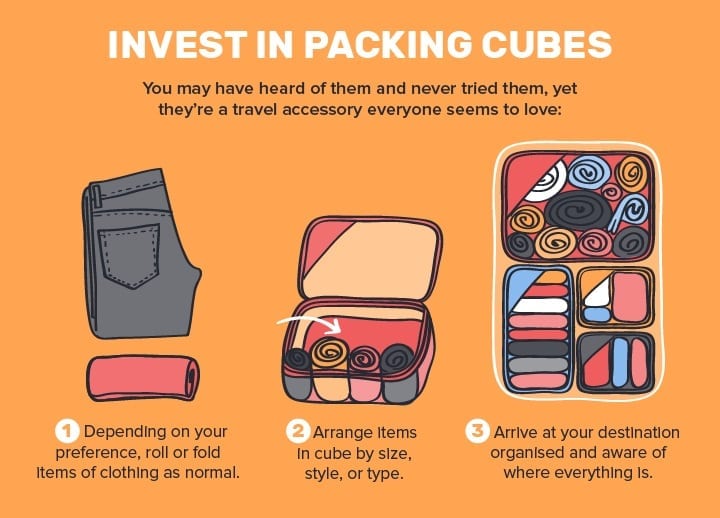 Packing cubes are an amazing tool, worth investing in. Thanks to packing cubes, I traveled for three weeks, internationally with a 19″ carry-on bag. My favorite packing cubes are the Flight 001 because they offer cute colors, compression and are dual sided for clean/dirty laundry. I also like this lingerie packing cube, which includes a mesh bag for washing during your trip.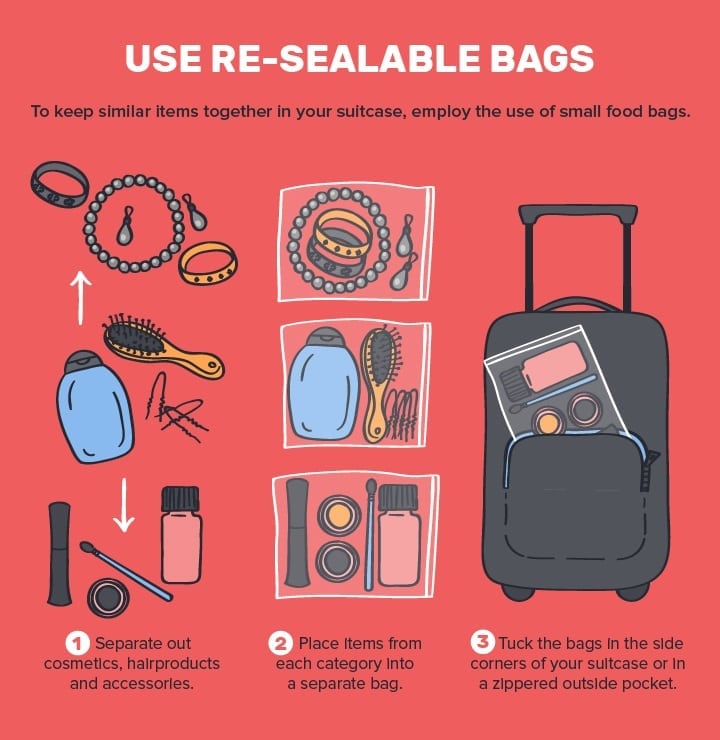 Small bags and organizers are a great way to not only pack more in your bag but also take better care of the items you pack. Investing in a high-quality jewelry roll and make-up bag will keep items more protected. Frequent travelers should invest in a high-quality TSA approved bag for your liquids instead of using a plastic bag.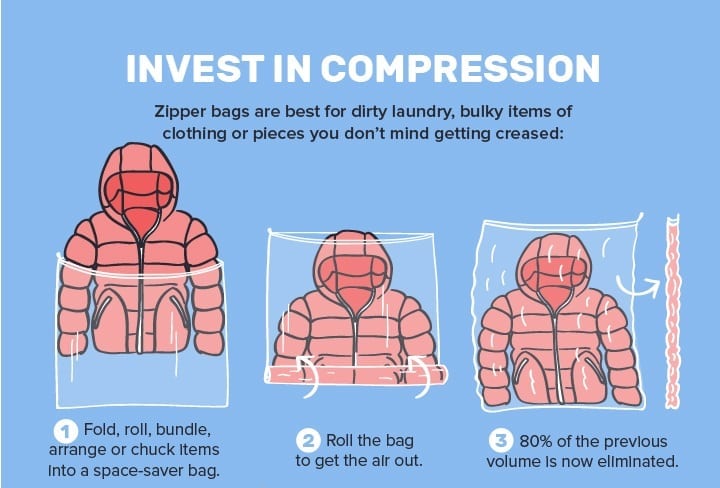 For heavier items like the winter coat shown above, find a space saver bag. For regular clothing look for packing cubes with compression.
What are your favorite packing tips? Please comment below!
Thanks to Expedia.ca for sharing this infographic!


Business Travel Life
Business Travel Life is an online resource supporting the road warrior lifestyle. We give business travelers the tools they need to maintain their wellness and productivity when traveling. The topics we cover include business travel tips, travel workouts, healthy travel hacks, travel products, general travel tips, and industry trends. Our goal is to make business travel a healthier experience – and to make healthy travel practices more accessible to all road warriors.