Is it possible to actually sleep on a plane?
Between crying babies, uncomfortable seats and the inability to lay down, sleeping on an airplane can be challenging. Whether you have a late night flight home or a red-eye to see a client, there is nothing more frustrating than feeling tired and not being able to get comfortable enough to sleep.
The good news is that you can increase your chances of falling asleep during your next flight by planning ahead, packing some in-flight sleep essentials, setting up your seat area for sleep, and finding the best sleeping position for yourself.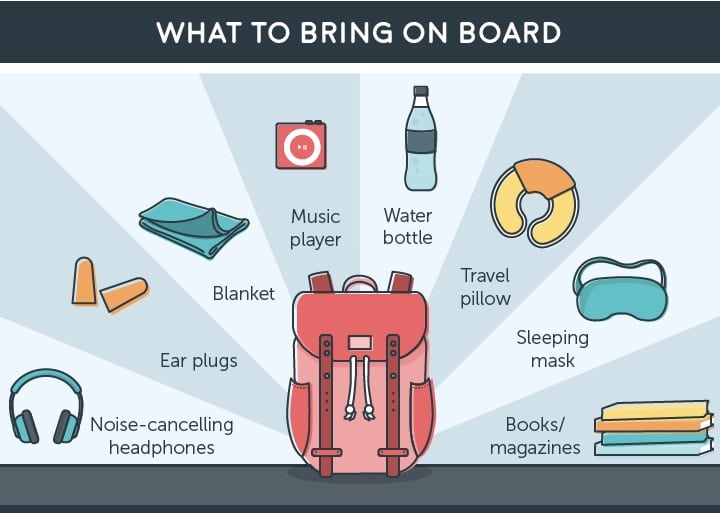 There are some items you can pack with you to improve your chances of sleeping during your flights:
Noise canceling headphones- Not only will you not have to listen to the lady in front of you complain about her cruise, you can choose to listen to whatever you want that will help you fall asleep.
Ear plugs- If you do not have noise canceling headphones, ear plugs are the next best option. In my opinion, you should always travel with earplugs, even if you have noise canceling headphones. What if your battery dies for your noise canceling headphones?
Blanket- You may or may not be able to snag a blanket on the plane, but it will likely be a thin, crappy piece of fabric. BYOBlanket for a more cozy sleeping experience.
Music Player (or a playlist downloaded to your phone/tablet)- Find music that is calming and relaxing. If there is something you sleep to at home or in your hotel room, make sure you have that available in-flight.
Water- Dehydration is disruptive to your sleep patterns and ability to sleep. Drink water before your flight and have water available during your flight to stay hydrated.
Travel pillow– A good travel pillow is a necessity if you plan to sleep sitting up.
Sleep mask– You would hate to be kept awake by the passenger next to you who has their reading light on. A sleep mask will ensure you can fall asleep in darkness.
Reading materials- Reading is a great way to wind down. If you are having a hard time falling asleep, try reading to relax your mind.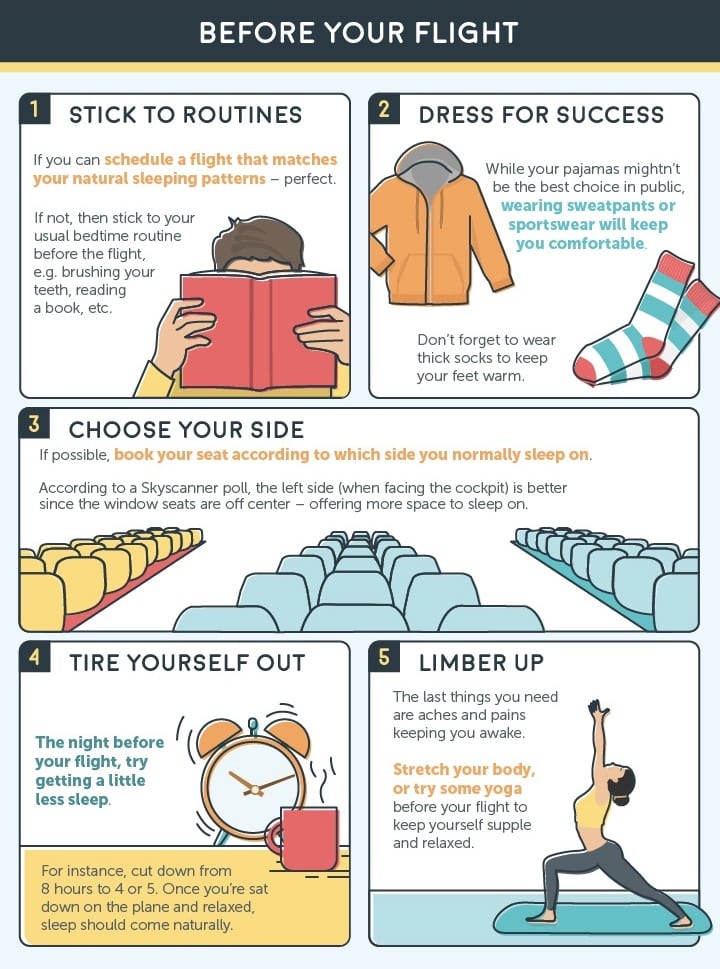 Another component of sleeping on an airplane is preparing your body for sleep before you board.
Try to book a flight that will depart around your normal bedtime.
Maintain your bedtime routine to the best of your ability.
Wear something comfortable and warm. If you are traveling for business, change into your suit after your flight lands.
When you pick your seat, find a window seat on whichever side you prefer to sleep on. If you usually sleep on your right side, get a window seat on the right side of the plane so you can lean your right side against the window. An added benefit of you the window seat if that you will be undisturbed if you seatmates need to use the restroom.
Make yourself tired before you fly. Cut your sleep short the night before so you are tired when you board.
If possible, stretch before you board the plane to relax your muscles.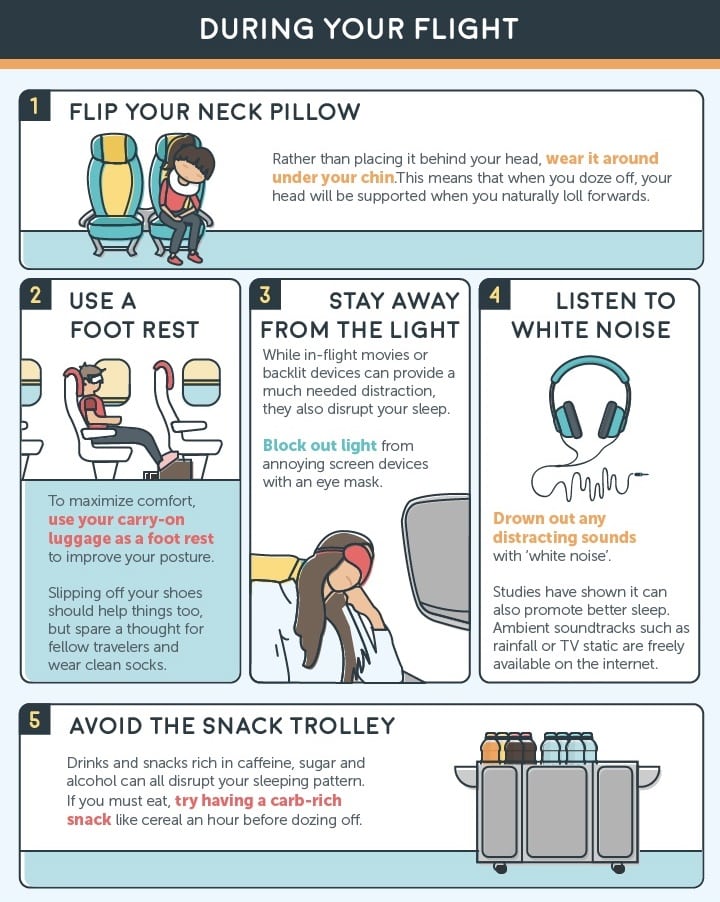 Once you are on the plane, set yourself up for sleep success!
Flip your neck pillow around to the front of your neck (under your chin) so it will catch your head when you doze off and your head falls forward.
Take off your shoes (as long as you have non-stinky feet AND clean socks).
Use your carry-on bag as a foot rest to improve your sleep posture.
Avoid light with a sleeping mask.
Listen to white noise. Studies show it will help you sleep better!
Avoid caffeine, sugar, and alcohol before and during your flight as all three are known to disrupt sleep.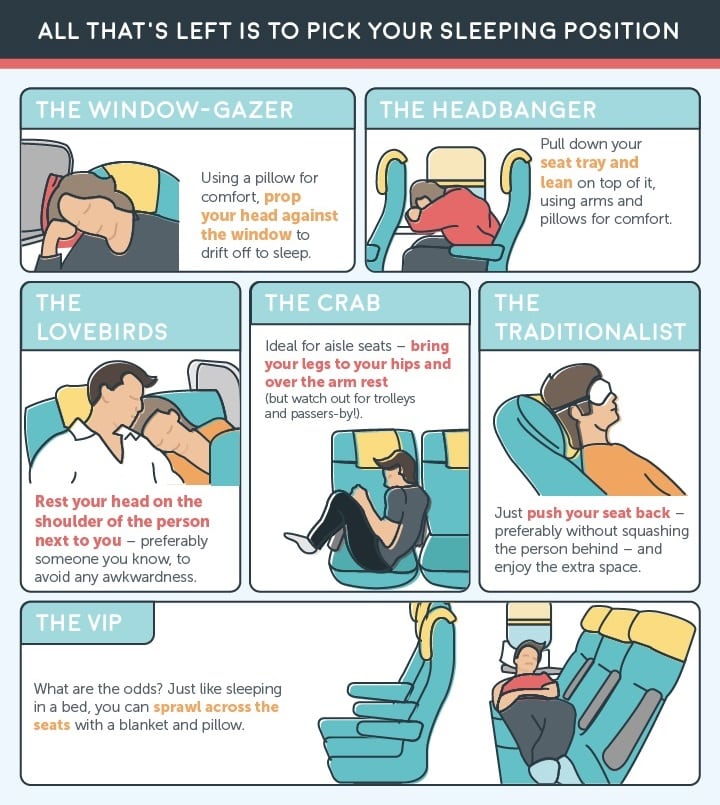 Once you are ready to sleep, pick the most comfortable sleeping position. Whichever position you pick, make sure you fasten your seat belt before you fall asleep.
Here are some ideas:
Prop your head against the window.
Put your tray table down (use a sanitizing wipe to clean it before you place your head on it), fold your arms across the tray and lean forward.
If you are traveling with someone you enjoy snuggling with, lean your head against their shoulder.
If you are sitting in the aisle seat, bring your legs to your hips and curl up in the seat. If you hang your legs over the edge of your arm rest, you may be more comfortable, but will likely be bumped by flight attendants and other passengers.
Put your seat back into a recline position. Be conscious of the person behind you to avoid an altercation inflight.
If you are lucky enough to have a row to yourself, lie down and make yourself comfortable!
Learn what your airplane sleep position says about you.
Hopefully these tips will help you arrive at your destination feeling well rested and ready to take on the day. What have you tried to sleep better on the airplane?
This infographic was created by  http://www.worktheworld.co.uk/infographics/10-ways-fall-asleep-plane. Click here to see the infographic in 1 piece.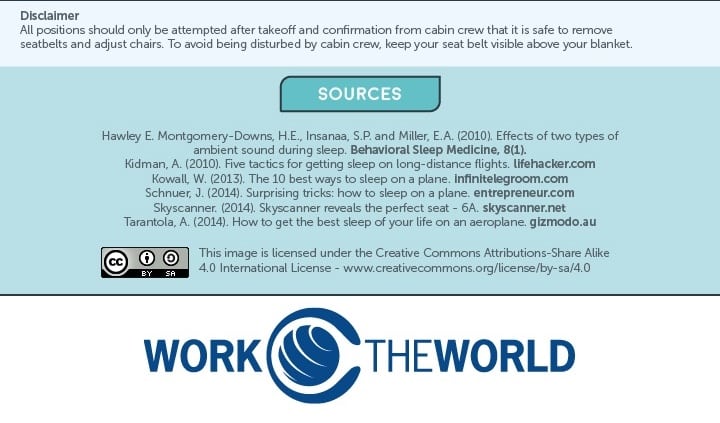 Business Travel Life
Business Travel Life is an online resource supporting the road warrior lifestyle. We give business travelers the tools they need to maintain their wellness and productivity when traveling. The topics we cover include business travel tips, travel workouts, healthy travel hacks, travel products, general travel tips, and industry trends. Our goal is to make business travel a healthier experience – and to make healthy travel practices more accessible to all road warriors.