Certify covers last year's business travel expenses and highlights where work travelers spent most of their meals in the 2017 SpendSmart™ report.
The 2017 Certify SpendSmart™ report confirms what those of you in the road warrior community already know to be true when it comes to meals: business travelers tend to prefer quick eats on the go. Last year's most expensed restaurants by work travelers were comprised of mostly fast food restaurants. With busy schedules and self-restraint when it comes to upping business travel expenses, it's no surprise that 2017's road warriors found themselves in a lot of Paneras and Subways.
Recently, we took a closer look at the trends revealed in Certify's 2017 SpendSmart™ report. Here, we dive deeper into the most expensed restaurants of last year, and how you can order a healthy meal should you find yourself in one of them.
Starbucks
In 2017, most of the business travel expenses spent on meals were funneled into Starbucks food and drinks. Making up 5.22% of travelers' meal receipts last year, Starbucks pulled in an average of $12.94 per road warrior.
Work travelers also gave Starbucks a rating of 4.3 out of 5 stars, tying the cafe with Jimmy John's and Panera Bread for the second best eatery. It was certainly the favored breakfast spot, with business travelers spending an average of $11.52 on their morning meals here, making Starbucks the most expensed restaurant for breakfast.
When you're in a rush to make an early morning meeting, a quick stop at Starbucks is sometimes the most convenient option. However, their decked out drinks tend to run high in the calorie department. So the next time you find yourself ordering at the Starbucks counter, try these tips for picking up a healthy drink.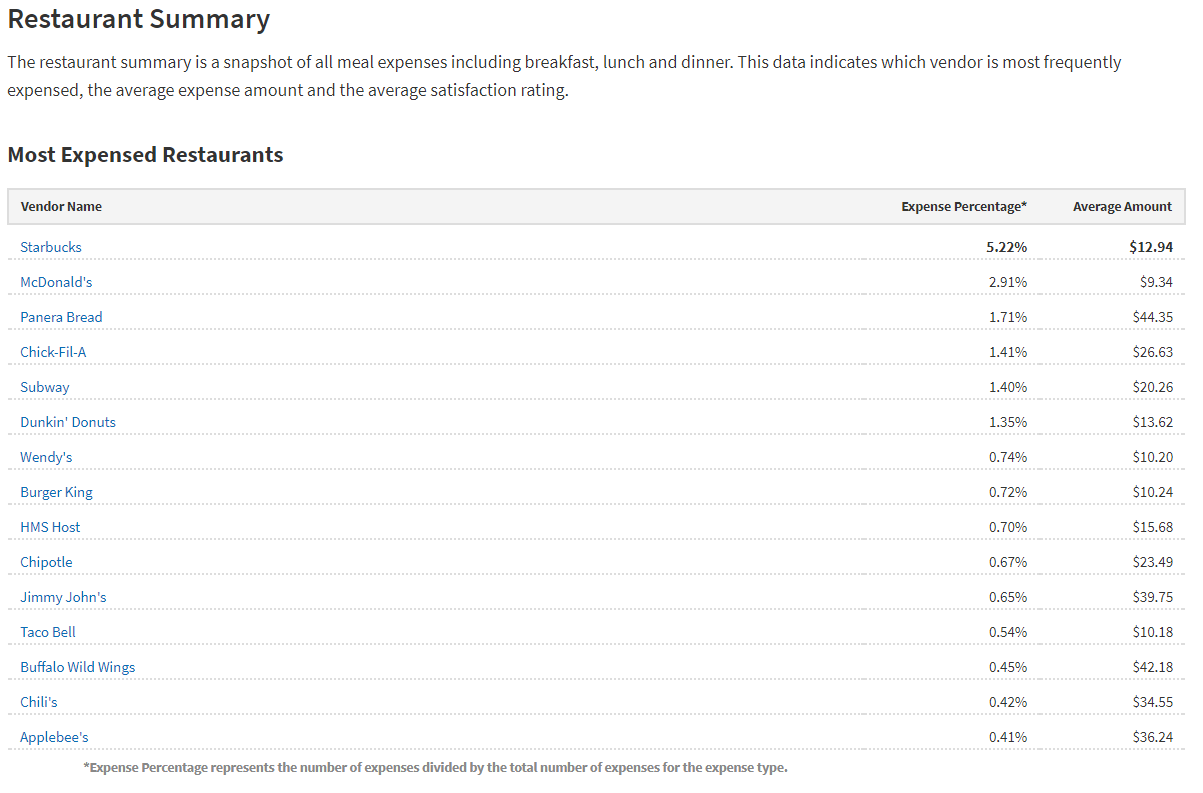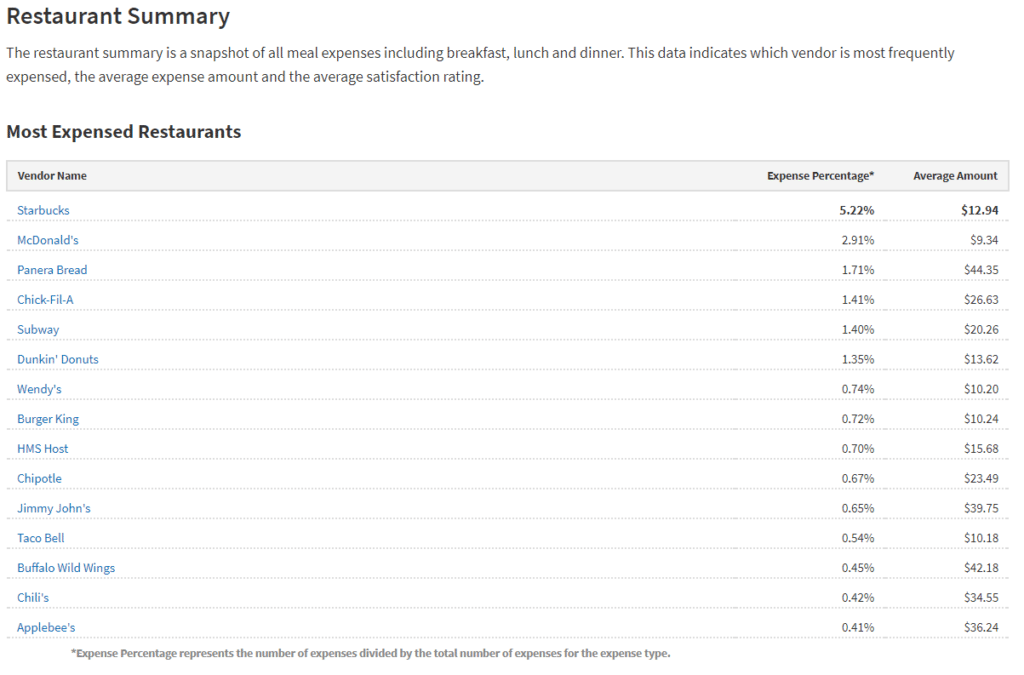 McDonald's
Coming in second, McDonald's made up 2.91% of the year's business travel expenses by restaurants. While that's a couple of percentage points behind Starbucks, McDonald's was the most expensed eatery for both lunch and dinner, with work travelers spending an average of $7.84 and $8.42, respectively. Overall, business travel receipts averaged out at $9.34 per McDonald's order.
Curiously enough, McDonald's didn't make Certify's list of fifteen top rated restaurants. So even though road warriors are spending most of their lunches and dinners here, it seems they're not wholly satisfied with McDonald's meals. We understand the discontent (a Big Mac has certainly never left anyone feeling nutritional) and have some suggestions for how you can preserve your health should you find yourself at a McDonald's while traveling for business.


Panera Bread
Third on Certify's list of most expensed restaurants is Panera Bread, with 1.71% of meal spending by business travelers. The average amount expensed per meal is $44.35, suggesting that Panera Bread is a top spot for eating out with coworkers while on the road or for treating clients to a casual business lunch. And tied with Starbucks and Jimmy John's, Panera Bread is the second top rated restaurant by work travelers.
Panera Bread is certainly one of the better places on this list when it comes to nutritional eating habits, but some of the more tempting meals (i.e. a broccoli cheddar bread bowl) can be high in calories. These guidelines should help you navigate the dos and don'ts of the menu at Panera Bread.
Chick-Fil-A
Chick-Fil-A has made a splash among business travelers, with the eatery garnering a rating of 4.4 stars, making it the top rated restaurant on Certify's report. Despite its high standing, it comes in fourth on the most expensed list, taking up 1.41% of business travel meal receipts. On average, travelers spend $26.63 per meal here.
"Eat mor chikin," advises every cow on a Chick-Fil-A ad, and we would advise the same. Grilled chicken sandwiches and salads make for healthier eats than the favored grub at other fast food joints, like burgers and fries. We can see why Chick-Fil-A is the top rated and fourth most-expensed restaurant for business travelers.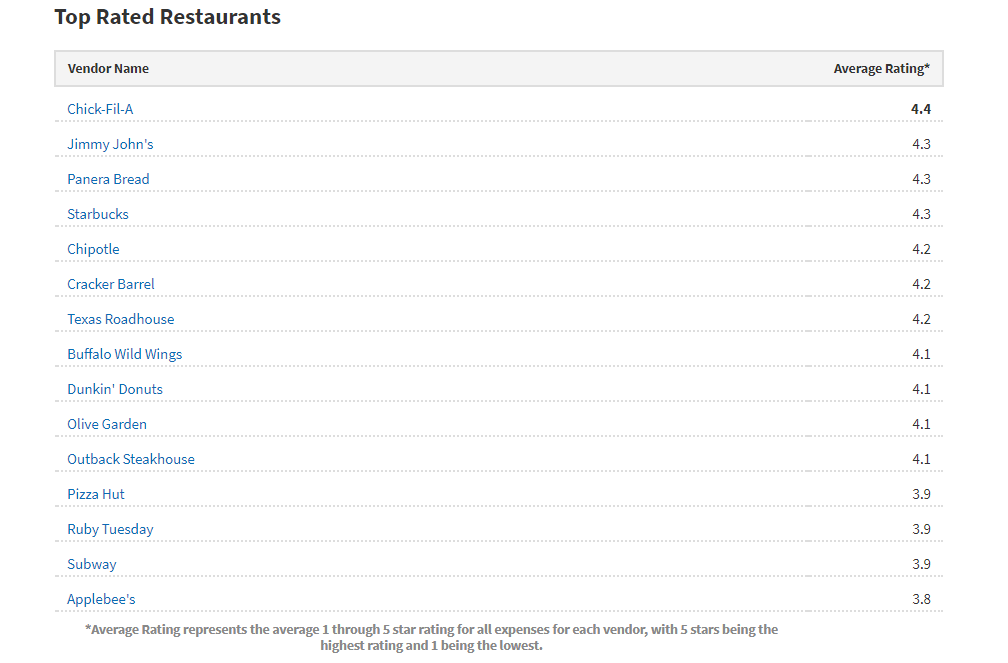 Subway and Additional Restaurants
In fifth place, Subway made up 1.40% of last year's business travel expenses for meals, and average spending was $20.26 per order. On Certify's list of top rated restaurants, Subway tied with Pizza Hut and Ruby Tuesday for 5th place with 3.9 stars.
After Subway on the list of most-expensed restaurants, Dunkin' Donuts, Wendy's, and Burger King come in 6th, 7th, and 8th, respectively. And on the top restaurants report, Jimmy John's, Chipotle, Cracker Barrel, and Texas Roadhouse make an appearance in the top 3 (the ability to tie ratings allows this list to have multiple restaurants per placement), though they're further down the spending report.
While it's certain that busy work travelers often opt for fast and convenient meals while on the road, it's not certain that they'll have to compromise their health in the process. Check out our healthy restaurant tips page for more nutritional eating ideas at some of your favorite restaurants while traveling for business.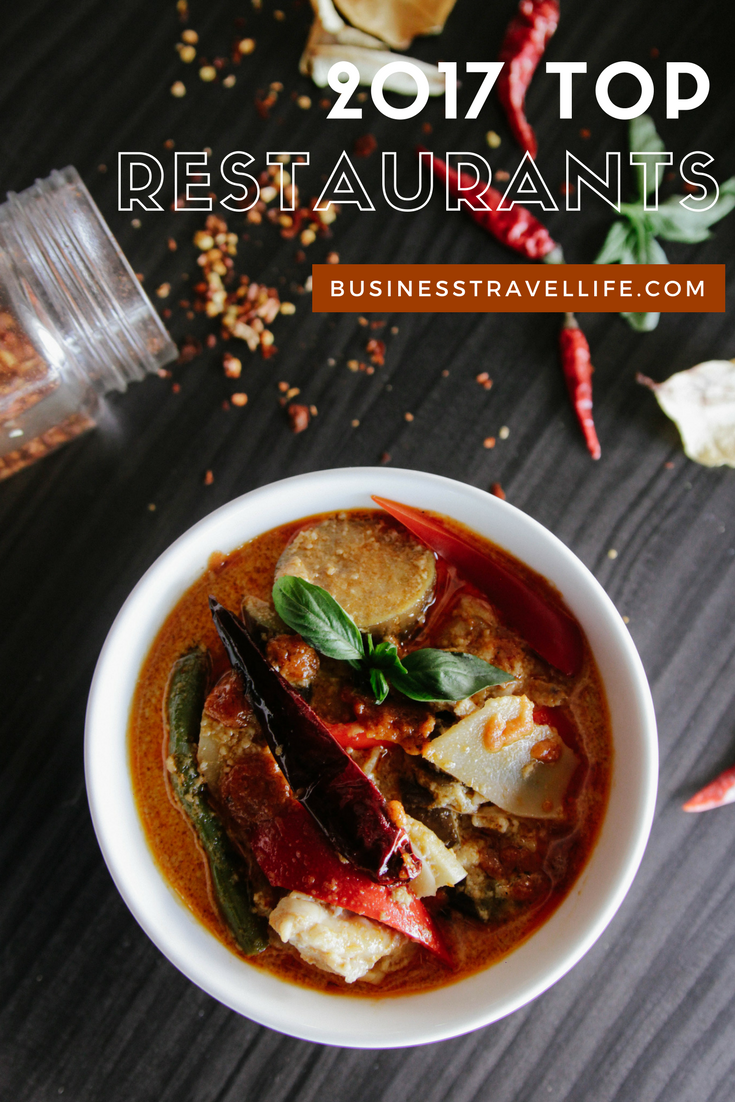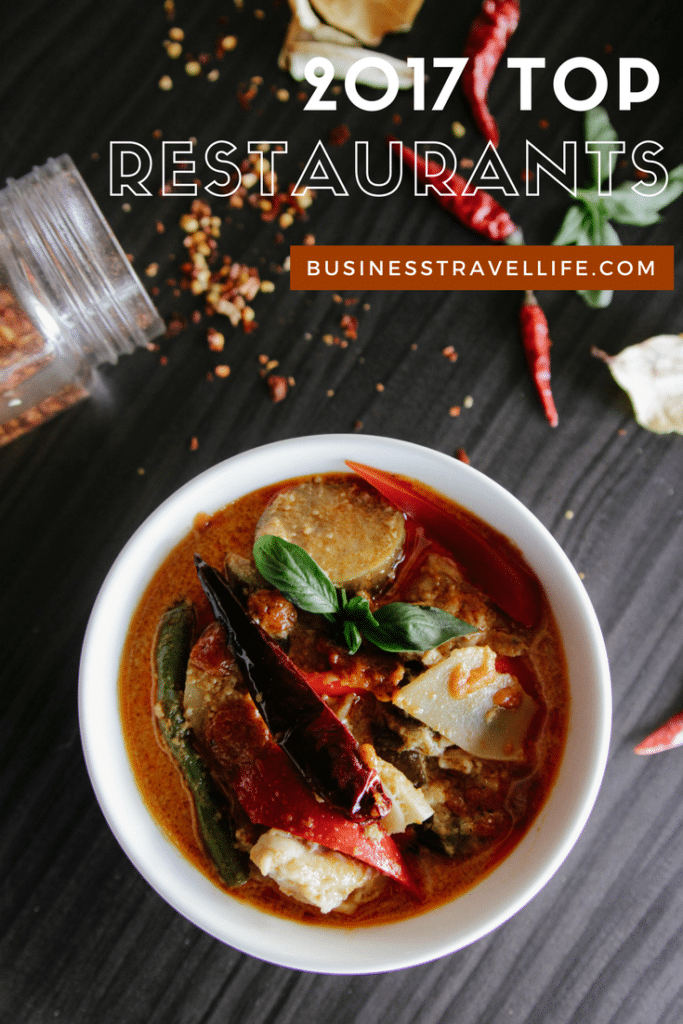 Business Travel Life
Business Travel Life is an online resource supporting the road warrior lifestyle. We give business travelers the tools they need to maintain their wellness and productivity when traveling. The topics we cover include business travel tips, travel workouts, healthy travel hacks, travel products, general travel tips, and industry trends. Our goal is to make business travel a healthier experience – and to make healthy travel practices more accessible to all road warriors.