Jamba Juice is a reliable place to find a healthy snack or meal, on the go.
One of the biggest challenges during business travel is finding fresh and healthy food. Jamba Juice is a must stop for travelers seeking fresh fruit smoothies or a healthy breakfast (yes, Jamba Juice has more than smoothies and juice). Jamba Juice has been around for many years, however, the company continually updates their menu with new, healthy options.
With 26 airport locations, Jamba Juice should be on every healthy traveler's radar. And, busy travelers will appreciate mobile ordering offered by Jamba Juice through their app.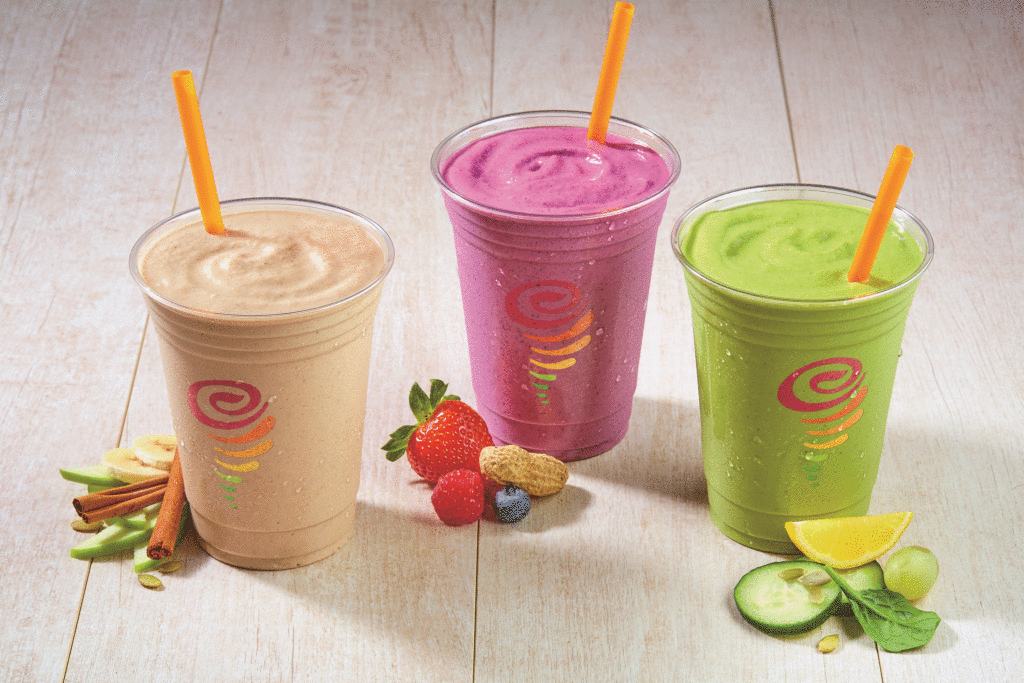 We interviewed Jamba Juice to learn more about the healthiest options for travelers.
How can Jamba Juice help travelers to stay healthier on to road?
Blending offers a number of real benefits that you don't get from juice, or even plated meals. When you blend real whole fruits and veggies, you simply get more nutrients. In of our small smoothies, you'll find at least 3.5 fruit servings in each of our All-Fruit Smoothies, and at least 3.5 fruit and veggie servings in any of our Fruit & Veggie Smoothies. Our new Super Blend Smoothies are specifically formulated to be healthful meal replacements packed with protein and fiber to help you stay full, longer, without sacrificing taste or quality.
Tell us more about the new Super Blend Smoothies.
At Jamba, we're passionate about the benefits of blending. To help our customers Reset in the New Year, we introduced a new line of Super Blend Smoothies™ that were developed in collaboration with Harley Pasternak, celebrity fitness trainer, blending expert, and New York Times best-selling author of "The Body Reset Diet."
The smoothies are an ideal meal replacement for people on-the-go, providing optimal nutrition by blending a signature combination of protein, fiber, and healthy fats. The three new blends include PB 'N Jealous™, Green Up 'N Go™ and Apples 'N Charge™.
Where can travelers find Jamba Juice?
There are currently 26 airport locations, including 4 international locations. A large number of our Jamba Juice locations can be found in mixed-use retail centers in close proximity to hotels, but we have 8 Jamba Juice locations in transportation hubs, such as Penn Station, Rockefeller Center and Gangnam Station in Korea.
How does Jamba Juice help travelers to protect their immune system during cold and flu season?
Jamba Juice smoothies and juices are loaded with whole food nutrition, vitamins and nutrients. Adding a Daily Vitamin + Zinc Boost or a Probiotic Boost to any of our smoothies is an easy way to get an immune boost on the go, and we have about 20 menu items that contain at least 100% Daily Value of Vitamin C. Here are a few of those favorites:
Orange Supreme™
Tropical Greens™
Orange Carrot Twist™
Orange Berry Antioxidant™
Cucumber Orange Cooler™
Apple 'n Greens Smoothie
Acai Super-Antioxidant™ Smoothie
Orange C-Booster™ Smoothie
What other boosts would you recommend travelers add to their smoothies?
Travelers will find unique benefits in our Boosts™ and Whole Food Boosts™ to suit their specific lifestyle needs, but the Daily Vitamin + Zinc Boost™ provides 100% DV of 13 essential vitamins. Our 3G Energy with Green Caffeine™ Boost is a great natural source of energy for the weary traveler, while our Soy Protein Boost and Whey Protein Boosts are the perfect solution for travelers who are looking to stay and feel full without splurging on calories.
Recommend a couple of healthy food options from your menu:
Top our organic, steel-cut oatmeal with your favorite fresh fruit toppings for a filling an energetic start to your day, or opt for one of our Energy Bowls, complete with a nutritious smoothie base, and a variety of toppings like granola, fresh fruit and Greek yogurt.
Recommend the top three healthiest smoothie options from your menu:
Healthy can mean something different for each person, as we all have unique goals and dietary needs. Our new line of Super Blend Smoothies offers optimal nutrition by through a signature blend of protein, fiber, and healthy fats. This combination of ingredients is built to reset your palate, appetite, metabolism, and digestion. The three options include: Apples 'n Charge™:, PB 'n Jealous™, and Green Up 'n Go™.
Where can healthy travelers find your nutritional information?
Our guests can always visit us at JambaJuice.com or through our Order Ahead app for nutritional information for our products.
Why have you chosen to target business diners with Dinova?
When you're pressed for time on the road, travelers often sacrifice nutrition for convenience. At Jamba, you can have both. At Jamba, customers can enjoy the benefits of whole fruits and vegetables, blended to order in 3 minutes or less. We pride ourselves on using high quality ingredients and staying free of artificial flavors, preservatives, high fructose syrup and trans fats. Life is better blended at Jamba Juice.
This article was written in partnership with Dinova. Dinova is an innovative, proprietary marketplace connecting business diners to restaurants nationwide. Dinova offers companies the unique opportunity to manage the business dining spend portion of T&E through its 14,000+ restaurant network across the U.S. Participating companies range from Fortune 500 enterprises to small to medium sized businesses.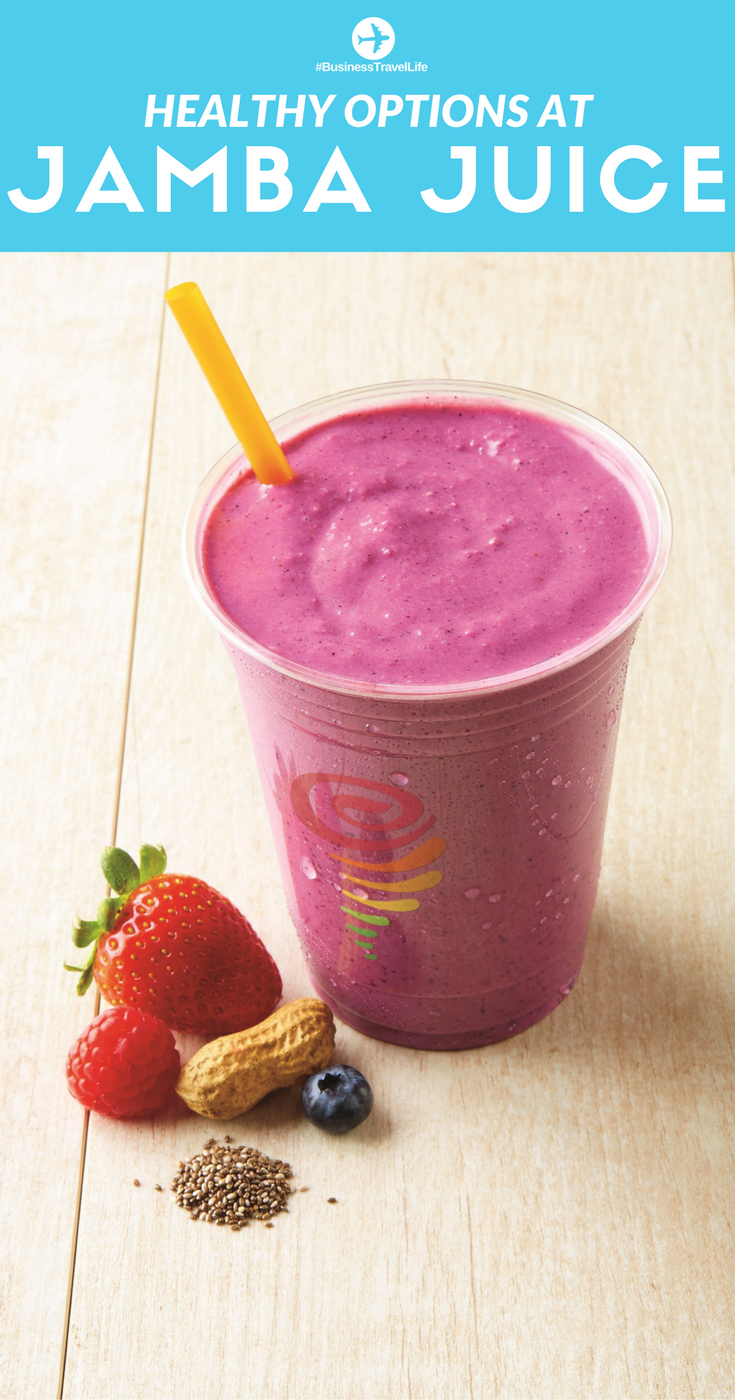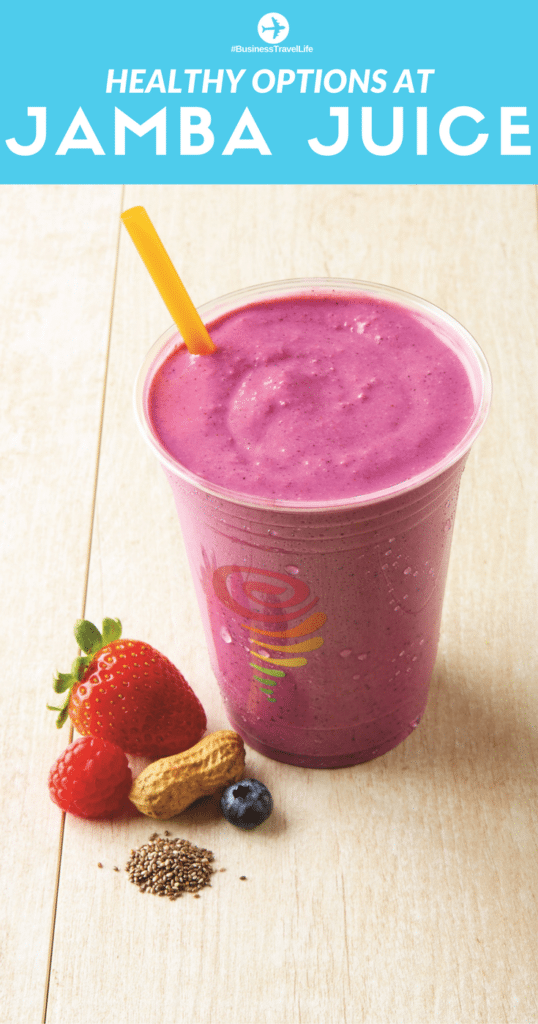 Business Travel Life
Business Travel Life is an online resource supporting the road warrior lifestyle. We give business travelers the tools they need to maintain their wellness and productivity when traveling. The topics we cover include business travel tips, travel workouts, healthy travel hacks, travel products, general travel tips, and industry trends. Our goal is to make business travel a healthier experience – and to make healthy travel practices more accessible to all road warriors.