10 Tips to Maximize Productivity Without Burning Out During Your Next Business Trip
There is nothing worse than returning from a business trip with a gigantic to-do list and overflowing inbox. Throw a little jet lag into the mix and you are setting yourself up for a rough day. Avoid the headache and stay ahead of the game with these 10 tips for productive business travel.
Use Your Calendar
On travel days and non-travel days, use your calendar to stay on track. Before heading to the airport, identify what you can complete during your flight and commit to the task by blocking out the time on your calendar. Even if you do not have Wi-Fi, there is likely something you can do (like organize the desktop and files on your laptop or clean your inbox). Once you are on the ground, review your schedule and identify blocks of time to respond to email and work on other tasks. Whether it is 30 minutes before you leave for your meeting or a free morning, resist the temptation to binge watch Netflix (that's what weekend are for!) and get some work done!
Maintain a To Do List
Have you ever been sitting in the lounge at the airport feeling like you have so many things to do, but you are not sure where to start? Instead, create your to do list the night before (this may also help you sleep better!) and when you arrive at the airport lounge, pull out your list and get started.
Keep your list simple and focus on the highest priority tasks. If you have a week of travel, and 15 things you need to complete while you are on the road, pick three tasks you can prioritize each day. Take those three tasks and make a daily to do list for each day. Three items seem much easier to complete than 15! Forbes has some excellent to do list tips here.
Set an Out of Office Reminder
Use the out-of-office reminder to set expectations. Your out of office reminder does not necessarily need to say you are unavailable, but it can say you are on the road with limited access to email. If possible, mention someone else that may be able to help (like your assistant or co-worker). This will help anyone who emails you to understand you are not ignoring them, filter out the priority situations, and let someone sending you an email, needing a quick response know to call you (or your assigned alternate).
Pack Travel Friendly Electronics
It is hard to be productive if your keyboard is too large or flimsy to type on, or your tablet battery dies in-flight. Make sure you have all the essential electronic gadgets to keep your devices charged, and making work on the go as easy as possible. It is also worth investing in a good pair of noise canceling headphones and traveling with a WiFi card like a Verizon Jetpack.
See Related: Five Travel Friendly Gadgets to Stay Productive on the Road
Join an Airport Lounge
It is virtually impossible to find a quiet place to work in the airport. Airport lounges are usually the best option for working at the airport. If you travel often, investing in a lounge membership is worth it (and if you are getting work done in the lounge, your company should consider paying for it). LoungeBuddy is an app that allows you find airport lounges around the world.
Be Productive In-Flight
Thanks to in-flight WiFi, your up in-the-air time can be highly productive. Even if you do not connect to WiFi, you can work on reports or catch up on email. If you do not have enough space to work on your laptop, you can be productive by listening to a podcast or reading a book (and no, not "Fifty Shades", something that will help you out at work like TES: The Team Engagement Strategy). As a tip, you can see if your flight will have WiFi before booking, so if WiFI is essential to your productivity, be sure to book a flight that has WiFi on-board.
Exercise
It may be hard to prioritize fitness during a business trip, but, working out actually increases your productivity! The Huffington Post reported exercise will keep you mentally sharper and provide more energy throughout the day. Exercise is something that you should be scheduling into your calendar, along with the daily to-do's.
Meditate
Meditation is a daily habit that will not only increase your productivity, it will decrease your stress. Benefits can be enjoyed with as little as ten minutes of daily meditation. It may feel counter-productive to stop what you are doing, in order to get more done, but that is not the case. Meditation is a practice that aims to transform the mind and encourage it to develop clarity, concentration, and positivity. As a result, you can expect increased focus and will likely work more efficiently. See 5 apps that you can use for meditation on the road.
Take a Break
You are not expected to work every waking hour of your day when during business travel. In addition to giving yourself some time to exercise and meditate, plan on taking a break in the evening for dinner. It can be tempting to order room service, and hole up in your hotel room to work in the evening, but break away for an hour or so and go out to dinner.
Get Some Sleep
It can be really easy to get into the habit of burning the candle at both ends during business travel. Not only is this a great way to burn out, but missing out on sleep can actually reduce your productivity. The Division of Sleep Medicine at Harvard Medical School reports the most immediate effect of sleepiness is reduced motivation and alertness. Other aspects of performance that are affected by a lack of sleep included lapses in concentration, working memory, mathematical capacity, and logical reasoning. It is likely you need at least two, if not all four of those important brain functions when you are working.
See Related: How To Sleep Better in a Hotel
Stay Organized
Seasoned travelers typically have a checklist of items to pack for a business trip ranging from toiletries to chargers to a notepad. Whether you write it down or save it in your phone, review your list before each trip. Make sure you have packed the items that you typically transfer from your office to your laptop bag, including chargers and flash drives. When you return from your trip, be sure to replenish or replace anything that is running low or has been depleted (whether it's toothpaste or empty pages in your moleskin notebook). Lastly, get your laundry washed or off to the dry cleaners ASAP to ensure everything is ready when you start the packing process for your next trip.
How do you stay productive during business travel? Please comment below with your productive business travel tips.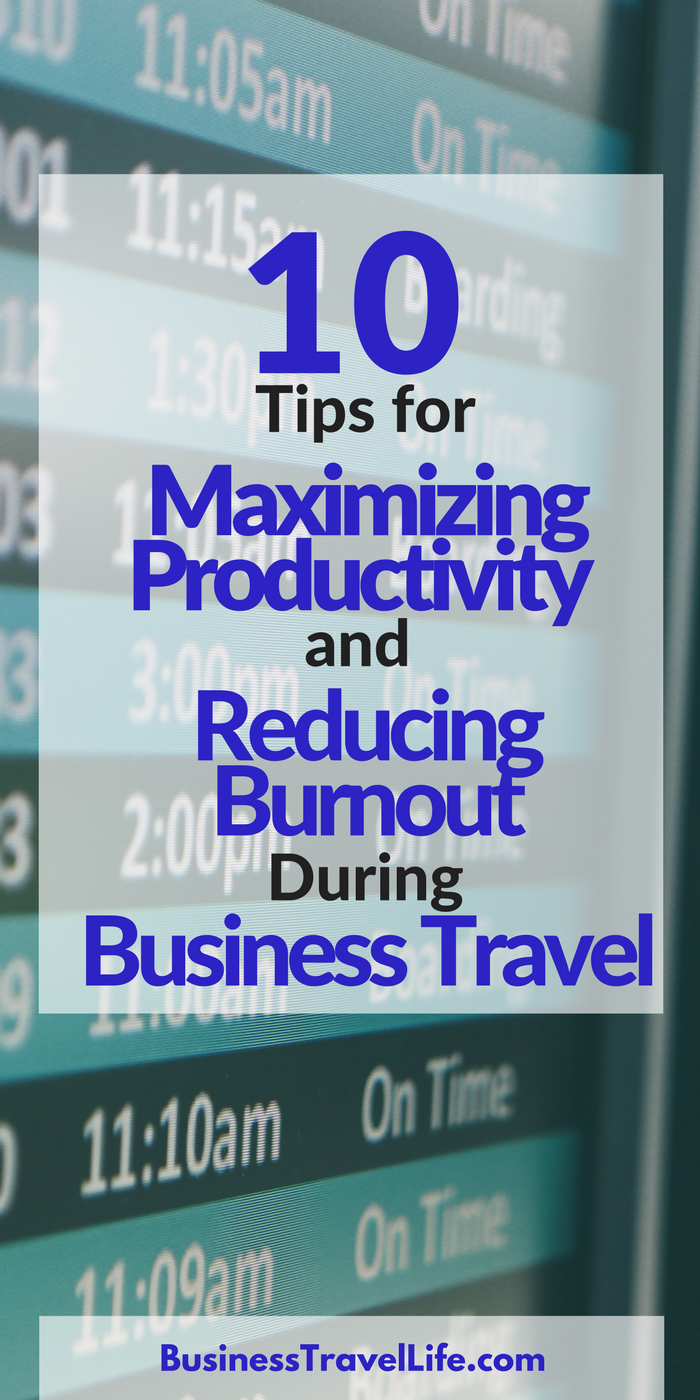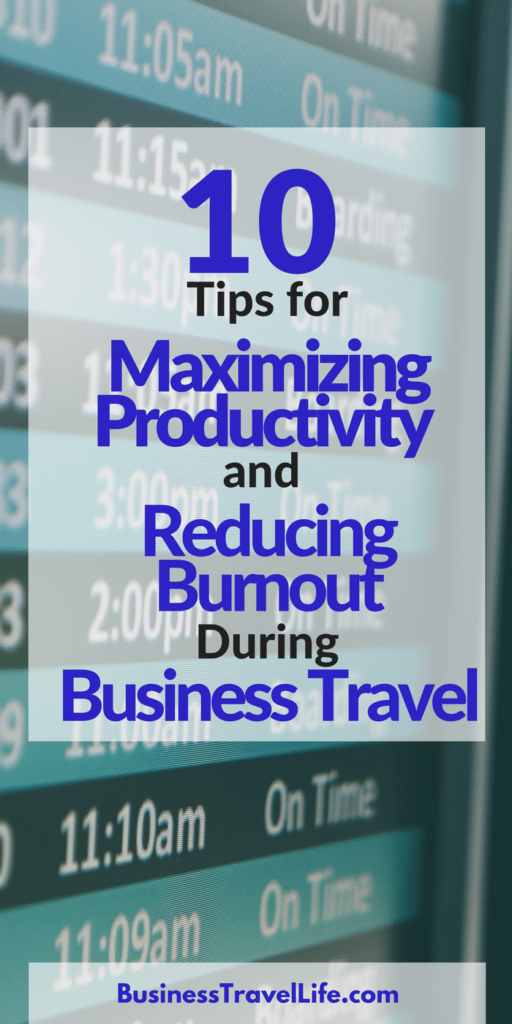 Business Travel Life
Business Travel Life is an online resource supporting the road warrior lifestyle. We give business travelers the tools they need to maintain their wellness and productivity when traveling. The topics we cover include business travel tips, travel workouts, healthy travel hacks, travel products, general travel tips, and industry trends. Our goal is to make business travel a healthier experience – and to make healthy travel practices more accessible to all road warriors.