Essential Tips For Using Your Cell Phone During International Travel
Catching glimpses of unique cities and countries around the world between business meetings and conferences is unique perk that goes along with the business travel lifestyle. Whether this is your first international business trip or you're a seasoned pro, you know that there's a little extra prep work involved with international travel. One of the most important things to consider before traveling internationally is how you plan on staying connected to work, family, and friends. Here are five easy tricks to help you before you head out.
5 Tips For Using Cell Phones Abroad
Power Up– The most important aspect in any travel is making sure you have a way to charge your device. You'll want to do some research ahead of time on the IEC website (International Electrotechnical Commission) to see what type of plug you'll need and if you'll need a voltage converter along with your power adapter. Most adapters are built to handle two voltage ranges, 110-127V and 220-240V, meaning your smaller electronic devices will be safe. Just be sure that you're only using your adapter to charge devices that are specifically indicated in the instructions. Many adapters are not built to handle larger appliances like hair straighteners or hair dryers and you're likely to blow your power adapter. Once you get an adapter, don't forget about a portable power bank. Check out a top rated power bank in the 2018 business travel life holiday gift guide.
International Phone Plans– If you regularly travel for business, chances are you have a separate work phone or your company pays some or all of your phone bill. But if you're heading out for a long trip or just want the freedom of a personal phone, check out your cell providers' international calling plans. Give your network provider a call or check out the website before you head into the store. Most stores are only authorized to offer one or two basic packages- so calling can save you time and money. For short term trips most providers will offer a $5 or $10 a day package that includes enough texts, minutes, and data to hold you over. For long term trips there are monthly add on plans that usually start around $70. You can also consider buying a local sim card if you'll be using an unlocked phone.
Free Wifi– Use Wi-Fi as often as possible to save on data. Hotels and cafes have Wi-Fi readily available. If you're concerned about the safety of your connection consider using a VPN-Virtual Private Network, to make free Wi-Fi a safer option. If business travel is something that you do regularly purchasing a VPN is a great investment. If you only find yourself living the business travel lifestyle a few times a year, consider signing up for a free trial through a reliable VPN company when traveling internationally.
Airplane Mode– Turn it on and leave it on! On airplane mode you still have access to your camera, saved maps, notes, or screenshots of important information like your hotel address. You can even go so far as to turn off cellular data and background app refresh to apps that you know you won't need to use during your trip. This ensures that when you've got airplane mode off they won't be using data in the background without you realizing it.
Free Messaging– Utilize free messaging apps that can be used on Wi-Fi to take the place of traditional texting and calling. For apple users iMessage and FaceTime work on just Wi-Fi alone. You can also pre-download a free messaging app like WhatsApp or Skype before your trip. Don't forget about social media apps either! Snapchat, Facebook, and Instagram all have free chat and video calling when you're connected to Wi-Fi.
With these five phone tips you'll be sure to stay safe and connected while traveling abroad for business. But remember that while staying connected is vital to safety and productivity, using your time abroad to unplug can be a great thing. Enjoy the moments you have that don't require Wi-Fi! And be sure you leave your best tips and tricks in the comments below!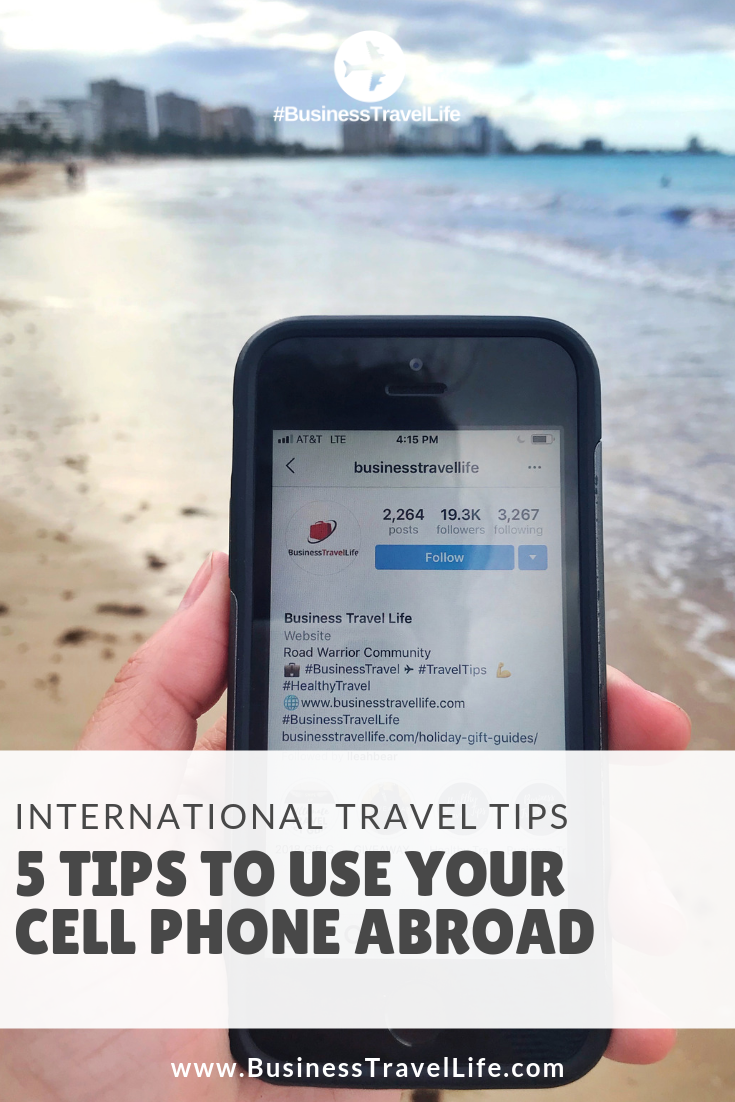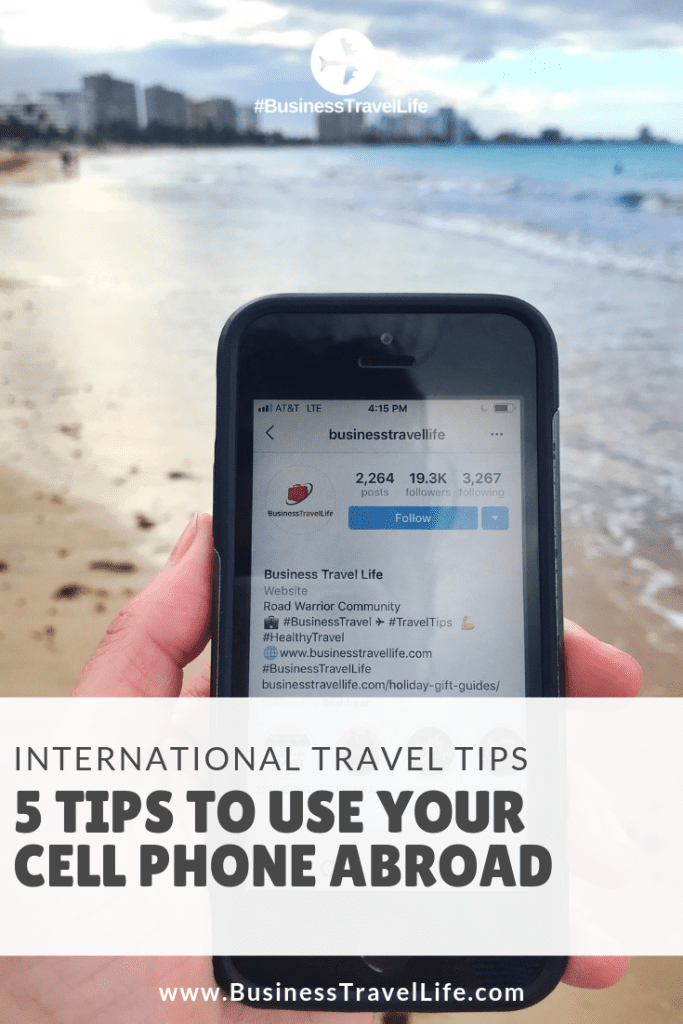 Business Travel Life
Business Travel Life is an online resource supporting the road warrior lifestyle. We give business travelers the tools they need to maintain their wellness and productivity when traveling. The topics we cover include business travel tips, travel workouts, healthy travel hacks, travel products, general travel tips, and industry trends. Our goal is to make business travel a healthier experience – and to make healthy travel practices more accessible to all road warriors.